Marianne Skarpnord from Norway and Cajsa Persson of Sweden (above) grabbed the clubhouse lead after a blustery second morning at the Fatima Bint Mubarak Ladies Open in Abu Dhabi.
Skarpnord started on the 10th hole and made an eagle on the par 5 11th at Saadiyat Beach Golf Club, before adding a pair of birdies on the par 3 12th and par 4 18th holes to make the turn at five-under-par, to sit at five-under-par alongside Charley Hull, the overnight leader who was yet to start her second round.
However, Skarpnord then carded three bogeys at the second, fourth and eighth holes, ending with a birdie to sign for a two-under-par 70, which tied for the best score of the morning with Nanna Koerstz Madsen.
Alongside Skarpnord on three-under was Cajsa Persson, who shot a 71 in warm but gusty conditions, with Hull still in the lead on five-under-par after nine holes on Friday afternoon.
Skarpnord (pictured below) felt that she had played well in the conditions and said: "I thought it was tough when I played yesterday. When I went to bed last night I thought it would be nice to come out early in nice, calm conditions and then I get here and it is freezing and blowing a hurricane. This is a bit tough for the first week back on tour after Christmas! I've hit a lot of good shots and when I haven't, I've just accepted it. You just have to accept your bad shots and that you will miss some putts that would normally go in. I played pretty well and hit a couple of bad shots but overall it was okay."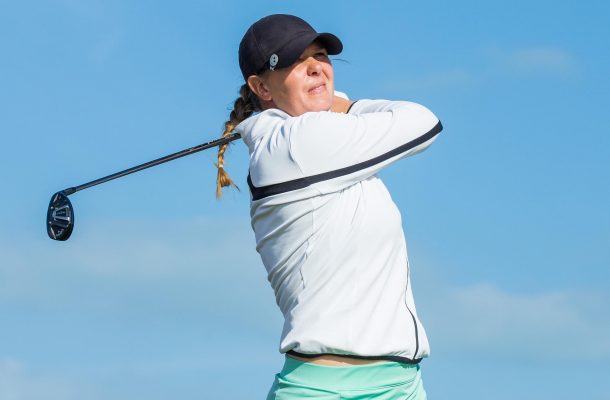 "I had an eagle on 11 where I holed about a five metre putt for eagle and then I birdied the next. After that, it was quiet until I made a six metre on 18 and then I turned and then the trouble started. I made three bogeys and finished with a birdie on nine.
"At most I had a three club wind but when you hit downwind it's almost as difficult because it hits the green and disappears. I do enjoy playing in the wind and hitting punch shots because I just think it's a much more fun way of playing golf that just hitting a drive on the fairway and wedge on the green, because you have to think a bit."
She added that her fiancé, Richard Green, who plays on the men's European Tour, was a great help as caddie.
"He actually had two or three good calls yesterday and two good calls today. That's pretty good, because normally on the minus side, so five points in two days and that's pretty damn good. He started to talk a little too much today but he knows when to shut up," she quipped.
Persson also embraced the challenge. She played the course the other way round, but made her score over the back nine, after going out in 38.
"It was fun out there and the course is great. I was struggling a bit for the first nine and made one double and a birdie and only one birdie, so I told my caddie, I have to fund my tempo and really get in the rhythm again. I said I feel like I have my C game right now and I have to get back to my A game and we turned it around and made that happen," said the gold medallist at the European Team Golf Championships last July, who won the pairs event with Linda Wessberg.
"I think I play the best when I'm focused and I really have to focus to make it work. I think that's good, but although I would rather play with no wind, I still like it," she said.