Dutch golfer to star at Aloha Golf on November 28-December 1, with the intention of repeating her victory of 2018
Anne Van Dam's presence in the forthcoming Andalucía Costa del Sol Open de España Femenino is expected to bring huge excitement to Malaga this month.
The Dutch golfer is poised to recreate a scintilliating duel with fellow Solheim Cup winner Azahara Muñoz, following the battle at La Quinta in 2018, where the pair finished first and second respectively.
Muñoz won the title in 2016 (at Aloha Golf) and in 2017 (at Guadalmina), but had her prospects of a third consecutive victory snatched away when Van Dam powered to a three stroke win on the final day of the 2018 Ladies European Tour season, completing a Spanish double which followed that year's Estrella Damm Mediterranean Ladies Open.
"Last year I came off probably the best golf stretch of my career, winning the Estrella Damm Mediterranean Ladies Open with a 72-hole total of minus 26, and then getting my LPGA card, so I was really relaxed going into the Spanish Open, and with Roelof (my boyfriend) caddying and my mum there as well, I just wanted to finish off the year well and have fun," Van Dam commented.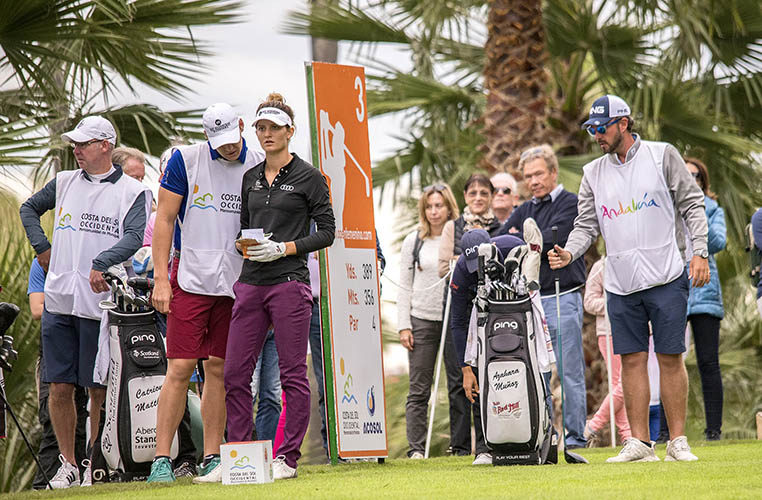 It's been quite a journey since then for the 24-year-old from Arnhem, who turned professional and joined the LET in 2015, before collecting her first title in China at the 2016 Xiamen International Open.
She earned her fourth Ladies European Tour (LET) title in the ActewAGL Canberra Classic at Royal Canberra Golf Club in Australia in March and then qualified for a debut appearance on the European Solheim Cup team at Gleneagles in September.
Reflecting on her first experience of playing in the Solheim Cup, she commented: "It was probably the best week of my golf career so far. Playing alongside 11 great team mates and Catriona, Mel, Laura and Kathryn was just a lot of fun. As golf is such an individual sport, it was great fun to play alongside them.
"I was really nervous going into the week and on the practice days but once the tournament started, I was really calm and really enjoyed the moment, seeing a lot of my family and friends there. Starting with Suzann on Friday afternoon was a dream come true; playing so well and winning my first point in the Solheim Cup alongside my all-time hero in the sport.
"I'm very proud of how all the girls played and the great team vibe and fun we had all week. It was absolutely nerve-wracking seeing the last few groups finish and us thinking for a moment we were going to lose by half a point. Seeing Bronte win on 17 and then Suzann pull it off right in front of us and all and the crowd still gives me goose bumps thinking about it, and it's a memory I will always cherish."
Van Dam also feels that the experience at Gleneagles will help her psychologically in the future.
"It gave me a lot of confidence, feeling so calm and being able to play well under that pressure. I take golf very seriously and sometimes, I get caught up in it, taking it almost too seriously and trying so hard that I don't give myself enough space to accept a mistake or a mis-hit now and then. To feel relaxed and have fun under that pressure gives me the confidence that I can do that every week."
Van Dam, who now lives in Orlando, Florida, has had five weeks off coming into the Spanish Open and has spent the time seeing her friends, shopping and doing other sports, which has cleared her mind again.
She said: "It's just great to get back in shape, feel rested and get a fresh mindset again and to start practising and playing a little bit again. I'm looking forward a lot to coming back to Aloha Golf to defend my Spanish Open title, and hope to finish the year off in great style!
"I remember thinking it was a fun track with a few tricky holes where you have to pay attention but also a lot of holes where you will have many birdie opportunities.
"My mum still lives in Barcelona, so it's fun that she will be there watching and cheering me on again. My sister used to live in Alicante, but she moved back last month to Amsterdam as she will start flying for KLM (our national Dutch airline).
"My boyfriend Roelof will be on the bag again, like he has all year. We've had a lot of fun travelling and working together, so I'm really looking forward to the week in Spain!"