Written By: Sophia Popov
Sophia Popov is the 2020 AIG Women's Open champion.
Read more at https://www.lpga.com/news/2020/sophia-popov-a-letter-to-my-sisters-on-tour
A letter to my sisters in the game:
I know what it's like to struggle. I know all the questions you ask yourself, the doubt and frustration you sometimes feel. I know about the sweat, the countless hours of hard work and the emotional energy you invest only to see your dream slip further from sight like a ship disappearing in the twilight.
I know what it's like to stand on a mountaintop of expectations. And I know what it feels like to fall.
And I know what it's like to think it's time to walk away.
When I holed my last putt at Royal Troon to make the AIG Women's Open, a major championship at one of the most storied courses in the world, my first professional victory outside of the Cactus Tour, I remembered all those feelings. And a single thought ran through my head as clear as a Scottish church bell.
Thank God I didn't give up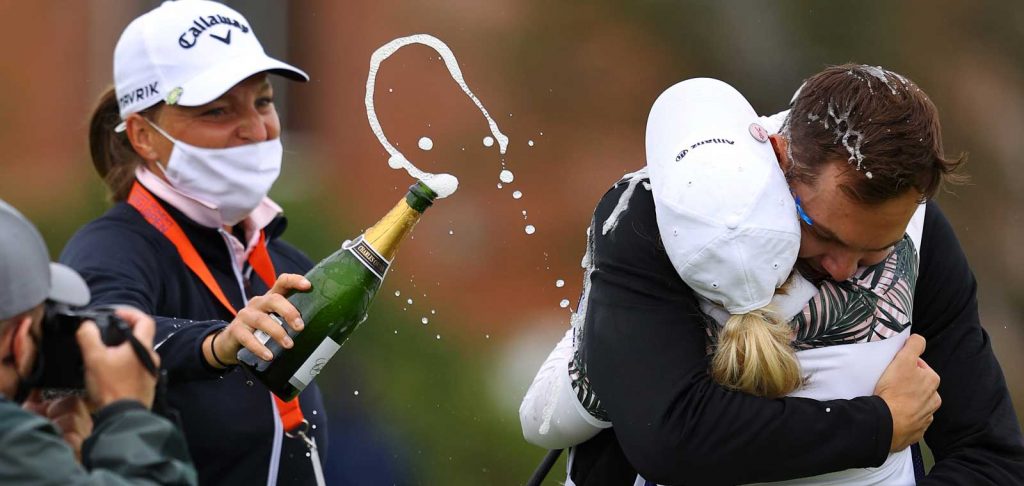 For a long time, I didn't believe winning would be part of my story. I told myself that too much time had passed. Even though I was only 27 years old, I know that the calendar for female athletes, even golfers, is different. The average age of a first-time winner on the LPGA Tour is 23. After winning five events and being a three-time All-American at the University of Southern California, I believed that I would be in the category soon enough. I had grown up playing with people like Jessica Korda and Lexi Thompson, Mariah Stackhouse and Alison Lee. I knew what it took to compete, and I knew that there were times when my game was on par with theirs.
But in the beginning of my rookie year on the LPGA Tour in 2015, I felt that something wasn't right. I flew to Australia for the ISPS Handa Women's Australian Open and felt fatigued. At first, I thought it was jetlag, but realized that this was something else. This was a different kind of exhaustion.
Then I couldn't keep food down. Not a stomach flu or what you might get after eating something rich and exotic in a foreign country, this seemed chronic. I love food but suddenly I couldn't enjoy eating. I didn't have any appetite. In nine months, I lost close to 25 pounds.
Something was wrong but no one could tell me what it was. Doctors ran all kinds of tests, which came back negative. Some doctors thought it was fibromyalgia. More than a few told me that it was all in my head. That this was a physical manifestation of stress and anxiety from being on Tour. I didn't have a medical degree, but I knew that wasn't right. I'd been competing at high levels for most of my life. I'd represented my country and my continent on the international stage. I knew pressure. This was something else.
I struggled for three years, a time when I lost my full status and bounced back and forth between the LPGA and Symetra Tours, fighting through symptoms like numbness in my extremities that sometimes made it impossible to feel the club in my hands, blurred vision, and excruciating headaches that made it impossible to focus.
I asked myself often, 'Is this my life, now? Is this my future?' And, of course, I asked, 'Why me?'
Finally, almost three years after that flight to Australia, I went to another doctor who asked the question that changed everything. "Have you ever looked into Lyme disease?"
I hadn't even thought about Lyme disease. When I took the test, positive results came back almost immediately. The doctor said, "When we get results that quickly, it means the disease has been in your system for some time."
While Lyme disease is a serious illness that can have lasting effects, I felt an overwhelming sense of relief. I had an answer. Every symptom suddenly made sense. Now, I could research and create a plan to combat it.
After many hours and much consultation, I went on a strict diet – detoxing for a full week and then going raw for three weeks, eating only raw fruits, veggies, and smoothies. The first week, I felt horrible. Detoxing is a withdrawal that makes you wonder if it's worth the effort. But after that first week, I found that I had amazing energy. The headaches and numbness went away, and my vision cleared. My hands still get cold in relatively warm weather – something that viewers of the AIG Women's Open noticed when I put mittens on between shots. But the worst of the symptoms vanished.
Lyme disease isn't a cold or the flu. I will be battling it for some time. And as anyone who has changed their diet can tell you, it takes discipline and determination not to backslide. But I also think we underestimate the power of food. In my case, my diet made me healthy and able to rekindle a game that I almost lost.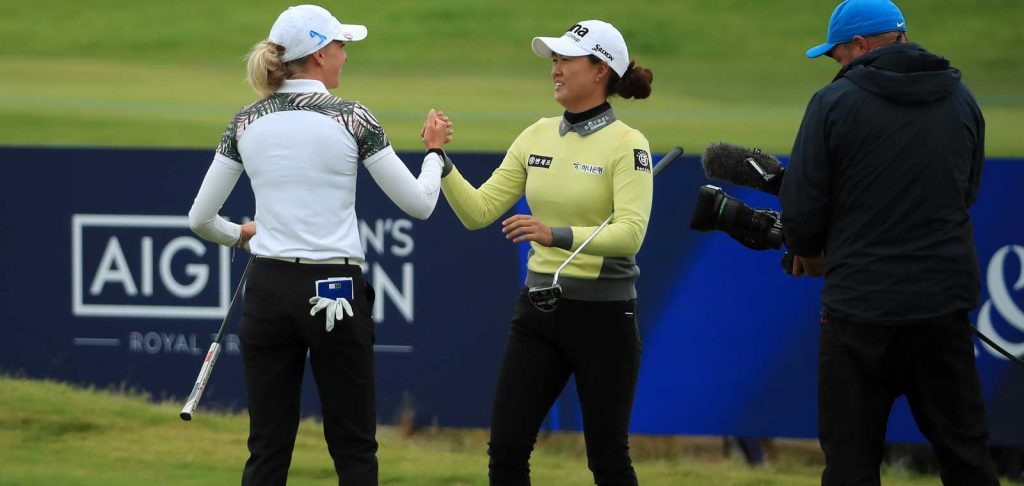 Which brings me to my message to you, my dear friends on the Symetra Tour and other developmental platforms. The difference between where you are and where you want to be isn't as great as it sometimes seems. In fact, the line between being a major champion and struggling to regain your LPGA Tour card is razor thin.
The difference isn't hard work. We all work hard. It's not natural talent. Sure, some players are gifted with more speed or height or strength than others. But talent alone means almost nothing. We all know talented athletes who never broke through.
No, the difference is one simple word: Belief.
People in Germany expected a lot out of me, especially when I came out of college. And while I kept telling myself that that player was still in there and still capable of being one of the best in the world, month after month, year after year of near misses wore me down. Everyone else believed in me but I lost a little of that belief in myself.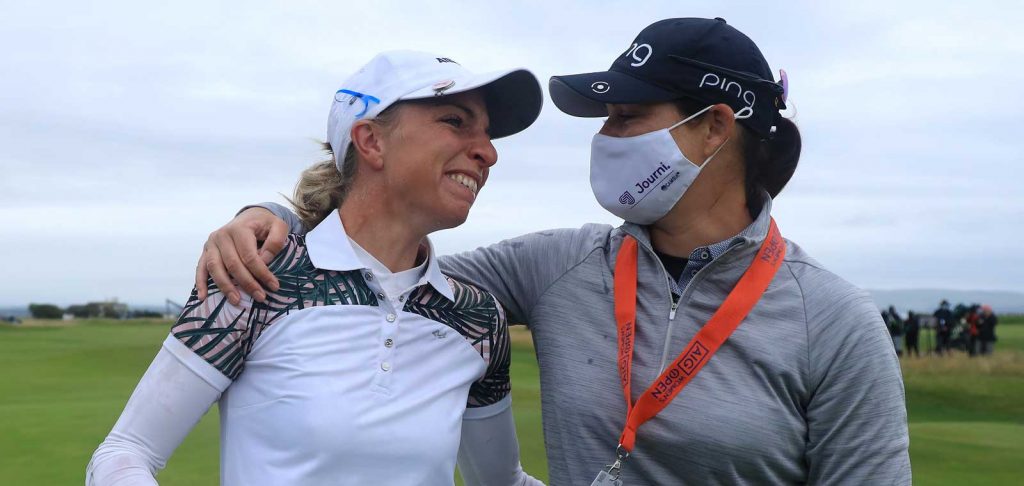 In the last nine months, healthy and playing well, my belief returned. And at Royal Troon, for the first time in my professional career, I could see myself holding the trophy before it actually happened. I could, for the first time, close my eyes and see my face as the winner, see my name on top of the leaderboard, see myself as not just among the best but as a major champion.
During a practice round in Scotland, I played with Jess and Nelly Korda and Jessica, whom I've known since junior golf days, asked me about my schedule. I told her I didn't know because the AIG Women's Open was a bonus. "I would need to win for it to make a difference," I said.
Sunday night after I won, Jess texted me and said, "Love how we were talking about this on Wednesday."
Two years ago, I wouldn't have mentioned winning a major to another Tour player. I'm not sure the thought would have entered my mind. The fact that it did was part of my new-found belief.
One of the questions I've been asked since my win is: What kept you from quitting?
I've thought a lot about my answer. There were times when walking away seemed like the only rational thing to do. My mother and boyfriend would even say things like: "Why do you keep beating yourself up like this? Go do something else." But one response kept coming to me. I can't quit golf. I love the sport too much. I practice and play golf every day. I watch golf on television every week. I think about golf all the time. I can't walk away. I just love it.
Many of you feel the same way. So, my friends, my sisters, I want you to know that you aren't delusional for sticking with it. You aren't that far away.
Someday I look forward to hugging and congratulating you as you break through and realize your lifelong dream. It can happen.
Just remember one thing: love and belief make all the difference.
#DriveOn