Hello everyone and welcome to my second blog! It has been a busy couple of months since I last caught up with you all. I have been to the US Women's Open, unveiled a sculpture at Gleneagles and am looking forward to a trip to The Inverness Club. With less than three months to go until the 2021 Solheim Cup, the race for a place on the European Team is heating up!
It was great to see the players again. At the start of the month, I took a trip to the 76th US Women's Open at The Olympic Club. It was quite a different golf course and set up, but I enjoyed seeing the players and chatting to them again. Sometimes a score on a computer is not the same as actually watching them play and how they compile that score, so it was great to be there and experience that week.
The US Open is always tough. The set-up is always hard and the course had thick rough, which made it even more difficult. A lot of the fairways were on slopes, so it was tough to hold the fairways and the greens were very small. You could get lucky in the rough, but there was definitely a premium on driving and hitting the fairways.
There were good European performances. A US Open or a Major is always one of the toughest tests, so it is good to see how the players reacted in that pressured environment. Mel Reid had a great start and we saw show some strong finishes from Celine Herbin Emily Kristine Pedersen and Madelene Sagstrom was up there too.
I was looking at everyone. You want to have an idea of how most people are playing and I think it's better to get a gauge of everyone. Some of the players who are perhaps not quite so certain for the team, you watch a little bit more – but I'm not giving any names away!
It was brilliant to have fans back. It is much more open in the United States, the protocols are still stringent here in Europe. I think it was one of the first tournaments with some substantial fans out watching and that always adds to the atmosphere which can help the players. I think having a crowd gets you a little bit more motivated. Being able to hear some cheers around the golf course was great and Solheim Cup crowds are always quite loud, so it is nice to start getting them used to that again!
Kathryn Imrie was with me at The Olympic Club. One of my Vice-Captains Kathryn lives nearby so she dedicated a lot of her time to join me on the course. It was really beneficial for Kathryn to talk to the players, and meet some of the new faces. You need that face-to-face interaction to gauge how they are feeling and what their game is like.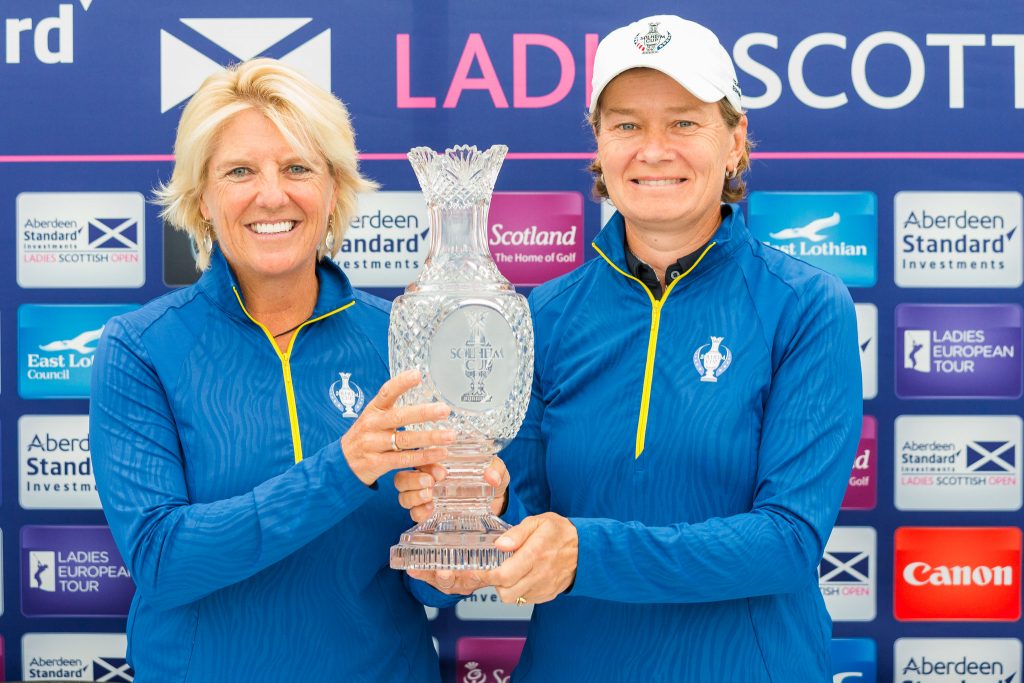 I caught up with USA Captain Pat Hurst. It is always fun to catch-up with the US Captain, because they are the only person in the same boat as me right now. Our positions couldn't be more similar right now, with so many players in the mix, competing for one of 12 spots. I know we are going to playing against 12 of the best US players, but right now my main focus is on the best of Europe.
I cannot wait to go to The Inverness Club! I'm going out there soon to have a look at what the course is like and how it's being set up. Dame Laura Davies will be joining me, her knowledge and experience is invaluable, as is that of all my Vice Captains, and we are a really close team.
We will start having more catch ups. Following the U.S. Women's Open, Laura, Suzann, Kathryn and I had a virtual meeting, and we will have another one after we have visited The Inverness Club. Suzann is doing well after the birth of her daughter. It will be nice to finally meet up in person later in the year! Coming down to these last few months we will have more chats and virtual meetings about how the team is shaping up and our plan for the week.
It was a fantastic gesture from Gleneagles. To have a commemorative sculpture to the left of the first tee in prime view, shows the lasting effect The Solheim Cup has on a venue. It is beautiful! The sculptor, Jephson Robb, talked me through the design, and you can see different things from different angles depending on the way you look at it. The names of the teams are on the circular plaque on the ground and it is a wonderful celebration of the 2019 event, that will forever be itched in my memory with pride.
I visited Carnoustie. I was doing some filming at Carnoustie ahead of this year's AIG Women's Open. I only played two holes, but the course already looks in fantastic shape It is always a great test of golf there. Last time we played there for the Women's Open was in 2011 and I finished tied fifth for the week, plus I won the Scottish Amateur championships there many moons ago. It is a course that I always enjoy.
The Scandinavian Mixed looked incredible! I watched a lot of it on TV. The men and the women playing for the one purse worked brilliantly and having Caroline Hedwall and Alice Hewson up there vying for the title was great on Sunday.
I was impressed with Alice Hewson. She had a great finish with third in the end and that put her into an automatic Solheim Cup place. I played a practice round with her at last year's AIG Women's Open at Royal Troon and was quite impressed by her. If you come out and win your first event as a professional, you are obviously pretty good!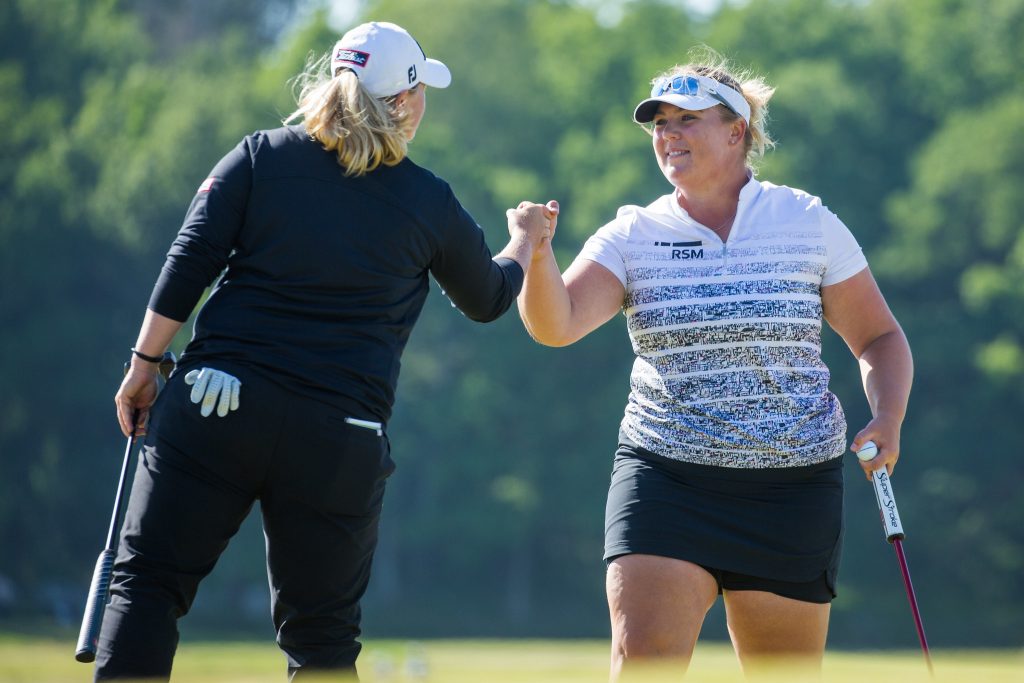 Caroline is always up there. She has played in four Solheim Cups now and had that amazing five-point haul in Colorado in 2013. She always seems to raise her game when it comes into the reckoning for Solheim Cup places.
It is going to be a fight to the end. I have played with Olivia Cowan before, and she has looked like she has been about to breakthrough for the past couple of years. She has had good results the past few weeks, and I'm excited to watch her this year. I have been watching Sanna Nuutinen, and she has had great results too.
It is always good for competition. These next two and a half months are going to be exciting. Emily (Pedersen) has a strong lead, but with Majors coming up there are a lot of big points on offer. I think there are going to be a lot of players going for those spots and it will be an interesting watch. It is always good for competition when you have got lots of players fighting for those places.
See you in a few weeks!