Team Dimmock leads Saudi Ladies Team International
Nuutinen fires 66 (-6) to head individual leaderboard
Jenny Haglund makes history with hole-in-one
Dame Laura Davies walks on to 'You'll Never Walk Alone'
Just two days after Emily Kristine Pedersen captured the inaugural Saudi Ladies International, we are back at Royal Greens Golf & Country Club for one of the most innovative tournament formats of the season at the Saudi Ladies Team International.
Played over 54-holes and with $500,000 up for grabs – $300,000 for the team and $200,000 for the individual – the first-of-its-kind 37 team line-up, where players were selected in an 'NFL-style draft system and compete in a team of four pro-am format with the 'best two scores to count', saw Team Dimmock take the early lead.
After a day of sensational golf in Saudi Arabia, where blustery conditions made it difficult for the afternoon starters, Team Dimmock shone in the Saudi morning sun to take the early initiative in the team competition at 17-under-par after a birdie bonanza. In a similar vein, Finland's Sanna Nuutinen stormed to the top of the individual leaderboard with a spectacular round of 66 (-6).
Walking out to Kanye West's 2010 hit 'Power', Team Dimmock, which includes fellow Englishwoman Charlotte Thompson, Norway's Stina Resin and amateur Ed Edwards, recovered from a slow start to 'ham and egg it' with 18 birdies and an eagle.
Team Captain Annabel said, "Stina got the first birdie on the fifth and then we were like let's get the birdies going. Then I holed my wedge shot (from 86 yards, with a 58 degree) on the next and then Charlotte got a birdie, so it was a real team effort."
Driving the birdie train, Thompson narrowly missed out on winning the 'Infinity QX50' car, which is on offer for a hole-in-one on the iconic par three 16th hole, with a perfectly hit six iron which struck the flag and dropped to six inches before Norway's Resin closed with two birdies of her own to help the team scale to the top.
Dimmock and Thompson are known for being best buddies on Tour and one could be mistaken for thinking that Resin had crashed the English party but that was not the case, as the trio worked in unison to climb to the summit.
Dimmock, who recorded an individual round of 69 to sit in T4, added, "I hadn't met Stina before the draw but once I knew she was in my team, we've all spent some time together and had a team practice yesterday. It's been great to get to know another player on Tour."
Taking advantage of the traditionally calm morning conditions, Finland's Sanna Nuutinen fired a round of 66 (-6) to hold a two-shot lead from Sweden's Johanna Gustavsson while helping her team to second place, just one shot behind Dimmock at 16-under-par. The hard-working Finn cancelled out a double-bogey with an eagle, as well as adding six birdies to her tally.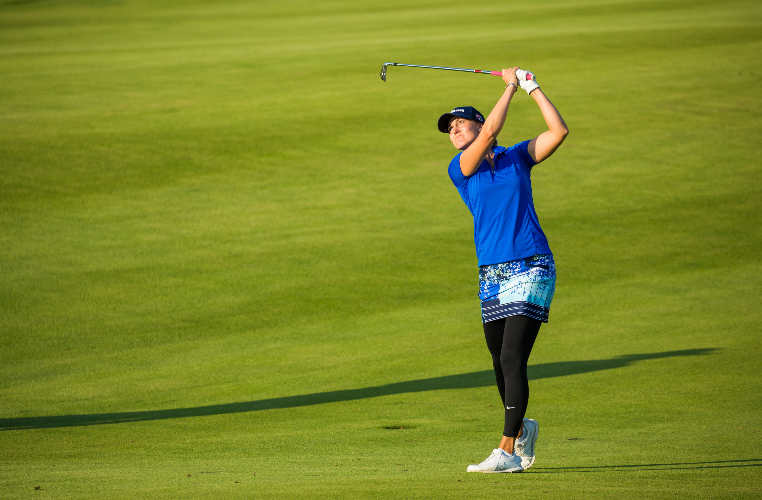 "It still feels like an individual event as you can't help your teammates, so you concentrate on your own game. But when someone in the team makes a birdie or the amateur makes a par I do give a little fist pump. It reminds me of amateur golf and being in the international team or college golf and being with a team."
Aiming for an historic Saudi double, Emily Kristine Pedersen kept up her form in the Kingdom, with a respectable round of 69 (-3) to sit in T4 while her team also occupies third spot.
Making history as another of the country's first achievements, Sweden's Jenny Haglund became the first player, male or female, to record a hole-in-one at the testing par 72 layout, making the perfect swing with a 5 Iron from 153 Yards on the par three 11th.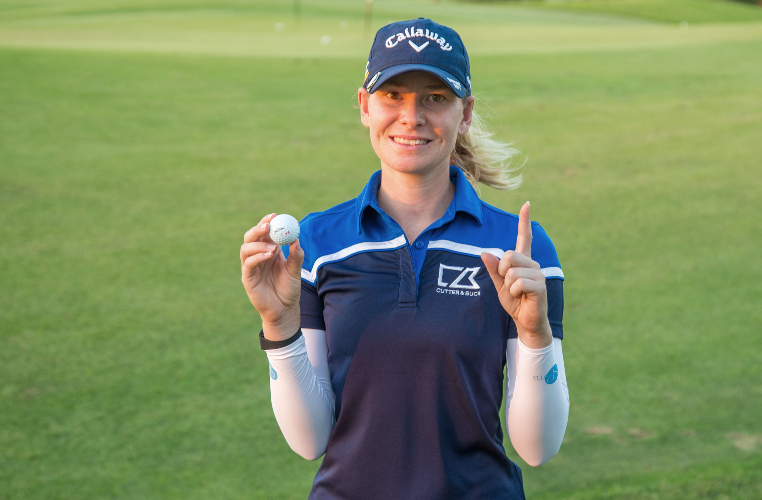 The ace is the sixth of her career and fifth in tournament play, with the latest accolade her third in three years.
Follow the first round of results:
Round two gets underway at 6.30am and you can follow all the action on @LETGolf on Instagram and Twitter and Ladies European Tour on Facebook – #RaiseOurGame