Winning captain from the Aramco Team Series – London, Olivia Cowan, is hopeful of another great week at Royal Greens Golf & Country Club.
The German has been in good form of late with a T7 finish at the Dubai Moonlight Classic followed by being in a tie for fifth place at last week's Aramco Saudi Ladies International presented by PIF (ASLI).
Cowan, who is sixth in the Race to Costa del Sol, believed that by the end of last week's competition she had got a handle on the greens and wants to take that confidence into the team event.
"I found the greens quite hard to read at the start of the week, but I think I've kind of understood them by the end of the week so hopefully I can take that into next week," said the 25-year-old.
"The more you play the course the more comfortable you get with it, it's tricky in some areas but towards there end of the week we've all started to figure them out."
In the draft Cowan selected Eswatini's Nobuhle Dlamini, who finished T22 last week, with the random pick being Norway's Madelene Stavnar and they will all play alongside amateur Loay Nazer.
Having led her team to a three-shot victory at Centurion Club back in July, Cowan knows what it takes to succeed in this format.
"I just want to have another good week here; I want to continue with some good golf and want to have some fun out there," she continued.
"You obviously have some confidence coming in having won one already, but you never know how it's going to be, so we'll see on day one."
All three individual winners from the Aramco Team Series events in 2021 are in the field this week with Marianne Skarpnord (London), Alison Lee (Sotogrande) and Charley Hull (New York) all on captain duties.
Victory at La Reserva Club, Spain for Lee was her first as a professional, while in New York the American finished T13 individually and T10 in the team event.
The 2015 Solheim Cup player returns to the format and is excited to compete in her third Aramco Team Series event of the season.
"The memories are great; I had my first professional win in Spain and that meant a lot to me. To be here playing in another ATS event, what they've been doing for the LET is awesome. I'm really excited to be here again," said Lee, who will play with Dame Laura Davies, Georgina Blackman and amateur Oh Tae Kil.
"Having the team format brings a little bit more excitement and you have a different mindset, which I think is what helped me play well in Sotogrande."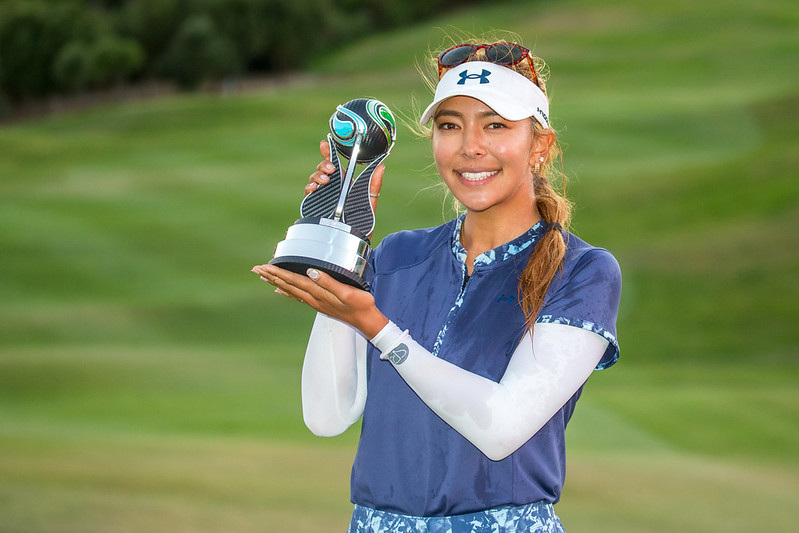 England's Alice Hewson was another player who did well at Royal Greens last week to equal her best finish of the 2021 season with T3.
Hewson picked South African Casandra Hall – who was a member of winning Team Pedersen in 2020 – and they will play alongside Spain's Laura Gomez Ruiz and amateur Andre Hendriks.
"It gives me a lot of confidence heading into next week playing at the same course," said the 2020 Investec SA Women's Open champion.
"It's tough because there's the team aspect as well as the individual element this week, so all I can do is go out there and play my best golf, and that's what is going to help the team."
Australian Whitney Hillier recorded her best finish of the 2021 season with T5 at last week's ASLI after shooting 12-under-par.
Hillier was chosen by Wales' Chloe Williams with France's Anais Meyssonnier completing the professional line up and they are joined by amateur Michael Anthony Duffy.
She explained: "I hope to do the same as I did in the Aramco Saudi Ladies International in the Aramco Team Series – Jeddah this week. I'm not a captain, so whoever wants to pick me is more than welcome! I'm going to have fun and who ever our amateur is, we will give them a good week too."
Elsewhere defending champion Emily Kristine Pedersen will tee it up with England's Hannah Burke, Finland's Krista Bakker and amateur Ahmed Al Subaey.
While newly crowned 2021 Race to Costa del Sol champion Atthaya Thitikul picked Sarina Schmidt, who was part of the winning Team Cowan in London, and they will play with Scotland's Heather Macrae and amateur Dahlo Kang.
Follow all the action on @LETGolf on Instagram and Twitter and Ladies European Tour on Facebook – #RaiseOurGame #BringTheEnergy #RaceToCostaDelSol.