Belgium's Manon De Roey and Australia's Whitney Hillier are both excited to be teeing it up in the first Aramco Team Series presented by Public Investment Fund event of the year in Singapore.
Last year in Bangkok, it was De Roey who triumphed individually winning by three strokes while Hillier captained her Team to victory.
And the duo are back and hoping that they can replicate their success in Singapore at Laguna National Golf Resort Club.
The Belgian star comes into the tournament in good form having begun her LET season with three top-10 finishes including T3 at the Aramco Saudi Ladies International.
"I was just at home for the past few weeks, the weather was not so great," said De Roey, who is seventh in the 2023 Race to Costa del Sol.
"It snowed and it was minus three degrees. I saw my coaches a couple of times and I had some stuff that I needed to work on, so I did that. I feel like I'm back stronger and I'm excited for this week.
"I feel like it's always hard when you get here to adjust to the conditions but once I start playing the course, I don't feel the heat that much anymore. It's not too bad."
The Aramco Team Series – Singapore will see 78 professionals compete in a 54-hole Stroke Play Individual Competition and 36 Teams will compete in a 36-hole Team Competition.
De Roey is also a captain this week and picked Scotland's Kylie Henry to play alongside her with the third professional in the team being Sweden's Emma Nilsson.
Team De Roey will tee it up at 9.45am local time from the first tee and the LET winner is hoping to have another good week.
She explained: "It's a new course for everyone this week. The first few rounds you're always figuring your way around. Today I played in the Pro-Am, I have a really good feeling about the course and I feel like I have a good game plan for the next few days.
"I was the eighth to last to pick, but Kylie was on the top of my list. She's a really nice person and is a great player. We have Emma Nilsson as well as the third player, I think we're going to have a lot of fun which is the most important thing and if you have fun you're going to play good."
Similarly, Australia's Hillier is also excited to be back playing in Asia and teeing it up in the first of five Aramco Team Series events for 2023.
In the Draft on Tuesday evening, the Aussie chose Czechia's Jana Melichova while the duo will also be joined by Wales' Lydia Hall.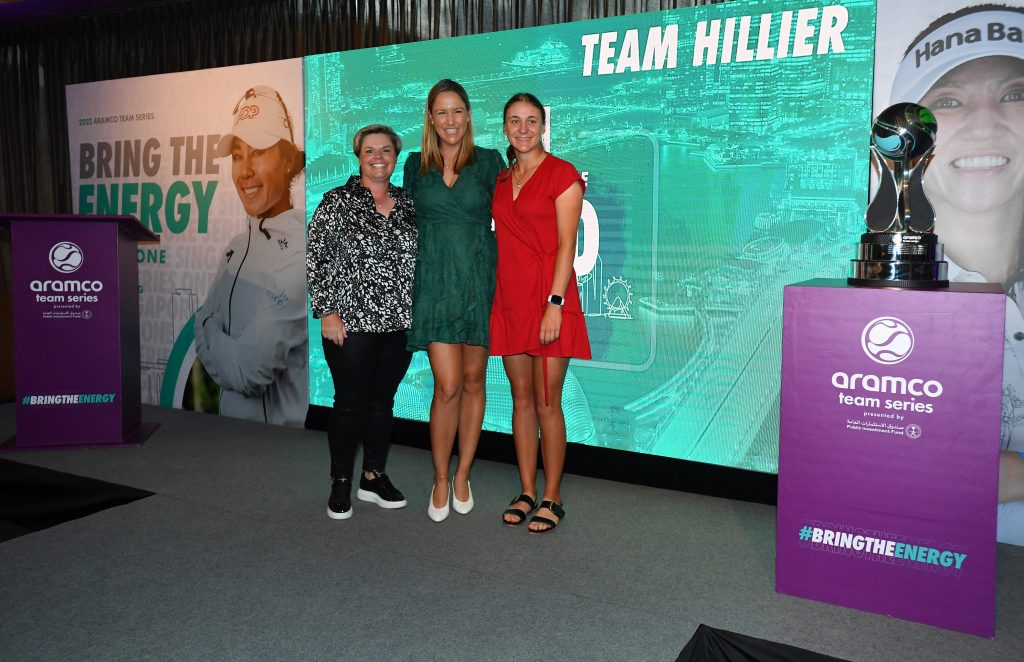 And Hillier believes she has a strong team for the week ahead on a course that can prove to be tricky in places.
"I feel good," said Hillier. "It's nice to be back in Asia on the LET and to have another Aramco Team Series event. To be defending captain is very special for me and hopefully, I can lead the team this year.
"I picked Jana, I played with her in Morocco and she played great. She's a Tour winner, she played great last year and she's a nice girl so I wanted to pick her and have a great week with her. To have Lydia Hall as our third player, she's awesome. I have known her for years and years and she's a great player too. I think we have a pretty strong team.
"The course is sneaky long especially when that wind picks up, you've got to really strike the ball quite well here. If you hit a lot of greens, you'll have a really good chance. The greens are grainy too so that's an extra challenge. It's a matter of patience this week."
Follow all the action on @LETGolf on Instagram and Twitter and Ladies European Tour on Facebook and YouTube – #RaiseOurGame #BringTheEnergy.