Mexico's Maria Fassi fired an exceptional round of 63 which equalled the tournament course record on the first day at the Dubai Moonlight Classic presented by EGA.
The Olympian began her round on hole 17 alongside Thailand's Moriya Jutanugarn and Germany's Esther Henseleit.
After back-to-back birdies on 18 and the first, she dropped a shot on the third before three birdies in a row on holes four through six.
Fassi dropped another shot on the eighth but made up for it with four birdies in her next seven holes and she finished with an eagle on the par-five 16th to equal the course record of 63 (-9).
"It is of course always good to be under par, but it was pretty flawless out there today. It is my first time playing in the dark, but it was awesome! I enjoyed it a lot. The golf was great and I'm very happy to be here," said Fassi.
"I think it was a matter of time for me to be able to put a round like today's together. I have been working very hard to see something like this happen so it's very motivating to see a round like today and have all that hard work pay off."
The 23-year-old is playing night golf for the first time and experiencing competition under the lights at the Faldo Course at Emirates Golf Club.
But despite being new to the concept, Fassi enjoyed her first taste of golf in the spotlight and is relishing the relaxed atmosphere especially with her gameplan
"I think it is a lot of fun. It's something that I wanted to experience at least once in my lifetime. I have enjoyed it so far and it gives a more relaxed vibe to the tournament which helps my mindset and my game," she continued.
"You always look back to a round like today and hope to do the same the next day and so on. It's very important for me to just walk in tomorrow and have a clean slate and focus on the same things I was focusing on – we have a great game plan for the golf course, and it definitely paid off today, but I just need to keep doing what I have been doing and I should be in good shape after that.
"We are playing pretty aggressive especially on the back nine, there's a few holes where my length really plays a big role so it's using that and hoping that the putts keep dropping."
One stroke behind Fassi on eight-under-par is South Africa's Lee-Anne Pace, who won the LET's season-opener back in May.
The South African started her round on the fourth hole with a birdie and continued to be error-free throughout the day finishing with six birdies and an eagle on her card.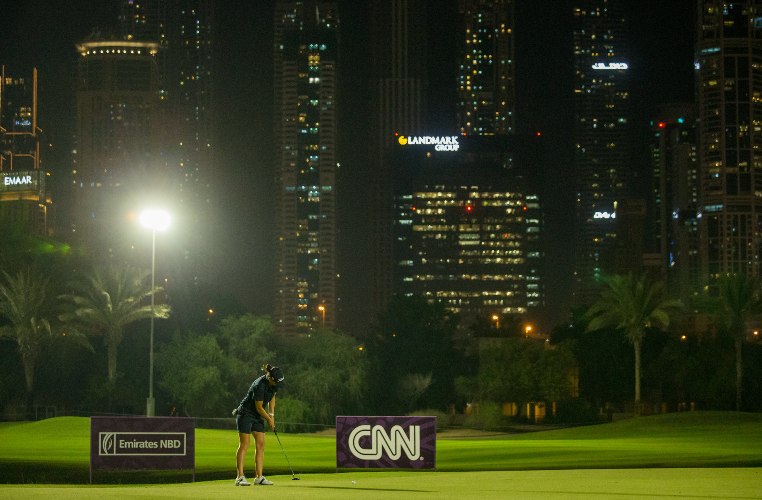 "To shoot bogey-free is always very nice, I nearly birdied the last hole as well. I played very solid and made all the fairways which makes it a lot easier into the greens," said the ten-time LET winner.
"It's not a terribly long golf course so you can attack the pins and the greens are holding as well."
Pace was playing alongside Germany's Olivia Cowan who is one shot further back in third place on seven-under-par with the duo spurring each other on.
She added: "Olivia was playing great, there were a lot of birdies in the group – she hit it close, and I hit it really close as well. If we were playing as a team together, I think we would have been in the 20s, she played great."
Cowan also produced a bogey-free round on the first day and feels at home in Dubai having finished T2 at the tournament in 2019.
"We both played solid today and had a good day, we had fun out there and it was really enjoyable. I love coming to Dubai – it feels like a second home with my sponsors JA here and I always play well here I think because of that. Great weather, great course, I can't complain," said Cowan.
"My boyfriend [Todd Clements] is caddying for me this week, we weren't quite sure how it was going to be because it was the first time – it could make or break the relationship – it's going well so far though so he can keep the job."
In fourth place is Sweden's Jessica Karlsson, who carded a round of 66 (-6) with seven birdies and one bogey, while Wales' Lydia Hall and England's Alice Hewson are T5 after round of 67 on day one.
Three players are T7 on four-under-par including Solheim Cup winner Bronte Law and six players are one stroke further back and tied for 10th place.
Follow all the action on @LETGolf on Instagram and Twitter and Ladies European Tour on Facebook – #RaiseOurGame #MoonlightClassic #RaceToCostaDelSol.