Home favourite Nicole Garcia is looking to keep her good form going this week as the Ladies European Tour (LET) returns to South Africa for the Joburg Ladies Open. 
The 31-year-old comes into the week following a T10 finish last time out at the Aramco Saudi Ladies International, which was her first LET event of the season. 
And as she returns to her hometown of Johannesburg to play Modderfontein Golf Club, the South African is keen to make the most of familiar surroundings this week.
"It's really nice to be back home, I think the last time I played this course was about ten years ago as an amateur – I remember a few holes but luckily my husband has played it a lot, so he's taken me through the yardage book!" Garcia said.
"I took some time off in December, then I've been on the Sunshine Ladies Tour to get back into it, there were strong fields and I enjoyed that to get back into it before getting back on Tour.
"The greens are really good, I've always heard good things about this course and the greens, they're quite quick so I just have to get my pace in."
Garcia has previous good form when playing in her home country, having recorded a T3 finish at the Investec South African Women's Open in last season's curtain-raiser. 
And after a positive start to the year, she is looking to keep up the good performances throughout 2022.
"It was really nice (in Jeddah). It was my first LET event of the year, and it was nice to start on a strong note and I'm looking forward to keeping that going throughout the season," she continued.
"Last year I started great and then it tapered off later in the year, so this year my goal is to be consistent and hopefully the results will come."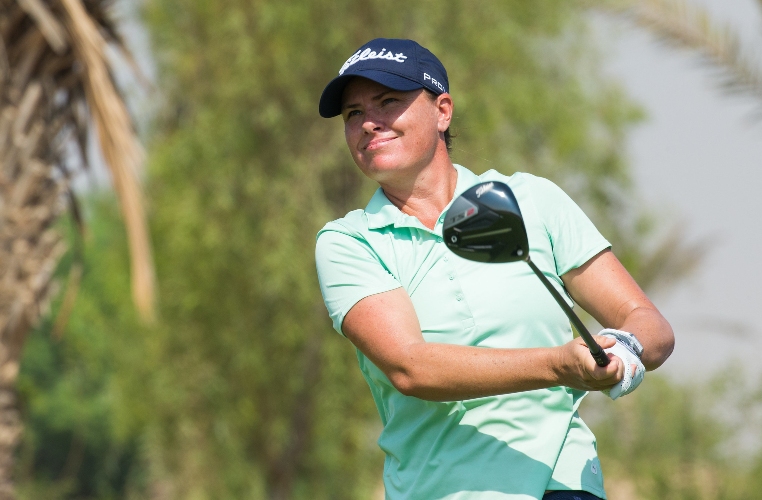 Another star looking to catch the eye on home soil is Lee-Anne Pace, with the four-time South African Women's Open Champion looking to claim yet another title in her home country this week. 
"It's fantastic to be back in South Africa, I played this course a long time ago – you've got to be accurate off the tee, that's the main thing. The greens are soft and fast so it's going to be attacking golf," the 2010 Order of Merit winner said.
"My back has been feeling a lot better, so I've started to practice a lot more and I'm starting to shape the shots again which I love, and it will suit this golf course as well.
"I've got my goals for the season, winning one of the next two events is right up there, I feel ready, I'm playing really well. I think I played a lot better than my score suggests last week, so that's positive.
"It's such an amazing feeling to win in front of your friends and family, I've done it a few times and I absolute love the feeling it gives me."
There are a number of players coming into week following a positive start to the season, and none more so than Sweden's Johanna Gustavsson. 
The 29-year-old has been in inspired form in 2022, having claimed top-ten finishes in the opening two events of the season, including a career-best T2 finish at Royal Greens Golf and Country Club last week.
And after such a strong showing in Saudi Arabia, Gustavsson is looking to follow that up with another strong performance when the competition gets underway on Thursday.
"Last week was great fun, my game has been feeling pretty good so I can feel like I can be up there, I'm really looking forward to this week as well and seeing what I can do," she said.
"I was waiting for the anxious feelings to come and they didn't really, so for me it was a really big step forward mentally and making me feel like I'm ready for something big.
"My approach shots and putting was strong last week, I'm pretty solid overall. I played quite well at the end of last season and I had some good finishes but I didn't feel that great, I had some trouble controlling my club face, so we've been working on that this winter."
Elsewhere in the field, England's Alice Hewson and India's Diksha Dagar will be looking to perform well in South Africa once again, having both claimed titles in the country previously.  
2018 Rookie of the Year Julia Engström will also be hoping to make her mark, while Casandra Alexander, Stacy Lee Bregman and Tandi McCallum are among the 23 South Africans in the field trying to impress on home turf. 
Follow all the action on @LETGolf on Instagram and Twitter and Ladies European Tour on Facebook and YouTube – #RaiseOurGame #JoburgLadiesOpen.