Georgia Hall won the Cambia Portland Classic on Sunday for her first LPGA Tour victory in the United States, beating Ashleigh Buhai with a par on the second hole of a playoff. She captured victory with a par on the second playoff hole, taking the win over South African Ashleigh Buhai.
Hall held the lead at -13 stepping to the final hole, with Buhai in the clubhouse at -12 after a blazing final-round 65. With no leaderboards on the course and not opting to check her scores on her phone as currently permitted by the LPGA Tour, she did not know where she stood in relation to the field. After sending her approach to No. 18 in the back bunker, Hall two-putted for bogey to drop to -12 and into a playoff.
"I was pretty nervous the last nine holes and I never looked at the leaderboard once, so I had no idea where I was. I didn't know I was leading. Must have been leading for that four or five holes," said Hall. "To bogey, the last I was quite upset about that. I had to refigure myself and get back to try and win that playoff."
Hall stuck her approach to 6 feet on the first playoff hole (No. 18), but her birdie attempt pulled to the right. The second playoff hole, No. 1, saw both players roll over the green and chip on to within 6 feet for par. Hall knocked in her par attempt and when Buhai sent her par putt past the hole, Hall earned her second LPGA Tour victory. It was especially sweet to earn that win at Columbia Edgewater Country Club, after Hall entered the final round here in 2018 with a two-stroke lead but failed to take home the win.
"That did enter my mind. I didn't want to come second again," said Hall. "This course suits me. I love the condition of it. I was just really pushing to win in the playoff, so I'm really happy and just really excited to win."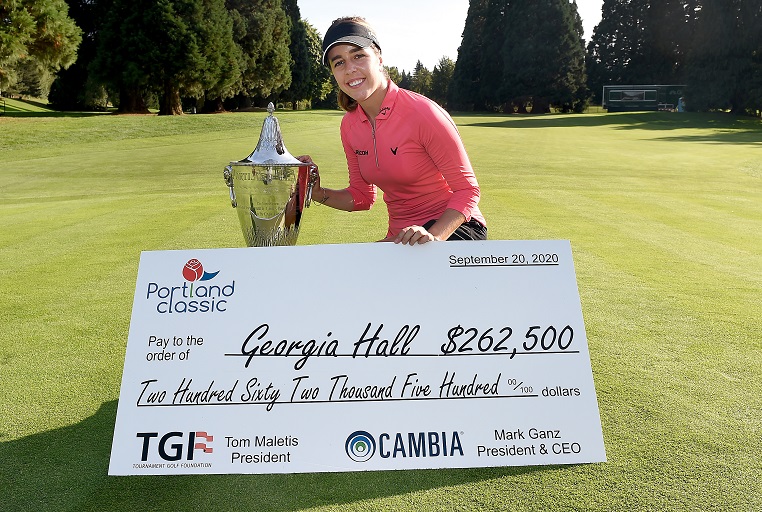 For Buhai, missing her first victory since joining the LPGA Tour in 2008 was certainly a heart-breaking miss. But while the 31-year-old did not hoist the trophy, she did receive a great consolation prize – a berth in December's U.S. Women's Open.
"The fact that I shot 7-under today and got myself in contention, my goal going into today was to get into double digits and ultimately finish top 10 because I'm not in the U.S. Open yet," said Buhai. "There are two spots, so I accomplished that goal; to get into a playoff was a bonus. Hit good shots coming down the stretch. You know, adrenaline. It's difficult to really calculate. Not much you can do, and just a misread putt. Just misread it a little bit."
Moriya Jutanugarn and Yealimi Noh tied for third at -11, with Noh receiving the second qualifying spot into the U.S. Women's Open. Mel Reid, who started the day with a two-stroke lead, shot a final-round 2-over 74 to fall into a tie for fifth at -10, while defending Cambia Portland Classic champion Hannah Green bogeyed the final hole to drop into a tie for 12th at -9.