In the Sanskrit language, the word Aditi translates into English as 'limitless' or 'boundless' and is also the name of the Goddess of Infinity in the Hindu religion, who is renowned for her creativity and freedom.
It almost seems it was with a sense of foresight that Aditi Ashok has her name then, as the Indian has been blazing a trail in the golfing world ever since she made her mark on the Ladies European Tour.
The Bangalore-born star became the first Indian player to win an LET event in a momentous victory on home soil back in 2016, before two more victories on tour within the next 12 months, while also carrying the hopes of her homeland in two Olympic Games.
The eyes of the country – golf fans or not – were glued to their TV screens this summer as Ashok came so close to earning an Olympic medal in Tokyo, before ultimately finishing two shots behind champion Nelly Korda in fourth spot.
But that performance in Japan did enough to capture the imagination of a nation, with the 23-year-old the talk of the country for such a stellar showing, with messages coming from far and wide in support of her achievements – including Prime Minister Narendra Modi.
"To me it just felt like a normal golf tournament just four rounds, but it was huge in India, and the impact it had was way bigger than I could have ever thought," Ashok said.
"It was huge (to get a message from PM), but it wasn't just him, there were cricketers, actors, actresses, everybody was following the Olympics.
"The Olympics is big in India, and it is seen as the pinnacle of achievement in sport. Generally, a lot of people who would not normally watch golf were up watching which was fascinating because no other event could have such an impact like that in a country like India.
"I think it's amazing, because some of the people who watched had never watched golf before, so they had to get a crash-course in golf overnight so they could understand birdies and bogeys.
"Some people tweeted that they learned the sport overnight just to follow me, which means a lot because I'm just a golfer trying to make my way and have good finishes."
Growing up in Bangalore, Ashok would often have to compete with boys whenever she competed in golf tournaments, with the sport struggling to gain popularity in a land where cricket is king.
From what started out as weekend trips to the course with parents Maheshwari and Gudlamani – who can often be seen taking up caddying duties – the young talent began to flourish on the junior stage and continued to excel as she grew into her teenage years.
That buzz of the competition, the need to get better every day, it drew her in, and in a blink of an eye golf was all she cared about, with every hour being counted down before she could get back on the course and do what she loved again.
"None of my family knew golf, but we started it as a weekend activity and I really enjoyed it. When I was seven, I played my first junior tournament, and I was one of the few girls competing in my area at that time," she continued.
"Competing with other kids, even the boys, made me better and sharper at the game, and having the chance to win tournaments was the most fascinating experience.
"I really enjoyed that, and that's what brought me back to the golf course everyday – to try and get better and win a tournament.
"Even though I only used to play in eight or ten competitions a year they were the highlights of my year – I used to wait for those events because it was so much more fun than going to school."
The one issue Aditi faced though was the lack of inspiring figures in golf – with India still trying to make its name in the sport, no one had walked the path she was about to head down, but if anyone had the ability to cut it at the highest stage it was her.
The next generation of Indian talents now have their poster girl in Ashok, and she is keen to keep that momentum and popularity of the sport going in the years to come.
"Growing up as a kid you hear about the Olympic sports where we had close finishes – we would hear about athletics and running where we had some good finishes back in the day – but golf has never been a part of that," she said.
"It's huge because people have been saying their whole family watched it, and now their kids want to try golf, and that's amazing because in India golf is not considered a big sport.
"It has changed since when I was a kid to now, but I think now it's going to get a lot bigger and you'll see a lot more kids trying to play golf, especially girls.
"We've always had men winning, but we've had very few women playing internationally in the last 20 or 30 years, so I think this is a step in the right direction so people can see that we can have a woman golfer on the biggest stage.
"It's a good example for the 10–15-year-olds who are trying to play golf but don't see a future in it, but maybe now they'll see more of a future in it.
"Golf may never become as big as some other sports in India, never as big as cricket, but the potential is there because we do have a few more golfers now and a few more girls coming to play in Europe and the US."
The Olympic journey is just the latest in a career that has sparkled since day one for Ashok, having taken the LET by storm in her first year as a professional in 2016.
Aged just 18-years-old at the time, Ashok got her first professional victory in front of a jubilant home crowd in the Hero Women's Indian Open, and in doing so became the first Indian to ever win on the Ladies European Tour.
In somewhere that still only has just over 100 courses in the country (compared to the 1800+ in England), that win was a major milestone, and the first time many people around India would have heard the name Aditi Ashok, but it definitely wasn't going to the be last.
"That was an amazing week, I had three top-ten finishes going into the week, so I knew I was playing well and the game was there, I just had to put three good rounds together," Ashok remembers.
"I had always played the Indian Open since I was 13, so my first one was in 2011 and I had played every year since then, but we had never had an Indian girl win.
"I always felt like we should because it was our home event, and it was always the most prestigious event for me at the time, so it was great to get my first win there because it was huge for everybody in India and also for the event as well.
"Now if there's another 13-year-old in the field, they can see an Indian name on that trophy and they want to do that to, they don't think it's impossible."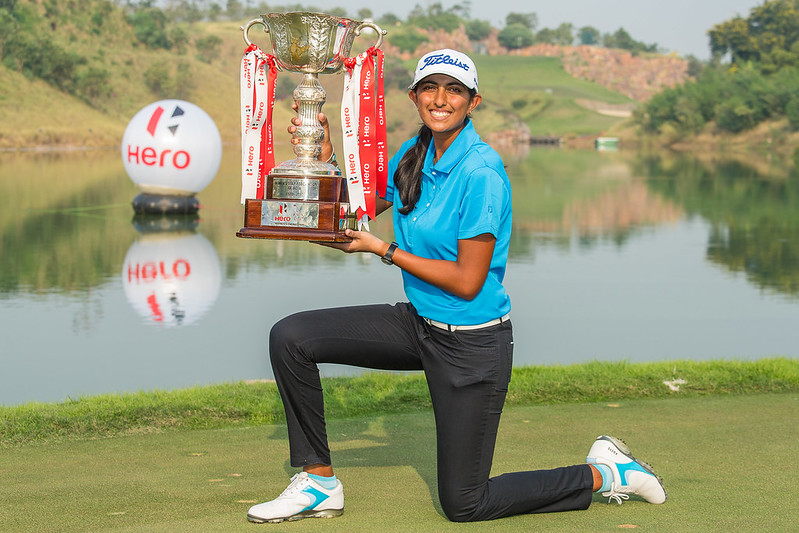 She may have still been a teenager, but she was breaking down barriers wherever she went, with another victory a fortnight later in Qatar, before registering her seventh top-ten finish of the season in the season's finale in Dubai.
Having only turned pro a matter of months before, Ashok finished the 2016 campaign with two victories and the Rookie of the Year title to her name and proved to herself that she could compete with the best in the game.
"Getting Rookie of the Year was also a great achievement for me, I knew my game was good enough to compete after playing as an amateur, but you turn pro without really knowing what your potential is," she recalls.
"So, to get those two wins were great, and to finish second on the Order of Merit was a bigger achievement because that was competing with all the pros on Tour.
"I had never seen any of the golf courses or travelled as much then, so it was huge for me, and it was a great building block for the next five or six years that I've had."
And those five or six years have seen Ashok rise to prominence on both sides of the Atlantic, with a regular spot on the LPGA, as well as competing in Europe.
A third LET victory came her way in 2017 at the FBM Ladies Open, and as the seasons continued the Indian became renowned for her assuredness with the putter in hand.
Only five players have a better putting average than Ashok's 29.07 on the LPGA this season, and that was evident in Tokyo in the summer, where she gained a resounding 13.01 shots on the field on the greens.
And it's those days on the courses back in Bangalore that have helped her to mould her game that way, with the putter her trusty steed since day one.
"I've always enjoyed practicing my short game and putting, I'd be there for hours and never get bored, and if you enjoy the practicing then golf gets easier," Ashok said.
"The game itself was always intriguing for me and it used to motivate me – I started learning putting, then chipping, then worked my way up to the tee box.
"People think that if you don't hit it as long you don't have a chance, but sometimes you can make it happen if you plan the course well and minimise your mistakes – and if you hole putts, you can bring yourself up there.
"Hitting long does help sometimes and it would have made my life easier in Tokyo as well – but I still had a good finish and I can work on that, but at least I know I have the game to finish against arguably the best golfers in the world at the time."
Having not had the historical headline makers to look up to when she was learning her trade, Ashok is keen to make sure that the next generation of Indian talent have a face and a name to aspire to be when they take to the course.
From New Delhi to Mumbai to Bangalore, Aditi Ashok has become something of a household name in her homeland, and by the time the next Olympic Games comes around, she wants to be an even bigger one, and getting a country inspired at the same time.
"I'm looking forward to it (Paris 2024) – I finished 41st in Rio and fourth in Tokyo which was a great improvement, and I want to improve on that as well," she said.
"You always see those leaderboards, but you never see people from your country up there in the top ten and seeing that every week would help.
"That's what motivates me every week, because obviously I'm a pro but I want to play well for the kids watching at home and they want to see an Indian flag up there on the leaderboard.
"You have to work hard because golf is one of those sports where nothing is guaranteed, but you got to make sure you're having fun.
"You've got to put in the hours but if you have fun on the golf course everyday, you will always improve."