After an excellent year on the LET Access Series, Gabrielle Macdonald secured status on the Ladies European Tour by finishing second in the Order of Merit.
The Scot turned professional in 2019 and this year clinched her maiden professional win on LETAS and followed it up with another victory one month later.
We caught up with Gabrielle ahead of the 2022 season to find out more about her journey into golf, studying at St Andrews, her career highlights and much more.
Hometown: Edinburgh
Home Course: Craigielaw
Age: 28
Started golf at: 9 or 10
School: University of St Andrews
Turned pro: 2019
Handicap: +2
I went along with my dad. When I was nine or ten years old, my dad got into Prestonfield and started playing more. He took me and my sister with him, though she wasn't a fan, so it was just me and my dad. I had lessons with the junior golf foundation once a week and then joined the club when I was 11.
I was always quite competitive. I liked other sports, I already played some football and anything at school I wanted to win. I think it was partly that and the fact it was another sport, but also it was something different because I didn't know many people that golf. I thought it was cool and having Tiger Woods dominating at that time, you started to hear about golf and watching it just inspired you.
When you're good at something you enjoy it. I started to play in the junior teams, and I knew more people who were playing golf and made friends. I joined Midlothian County and played in all the girls' competitions and championships. The more I played, the more I wanted to keep doing it and I got better.
It was pretty hard and intimidating. I think I was pretty nervous before my first competition. I remember playing the U14s and then the U16s at St Andrews. It was really difficult; it was April and the weather was terrible, but I kept wanting to go back. Then they held it at Craigielaw the following year and that's when I joined the club. I got such a buzz from competing even though I wasn't winning but to see other girls perform and thinking I wanted to try and do that.
I loved it at St Andrews. I liked studying at school and was quite academic, so I knew that I was going to go to university, and I just applied for universities in Scotland. For me, St Andrews was the best option for me both being a good school and being able to play the courses at the Home of Golf. It was a brilliant place to be while I did my geography degree. My golf really improved being there. Now that I'm not there, I realise how lucky we were to get access to all of the courses and facilities.
Winning the Scottish Ladies Close Amateur Championship in 2014 was a highlight. It was the biggest thing I had won at the time. It was held at Prestwick and the course was really challenging, plus it was the 100th anniversary so they made quite a big deal out of it. It was a really good week and I won on the 19th hole – which seems to be a pattern now!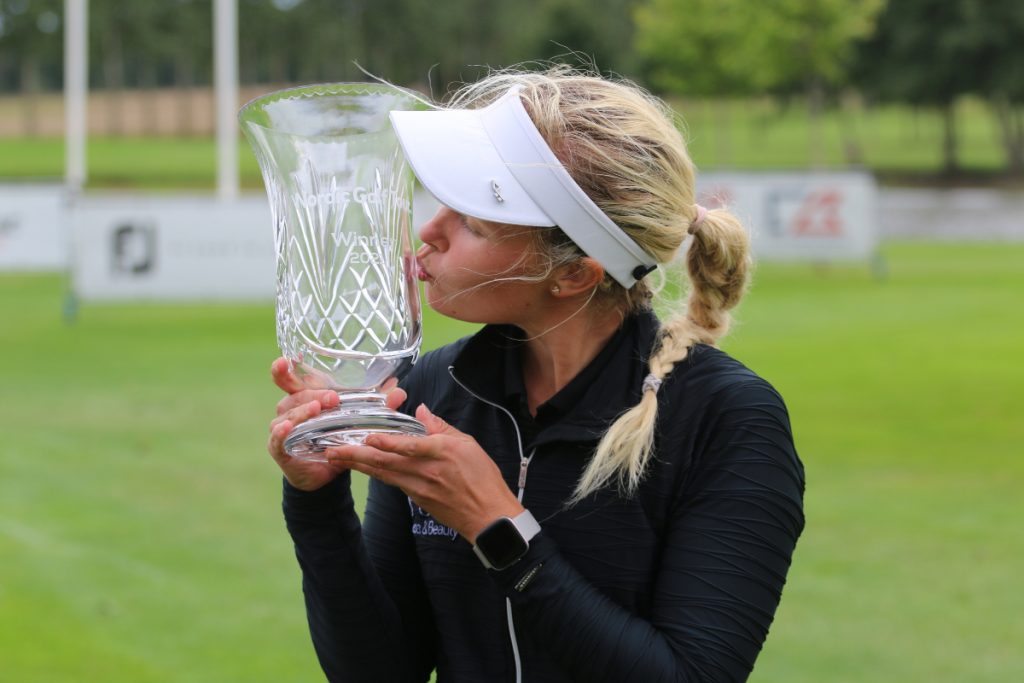 I love representing Scotland. I went to the World Amateur Team Championships in Japan, so that was great to be able to go there and play golf against the best in the world. I played with Anne Van Dam for the first couple of rounds and she was amazing then, to see her go on to play in the Solheim Cup was really cool.
Everything happens for a reason. I always wanted to turn professional but just needed my game to be in the right place. As an amateur, I tried Q School in Morocco but didn't get through to the Final Stage. I came back a year later and this time got through and I was going to turn professional, but my mum was really ill, so I had to pull out of Final Stage. I turned professional a few months later and took up LETAS membership. When I was ready to turn professional, everything ended up working out.
It was amazing to get my first win. I had had a good year and I was quietly confident. That week at the Allerum Open, the weather was so bad, and I wasn't really thinking about winning it was more trying to survive the wind and the rain. I had played the course before, and I had some good memories there. I was nervous before the last round because I hadn't been in that position before, but the playoff was really good fun and I enjoyed it. I was happy to get over the line with a win because the standard had been so high that you almost needed to win to get your card.
You wait for a bus to come and then two come at once. I was delighted. I got off to a bad start at Lavaux and then I managed to turn it around and I wasn't expecting it. When I got into the playoff, I was feeling quite confident because I had already won in a playoff not long before and it was a little bit of a boost. The first win I was always in the lead, so you expect it a bit more but in Switzerland I wasn't expecting it, so it was nice.
Those memories of my mum were with me as I was playing at Lavaux. It is always nice to go back and to know that my mum was there that year watching me. It did come to mind on the 18th because I remember telling my caddie, 'I remember my mum cheering me on here' as I played this bunker shot. It is an emotional memory but also a nice one to have. I'm lucky that she was there to see that, and I know that she would be proud that I have gone on and had some more success.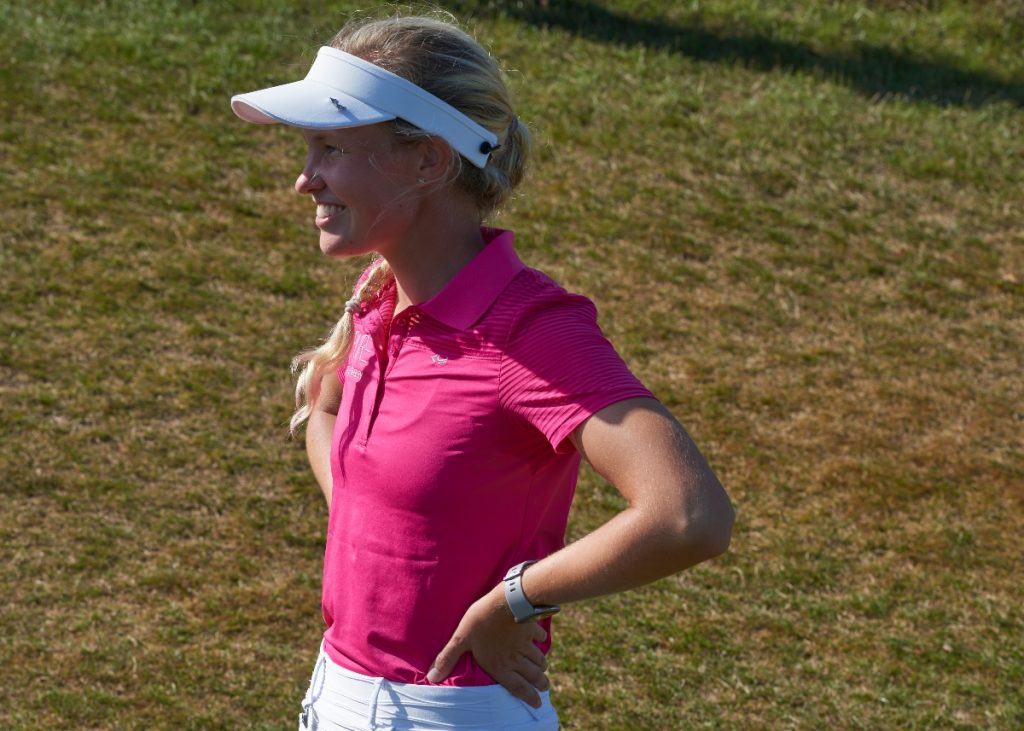 It had been my goal all year. I was delighted and relieved all at once. I was happy to have made the step up to the LET and because I secured my card before the season ended, it meant I could take a week off to go to one of my best friend's weddings. I was full of satisfaction and relief.
I'm looking forward to all of it – I can't wait! Just to be competing again and it will be new venues for me which is always fun and hopefully a few new countries as well. It will be a challenge, but I can't wait to get going. The Tour is growing again so it's nice to be joining now and getting to experience it.
I'm lucky to have Scottish role models. For me, Catriona Matthew has done everything in the women's game, and she is from not too far away from me as well. Andy Murray has always been a big sporting hero for me because he is just so determined. It is amazing to see him come back and still playing now after everything. I really like Jordan Spieth just because he never gives up and he always finds a way. I think Tiger was the one who got me playing golf and excited about it back in the day, but I'm lucky to have other Scottish heroes as well.
Quickfire Q&A
Who is your hero? My mum.
What makes you happiest? Being with my family and having fun, but also the competitive buzz of golf.
Best travel buddy? Rachael Goodall.
Desert Island dish? Vanilla ice cream.
Golfing superstitions? No, not really. I have a lucky marker from Prestwick that I tend to use but not all the time.
What is your most treasured possession? My old teddy bear or my golf clubs.
What would you sing at karaoke? Mamma Mia by ABBA
Favourite Golf Course? Prestwick or Monterey Peninsula in California.
Dream fourball? Jordan Spieth, my boyfriend (Guy Dalziel) and Tiger Woods.