After an outstanding amateur career, Leonie Harm secured status on the Ladies European Tour in 2020 and has made the most of her card.
The German made every cut in the eight events she played in, recording her best finish of 17th at the Women's NSW Open, and shooting a career-low professional score of seven-under-par 65 at the TIPSPORT Czech Ladies Open.
We caught up with Leonie ahead of the 2021 season to reflect on the 2015 PING Junior Solheim Cup, her work with CureVac, and life on Tour so far.
Hometown: Stuttgart
Home Course: Golf Club St. Leon-Rot
Age: 23
Started Golf: 2-years-old
School: University of Houston
Turned pro: 2020
Handicap: +5
I was so young. I don't remember when I first played golf, my parents played and I have a brother, who is four years older than me, and he loved golf when he was a kid. It was the majority rules. I was probably one or two-years-old with plastic clubs and then I slowly started getting into it.
I made my first par at four-years-old. I think my first memory on the golf course was when I made my first par. It was a nine-hole short course at my old club, and I holed out from, it felt like a mile away, but it was probably 30-yards off the green. I was super little, only four-years-old or so and that was exciting. That was one that stuck out with me.
Golf never gets boring. You'll never hit the same shot twice, so you always have a new set of challenges every day. You get around 70 challenges on the golf course and you have to be there and figure it out. There are no guarantees but still everything is possible. You could shoot the best round of your life or the worst round of your life every day. You have just got to sit there and control the controllables and make the best out of it.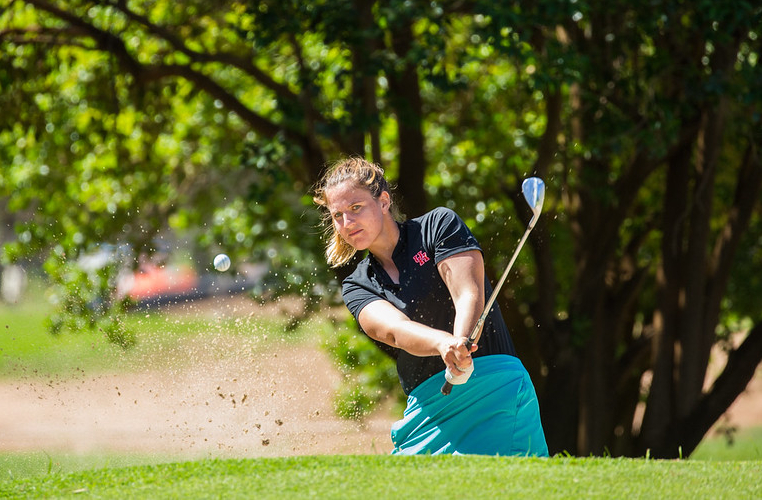 My junior golf career was a wild ride. I was pretty decent early on and then I actually had an accident, and I was in a coma. It was quite a setback in terms of my body, I rested completely for seven weeks, so you can't just jump back at it and pick up where you left off, but I did work my way back. I used that to fuel my will to actually be the best I can be, to be top in Europe.
It was my dream. I found out my club was hosting the Solheim Cup in 2015 and the PING Junior Solheim Cup, which was super exciting because that would be my last year as a junior golfer. I really wanted to play. You cannot imagine how much I wanted to play. I did everything in my power to compete in that competition. I moved out from home when I was 15 and into an apartment close to the golf course so I could walk to practice. I succeeded with my goal and I played in the PING Junior Solheim Cup.
It was unreal. It was so cool. My club agreed with all the schools around that everybody would have a day off on the Tuesday for the single matches. Groups of students were supposed to be guided around the course, but they all went to my match. I had 1500 people walking around with me which was insane as a junior golfer. It was really special, and I was super proud to represent my home club. It was definitely an experience of a lifetime!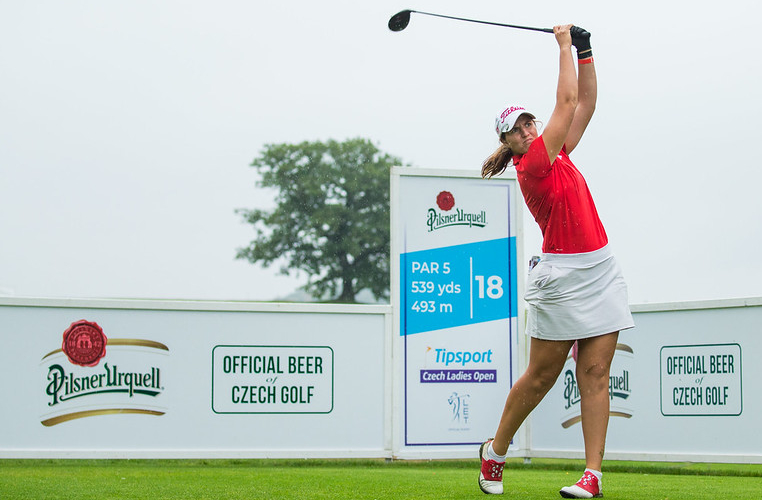 I had quite a challenging degree. I loved it and I was passionate about it because it wasn't my plan to become a professional golfer, I want to be a cancer researcher, so I really wanted to focus on studying Biochemistry and Biophysics. My coaches were brilliant and helped me out coordinating my studies because with labs sometimes the schedule was a nightmare. They supported me and I always made sure when I was in class I'd fully focus on that, and when I was on the golf course I'd put all my effort into that.
I've had a few highlights. For the summer months, I always came back to Europe and always competed in everything I could. In 2018, I got to compete for Germany at the World Team Championships, and I won The Womens Amateur Championship that year too. My win there meant I got to play at the Women's British Open and it was a completely different ballgame than any other amateur event you could play.
That sparked some new competitiveness in me. At the time of the Women's British Open, I was probably top-20 in the world in the amateur rankings. That competition was when I realised that there's so much good golf around. In an amateur sense I was around the best people but there were still so much better people up there. I realised at that point I wanted to belong to them, and I wanted to be one of them one day.
Everything fell into place. I played at LPGA Q School in the fall and I was planning to get my Symetra status so I could play there while finishing off my degree. But I didn't play well and luckily the LET had their Q school in January instead of December, because that's when I would usually have my finals. I had a second chance to get a category. Due to my amateur ranking I could immediately progress to the Final Stage so I stayed amateur until Q School, I got my status and then turned professional afterwards.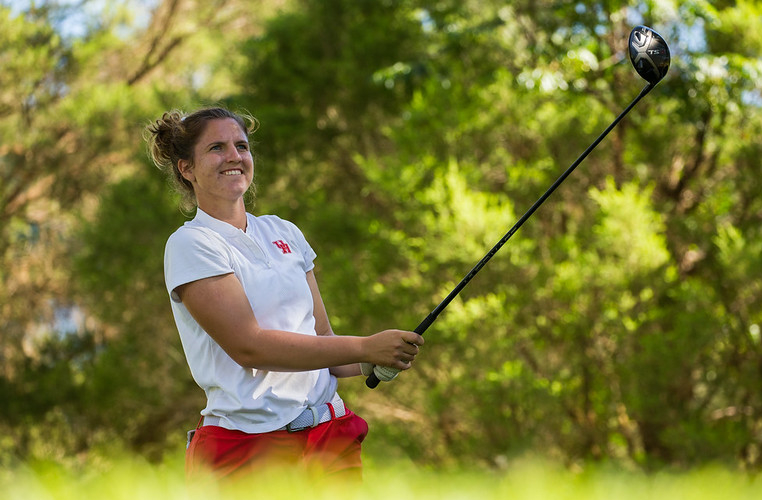 Travelling and experiencing new cultures is amazing. I absolutely loved the fact that there was a lot of tournaments in different places. I'd never been to Australia, Saudi Arabia or South Africa before. I enjoyed life on Tour because even when we were all competing against each other and we were all playing for money, we were still in a very comfortable environment. Everyone knows everyone's name and are able to answer any questions I had. It was cool.
I'm on the right track. Last year when we went into lockdown I knew I needed a job because I cannot do nothing! I have a Biochemistry degree and this was a biochemical matter, so I did some research and found an opening as an intern in vaccine development at CureVac. It was really interesting to get a hands-on insight of what work in a lab really is like and it was a great way to put the time to good use. I had so much fun but it also made me realise I'm not done with golf. When I was working, I enjoyed it but I did miss competing and did miss golf. I'll see how far golf can take off and when that's done, I'll work with my degree.
Quickfire Q&A
Who is your hero? Dietmar Hopp.
What makes you happiest? Working out.
Best travel buddy? My coronavirus facemask.
Desert island dish? Maultaschen.
Golfing superstitions? I have to have a coffee before my round.
What is your most treasured possession? My memory bank.
What would you sing at karaoke? I Want It That Way.
Favourite Course? Pont Royal Golf Club.
Dream fourball? Rory McIlroy, Bernhard Langer, Michael Jordan.