After a consistent year on the LET Access Series, Rachael Goodall earned her Ladies European Tour card for 2022 by finishing fourth in the Order of Merit.
The English golfer turned professional in 2014 and has three LETAS wins to her name including one in 2021, as well as another win on the Santander Golf Tour.
We caught up with Rachael ahead of the 2022 season to find out more about her journey into golf, playing on LETAS, her dream of playing on the LET and much more.
Hometown: Wallasey
Home Course: Heswall Golf Club
Age: 31
Started golf at: 4
School: Weatherhead High School
Turned pro: 2014
Handicap: +4
My dad is the reason I started golf. I used to go and watch him at the driving range most days and I would ask if I could have a go. Eventually, he gave in and took me to some junior classes. That was the start of my golfing journey.
I liked being able to hit the ball a long way. Even though, when you were little, you couldn't hit it that far, but you were always trying to. It is quite a difficult sport. You don't just kick a ball on grass like in football, there is a lot of technique. Once you hit a good shot, you get the feeling of anting to do it again and every day is different.
I started playing for Cheshire when I was six. I had experience when I was young of playing at a fairly decent level. I got to 10 or 11 and thought 'this is what I want to do, I love playing golf'. When I was little Annika was at her very best and I wanted to be just like her. I just wanted to copy Annika and I knew that was what I wanted to do. What a life to be able to travel, play in different countries and do what you love.
I was too little to see out of the bunker. The only memory I have from playing for Cheshire when I was six was in a team match and I couldn't see out of the bunker. The professional I was walking with lifted me up so I could see where I was going.
I did everything I wanted to as an amateur. I played for Cheshire and then the county Ladies. I won the Ladies Championship when I was 17 and played for England. I had a good year in 2013 when I really consistent and I thought I was ready to turn professional. I went to Q-School and turned pro at the Pre-Qualifier which was a brave decision because it could have gone wrong. I got through to the Final Qualifier, but I got food poisoning so had to pull out, but I have played on LETAS since then.
I played on LETAS while I was still an amateur. I made the cut and really enjoyed the experience, so when I couldn't compete in the Final Qualifier, I knew I could play there. I always thought it would be good to get your card that way because it shows the work over a period of time. It is a great Tour which is set up very similar to the LET and gives us an opportunity to experience what it would be like playing on Tour every week.
The first win was pretty cool. It was in 2018 in Sweden. A few weeks earlier I qualified for the Women's British Open and played in that. I learnt so much in that week. You think I'm going to have to change my game to compete, but you really don't. I took that into Sweden and thought I'm just going to play my own game and to have that confidence. I think that helped that week. Once I had my breakthrough win, I became more confident playing in the tournaments every week because I knew I could do it. That was a very special week to me.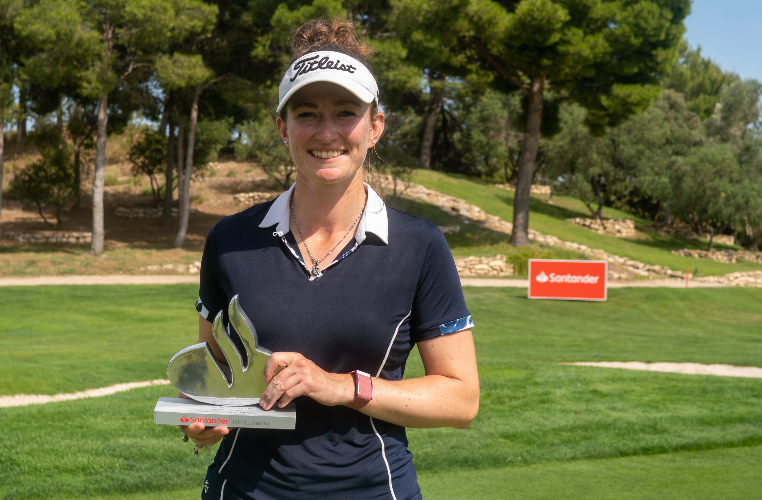 I won after a seven-hole playoff, but it felt like a lot more! When I won in Zaragoza it was 41 degrees Celsius that week and it was just so hot. I played steady all week and I was in the final group with the leader Nina [Pegova] and she wasn't making any mistakes. I think I was five shots back with nine to play and I thought I will keep trying to make birdies and then it got exciting. I know the 18th hole very well now.
That win was so important for me. The week before I was considering my future a little bit. I was thinking about golf and what was in store, but to get that victory turned my year around. It meant I could see light at the end of the tunnel and then I went on to get my LET card.
My boyfriend told me not to look at the leaderboard all week. At the season finale, I was a bit anxious, and it was great to have him there caddying for me. I tried to treat it as a normal tournament, but people kept talking to me about the Order of Merit and the fact I could get my card. He told me not to look at the leaderboard, which I always do, so I had no idea where I was but being in the last group on the last day, I realised I was doing okay. It did help me focus and I wasn't as nervous about the Order of Merit because I was focused on the tournament.
It felt amazing. It was such a big relief as well and it felt like all my dreams had come true. I have always wanted to play on the LET full time and with a full card, so to be able to do that it was something special. Plus, to have my boyfriend there was cool and to do it in Spain when I have a lot of good memories there was even more special.
Our goal was to both get our cards. Gabrielle Macdonald and I roomed on LETAS. You are a team throughout the season, and it was a goal of ours to get on the LET. To achieve that was super special. I think we helped each other because I won in Spain and then a few weeks later, Gabs won and then won again. It pushed us both on each week because we were both playing well so it helped us keep going.
Quickfire Q&A
Who Is Your Hero? My dad.
What Makes You Happiest? Chocolate.
Best Travel Buddy? Gabrielle Macdonald and Laura Beveridge.
Desert Island Dish? Chicken nuggets from McDonalds.
Golfing Superstitions? I always use purple to mark my ball and I use the same markings.
What Is Your Most Treasured Possession? Mobile phone.
What Would You Sing At Karaoke? Nothing's Gonna Stop Us Now by Starship
Favourite Course? Allerum in Sweden
Dream Fourball? Annika Sorenstam, Tiger Woods and Nelly Korda.