Kim and Morgane Metraux are not the first sisters to play on Tour but the duo from Switzerland are starting to make an impact on the LET with Kim finishing 21st and Morgane 45th on the Race to Costa del Sol last year and featuring on leaderboards all season.
With only two years separating the pair in age, the Swiss stars play, practice and room together, not to mention they studied together and even turned professional at the same time. BUT, they are carving their own paths on the LET and are unique in their own way, not to mention Kim's a lefty.
We caught up with the siblings at the end of the 2020 season to see what the thought of their first full season and what they expect for 2021.
Hometown: Lausanne, Switzerland
Home Course: Lausanne Golf Club / Lake Nona
Age: Kim 25 / Morgane: 23
Started Golf: Kim 12 years-old / Morgane: 10 years-old
School: Both went to Florida State (graduated in Business Management)
Turned pro: Both in 2018 after completing college.
Handicap: Kim – +4 / Morgane – +5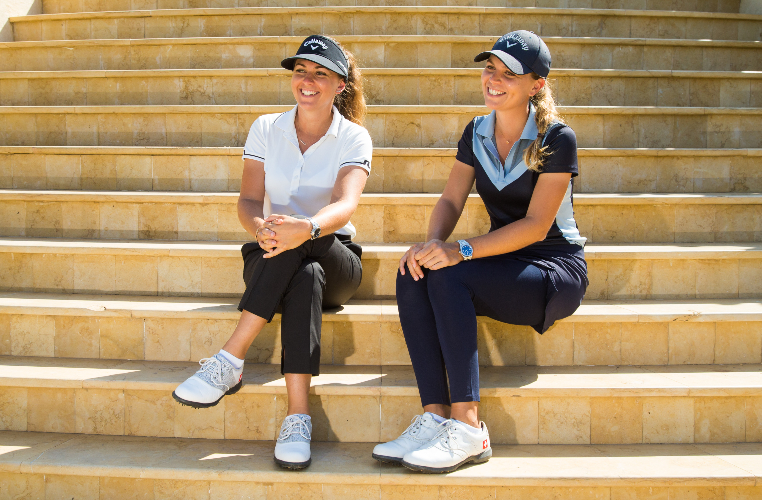 Thoughts on 2020…
Kim: If I were to grade my year, I would give it a B. Coming into the season, I didn't have great expectations, but I was happy to play more or less a full season after only playing twice in 2019. So, to start to play well in Czech Republic and then get a third-place finish at home was a big confidence boost. I will never forget that feeling.
Morgane: It is a tricky one for me because in terms of the results and the golf season, a B- or C+ but if I look at the context, probably a B+ because of my injury. I started playing again in November 2019 and it took until around October to get my full game back. I had not been playing how I wanted and lost a lot of distance as a consequence, but lockdown really helped me actually, as I could work on my game, heal and get better.
Where it all started…
Kim: There is only one year separating us at school, so I waited for Morgane to finish so that we could go to college together. It worked out well because I played international events in Europe for a year while Morgane finished her studies and I think that helped me to improve. She always wanted to do my homework when we were really young, which is partly why she skipped a year to be just one behind me, but the age difference is not a factor now because we are on the same track.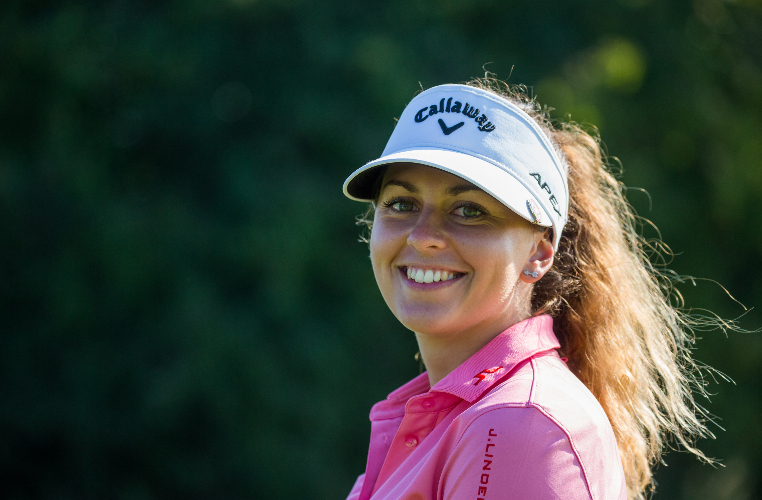 Morgane: That is true about the homework but once we got to college, we were on the same timeline as we are now. I guess with my injury, Kim got to play a bit more than me in 2019 and has used that experience really well and it has helped her play so good this year. She has been so consistent.
Kim: We started to play golf at the same time. Dad had played a few times and he wanted to find a sport that we could all play together on holiday, so we all tried it, even our Mum. She was better than us for a bit at the start, but we managed to overtake her as we got a bit older.
Morgane: When you think about it, it was a great idea from Dad and the thought was never for us to be golfers I don't think. We took up golf as a sport to have alongside our studies and then our work, whichever job we would be doing. Our family has never pushed us in that direction, but it is so fun now it is here. We love when they come out on Tour with us and Dad has been on my bag a few times.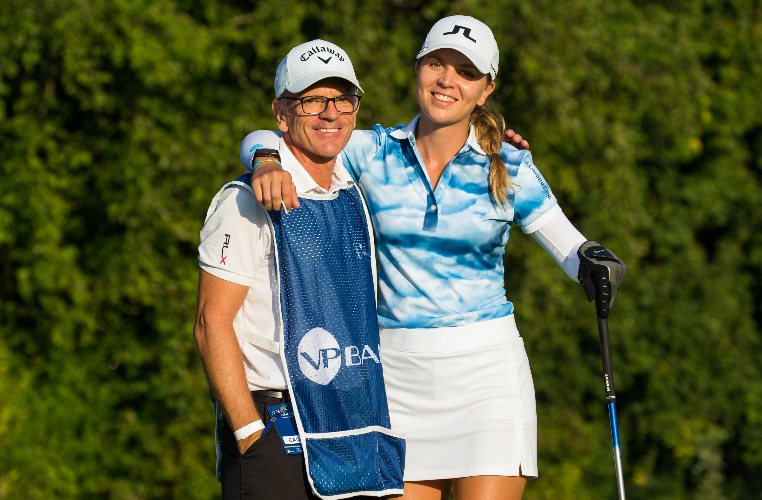 Who is the boss…
Morgane: Kim still acts like an older sister sometimes. I think she worries about me and would be more anxious or protective if something is wrong and I am a bit more chilled out, but I think that is a good thing for both of us. People see us from the outside and think we are the same, but we are quite different in a lot of ways.
Kim: The funny thing about that is that we played together in Saudi Arabia in the final round and Morgane got off to a bad start, I know I needed to focus on my game, but it hard not be impacted by her as I wanted her to do well. So, it kind of showed how we are together because she just shrugged it off, turned it around and then we started pulling each other along. She ended up beating me in the end.
Season highlights…
Kim: Finishing in third place in Switzerland is easily my highlight of the year. To play in front of crowds and enjoy playing well, there is no better feeling. Amy was incredible in the end to win but I am proud of how I performed.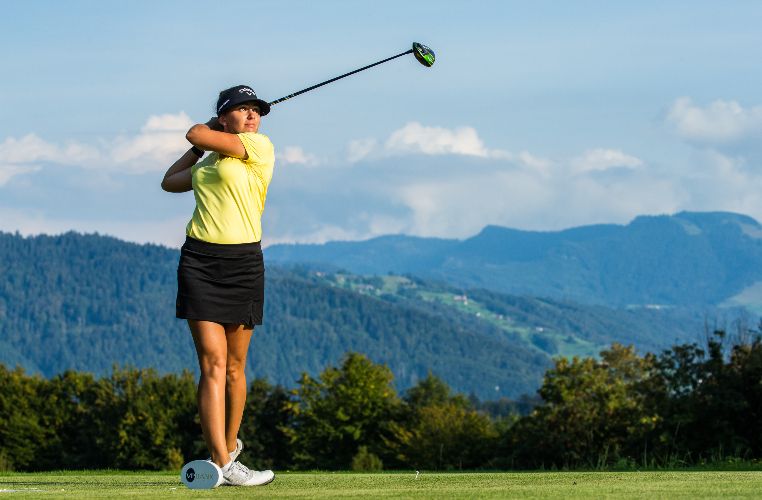 Morgane: I really enjoyed playing at home in Switzerland but The Saudi Ladies International was probably my best result. I had a strong final two days, which gives me something to build on next year. I think I was nine-under-par, so if I can replicate that sort of golf over three or fours days, I will be happy.
Life on Tour…
Kim: I am enjoying life on the LET, making the trips together has been so nice and a couple of times our parents have been able to join us too, which is amazing.
Morgane: I have not got to experience the tour as much as Kim, and with my first year being with COVID interruptions, that has changed the way of life a bit but seeing new places is so cool and seeing the world is exciting and something I can't wait to do more.
Touring with my sister is awesome. We definitely push each other to be better and we have matches when we practice. Sometimes it is like we are juniors again, doing putting and chipping competitions and generally competing, it is cool to have someone there to practice with and to have something to play for.
Idols…
Kim: I have always looked up to my parents and if one day I can have kids and raise them the way they raised us, I will be happy. From a golf point of view, I have always admired Sergio Garcia and Martin Kaymer but more recently I have loved watching Rory.
Morgne: I really look up to Rory Mclroy, I love how is swing is the way I want mine to look. It looks so good. I am a technical freak, so it is perfection.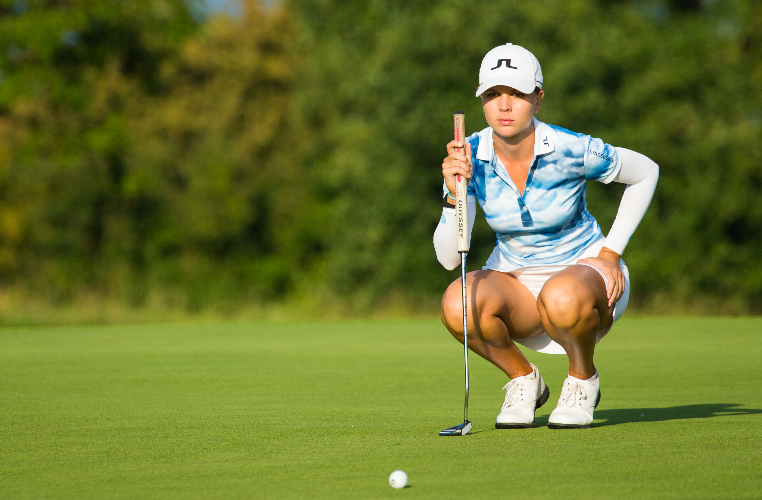 Kim: He does swing it good and I don't see many left handed swings so I am used to watching right handers.
Aims for 2021…
Kim: I would like to win on the LET and play in at least one major and the Olympics are on my mind for sure.
Morgane: My goal for 2021 is to win on the LET and, while I am trying not to focus on it too much but qualifying for the Olympics would be quite incredible! Especially if we qualified together.
Quickfire Q&A
Who is your hero? K: Parents / M: Rory McIlroy
What makes you happiest? My family M: Getting to see my boyfriend, I barely saw him in 2020 but hopefully that will change.
Best travel buddy? K: anyone from my family. M: For tournaments, Kim. Harry my bf otherwise.
Desert island dish? K: Sushi / M: Mum's Pasta
Golfing superstitions? K: I always carry three tees in my pocket / M: I do not have any
What is your most treasured possession? K: Phone / M: Phone
What would you sing at karaoke? K: I love singing anything but not in public, / M: My singing is terrible but I would mime something.
Favourite Course? K: Mayakoba El Camaleón Golf Club / M: Valderrama
Dream fourball? K: My boyfriend, Rory McIlroy and Dustin Johnson / M: Justin Timberlake, Rory McIlroy and Tiger Woods