Early next month, the Ladies European Tour will return to Golf Club Margara for the Ladies Italian Open presented by Regione Piemonte, which will be the 26th time the event has been played on Tour. The event will be played from Thursday 2nd to Saturday 4th June
In 2021 the competition celebrated a quarter of a century, as it returned to the circuit after seven years, with players competing for a prize pool of 200,000 euros. A show for everyone, with free admission, there will also be 10 Italians competing, including four amateurs. The title will be defended by Frenchwoman Lucie Malchirand.
The Ladies Italian Open presented by Regione Piemonte will be a top-level field, which will also see ten Italian players compete. From Giulia Molinaro, who regularly competes on the LPGA, to Virginia Elena Carta who made her professional debut a year ago in this tournament, while Roberta Liti finished as the highest-placed Italian in the event last year, as she ended up in seventh.
2020 Olympian Lucrezia Colombotto Rosso will come into the tournament in high spirits after claiming success at the 2022 Terre Blanche Ladies Open on the LET Access Series, while Erika De Martini to Martina Flori will also be looking to put in a strong performance on home turf.
There will also be four amateurs in attendance at Golf Club Margara in June, with Benedetta Moresco recently finishing fourth at the Augusta National Women's Amateur, and Carolina Melgrati looking to build on an impressive tenth-placed finish last year.
2021 PING Junior Solheim Cup winner Francesca Fiorellini will also be teeing off in her homeland, as well as Alessandra Fanali, who has impressed on the US College scene in her early career.
Although no Italian woman has managed to win the prestigious prize in front of a home crowd, there have been four occasions where an Italian has finished second, with Silvia Cavalleri doing so in 2000 and 2002, Veronica Zorzi in 2005 and Giulia Sergas in 2011.
French star Malchirand will defend the title she won as an amateur last time around, as she took the victory by a single shot on a pulsating final day in Italy, and she will be looking to become the first player since Laura Davies (1987-1988), to achieve back-to-back titles.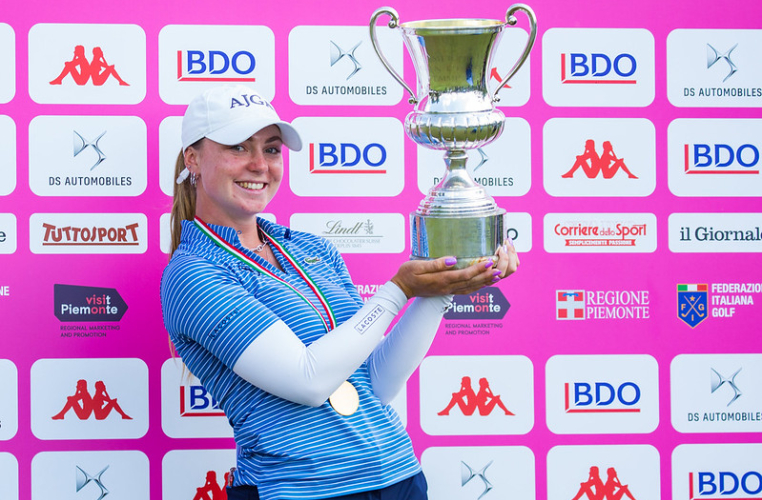 Among the names trying to claim the trophy for themselves will be Sweden's Maja Stark – who claimed a third LET title in eight months at the Women's NSW Open last week, and Norwegian Marianne Skarpnord, who won the tournament in 2009 at Le Rovedine Golf Club in Milan.
Stark only turned professional in 2021, but the 22-year-old from Abbekås has already won three LET titles thanks to her success at the Creekhouse Ladies Open, the Estrella Damm Ladies Open and the Women's NSW Open, as well as success on the LET Access, in 2021 at the PGA Championship by Trelleborgs Kommun, and is the current leader of the Race to Costa Del Sol with eight tournaments played in the 2022 season.
There will be 126 competitors who will compete for a total prize money of 200,000 euros at Golf Club Margara. The event will be held over 54 holes with a cut after 36 which will leave the top 60 professionals and ties through to the final day. And admission will be free.
The Margara Golf Club will host the Women's Italian Open for the second time – A golfing excellence surrounded by nature among hills, vineyards and the Alps in the background. In Monferrato, a world heritage site, stands the Margara Golf Club, built in 1970 and completed in 1972.
There are two competition fields, both with 18 holes. The first, "Path Glauco Lolli Ghetti" – in memory of the founder Glauco Lolli Ghetti, who was an Italian shipowner and sports manager, named Cavaliere del Lavoro in 1973 -, is surrounded by tall trees and allows you to play among oaks, willows and maple trees along the wide fairways that develop between the hills of Monferrato.
The second, "La Guazzetta", features a more modern architecture and alternates more technical holes. The Margara Golf Club has already been the venue for 22 editions of the Challenge Tour and this year will host the Ladies Italian Open presented by Regione Piemonte for the second time.
Follow all the action on @LETGolf on Instagram and Twitter and Ladies European Tour on Facebook and YouTube – #RaiseOurgame #LadiesItalianOpen