After a year-long battle in the Race to Costa del Sol, it has all come down to the final LET event of the 2022 season – the Andalucía Costa del Sol Open de España.
Swedish stars Linn Grant and Maja Stark go head to head in the season-ending tournament and will battle it out at Alferini Golf to earn the prestigious Race to Costa del Sol title.
It has been an outstanding year for the duo, who only turned professional in August of 2021, and has seen them rise to be within the top 50 in the Rolex Women's World Golf Rankings.
Grant, who clinched LET Rookie of the Year a few tournaments ago, has 3,394.91 points to her name with compatriot and friend Stark just 69.77 points behind her heading into the final event.
Four-time LET winner Grant said: "I feel like we've had a battle on and off throughout the year and it would be sad to have it be over already. I'm glad it made it to the final event, and we'll give it a good go this week. I feel like it was supposed to be this way, it feels good.
"Especially now it's fun and nice having someone to share every week with and the situation. Looking back at amateur events we played a couple of years ago; I think it's going to be the same where you look back and go 'wow that's pretty cool' not knowing what it means 100% right now."
Stark added: "I am going to miss this season when I go home next week, and I realise it's one-and-a-half months until the next tournament. I'm so tired, but I have learnt a lot this season and have a lot of things that I want to do differently."
The Swedish duo have picked up plenty of silverware in the 2022 season with Grant winning four titles throughout the year starting with the Joburg Ladies Open followed by the Mithra Belgian Ladies Open and the Volvo Car Scandinavian Mixed, and finally the Skaftö Open.
While Stark won two LET titles in 2021 just weeks after turning professional and has followed it up with three further victories this season starting with the Women's NSW Open, then the Amundi German Masters and finally the ISPS Handa World Invitational – where she earnt her LPGA Tour card.
But despite all theirs win on the courses, it is the moments shared outside of the golf course that have made this season extra special.
Stark explained: "When I look back on the year, it's not the results that come up it's more the fact it's been so fun to hang out with a friend for the whole year.
"All the competitions that we have done together, one of my favourite moments was at the Amundi German Masters and we were just so tired. We were sharing a room and talking and something silly came up and we were dying of laughter. That has been the best part about doing this together. It's fun that one of us is going to win it too."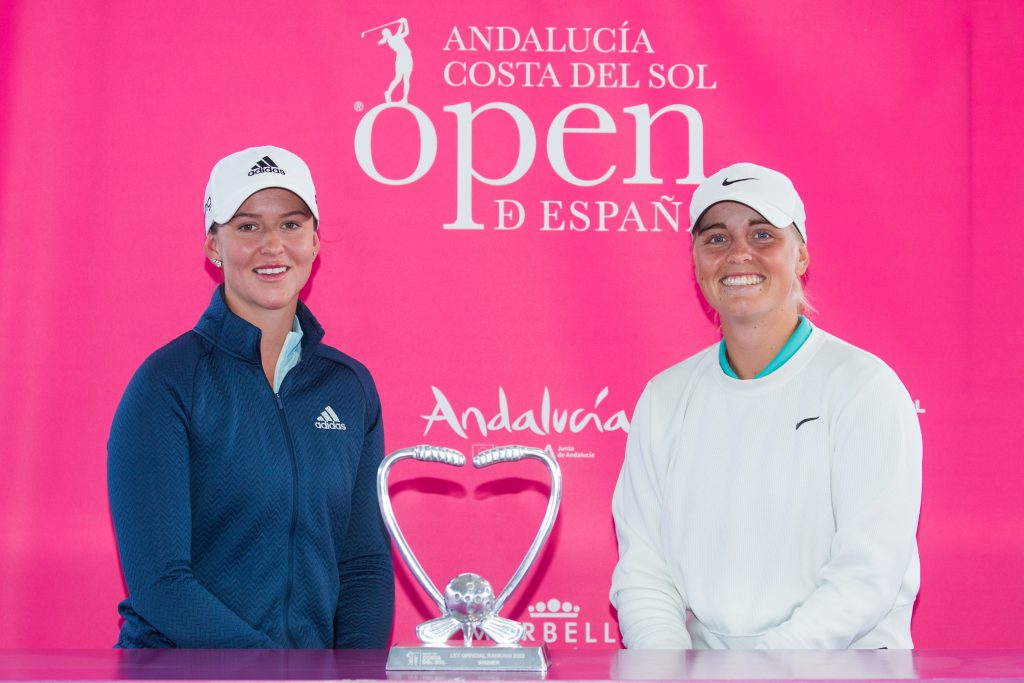 The pair have been drawn alongside defending champion Carlota Ciganda and the group will tee it up in the first round at 12.05pm local time.
With the 2022 Race to Costa del Sol coming down to the final event, there are several scenarios with the main ones being Grant can finish ahead or level with Stark and she will win the title, whereas Stark must beat her compatriot to have a chance of winning.
But what will each player be thinking if it is tight going into the final few holes of the tournament?
"It depends on the situation," said Grant. "The finishing holes here are two par-fives and one par-three, I think you can be quite aggressive – which we both are.
"Speaking for myself I think I'm going to stick to be aggressive on those holes. Coming up on 18 that could be a little scary with the wind, the water and I think maybe it will be take your two-putts and go situation."
While Stark added: "We're both very aggressive players and we don't hold back even if we have a lead. The plan is to keep pushing for birdies and we're playing against ourselves too and you always want to do better for yourself. If I was to just take the pars and leave and Linn ends up making two birdies to pass me, I'd be annoyed at myself, so I don't feel like there's any reason to hold back."
Follow all the action on @LETGolf on Instagram and Twitter and Ladies European Tour on Facebook and YouTube – #RaiseOurGame #OpenDeEspaña #RaceToCostaDelSol.