Three weeks ago, Johanna Gustavsson was getting ready to caddy for her husband Alex Wrigley after he qualified for The 150th Open, but now it's the Swede's turn to tee it up at the AIG Women's Open.
The duo, who got married at the end of May, are the first married couple to play in the AIG Women's Open and The Open in the same year.
Although Wrigley missed the cut having shot rounds of 82 and 73, Gustavsson admits it was an amazing experience to be part of and she's glad to be playing and not on the bag at Muirfield.
"That was a great week," said the 29-year-old, who is third in the 2022 Race to Costa del Sol. "It was overwhelming almost for Alex and a little for me as well because I haven't seen those guys up close.
"He hasn't played a main event on the DP World Tour, so to be there was very cool, but a little overwhelming. It was great that all the family and friends were there, we had a great week, and it was a great experience.
"I think he was a bit nervous and it's tough, I think he played alright, but he didn't putt that well. I think that was what happened in the first round, sometimes it just gets away from you when you're in that situation. It was nice the second day to go out and redeem himself and he did, which was great.
"It was good to caddy; it was a bit more relaxing, but it was heavy with a Tour bag. It was fun but not something I would want to be doing every week!"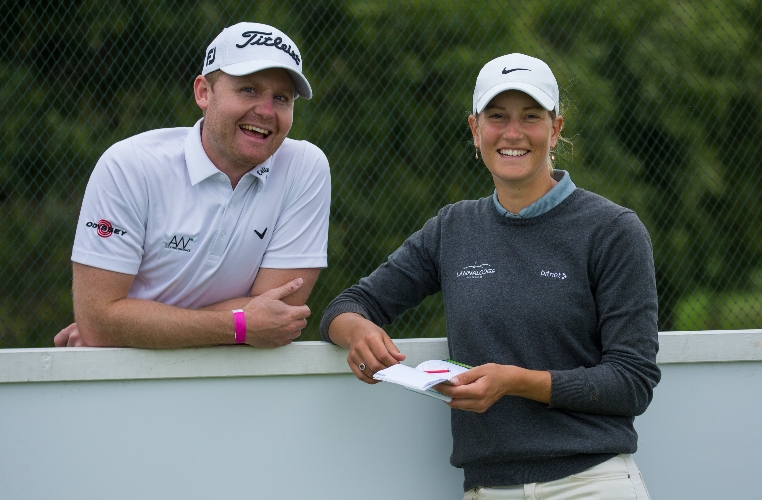 It is a busy stretch of events for Gustavsson, who made the cut at The Amundi Evian Championship finishing in T60.
And at last week's Trust Golf Women's Scottish Open, the LET professional fired a second round of 64 – which at the time equalled the course record – to make sure she played at the weekend.
However, the Swedish player has been aiming for perfection in her swing and technique and has realised that sometimes it is better to just play golf and let it happen.
"I really enjoyed Evian with the course and the views, it is great! I wanted my game to be in a little bit of a better place," she continued.
"Last week we talked about it, and I have been trying to get the swing so perfect for these events that I had been forgetting how to just play. When I shot that 64 last week that's what I did, I just played and had a super round.
"You have these events all year which are your main focus, and you want to get everything so perfect. In a normal week I would be absolutely fine with the way the swing looked a few weeks ago, but because it's this week I want to make it be so good and perfect, but you can't. You have to play with what you have.
"This week the wind is going to play its part, it will be proper AIG Women's Open weather which I like and I'm looking forward to tomorrow and the challenge and playing my shots and seeing what happens."
Wind is something Gustavsson is used to as the course she grew up on always has wind, and she is relishing the experience of taking on Muirfield in the final Major of the year.
She added: "Where I grew up it's a very flat course, but it is always windy and it's a long course. That's the type of golf course I'm used to, it is kind of similar to here. I actually quite like it, I'm looking forward to it.
"I think the course looks really good and people have said it's one of the fairest links courses and I agree. It will be a challenge, but I'll embrace it."
Follow all the action on @LETGolf on Instagram and Twitter and Ladies European Tour on Facebook and YouTube – #RaiseOurGame #AIGWO.