Major champion and one of the pre-tournament favourites Georgia Hall took advantage of the early morning conditions, setting a course-record round of 65 (-7) to take a one-shot lead after the first round at the inaugural Saudi Ladies International from her namesake, Lydia Hall.
With as many as nine different nationalities occupying the top-ten, the opening day of the historic championship did not disappoint, with the English star racing out of the blocks with three consecutive birdies from the tenth hole. Making the most of the early calm conditions at Royal Greens Golf & Country Club, the 24-year-old went out in 30 strokes before adding a further birdie and eight pars to fire a sensational bogey-free 65.
Clinical all day, Hall rolled it well with the putter but made her score with precision iron play, hitting it close on two par threes for birdie and wedging close when presented with an opportunity.
"I was pleased with today and took advantage of the morning tee time. It was pretty windy on the back-nine but I'm happy with my score. I am very focused this week, It's only day one but I wanted a good start and I will go back to the range and prepare for tomorrow."
A second consecutive round of seven under par, following her final round in Dubai last week, Hall recently won her maiden LPGA title and arrives back to the LET full of confidence.
"I love playing on the LET, it's my home tour and where I started my career, I always try and come back when I can, I love all the staff and I am close to a lot of the players. I enjoy catching up as best as I can, and I was happy to see Emily doing well this year. I've known her since I was about 12 and I texted her as soon as she won in Czech Republic and I am pleased she is back to her best."
A few groups behind on the course and trailing by one shot on the leaderboard is another Hall, Lydia Hall from Wales. Following Georgia from the tenth tee and almost identical in her scoring, she birdied the first two holes and headed out in 31 strokes. Speaking about her day, the former LET winner said,
"There's definitely an advantage starting on ten this morning, there's not much wind and it's picking up this morning. It was nice to get out, post a score and see two Hall's at the top."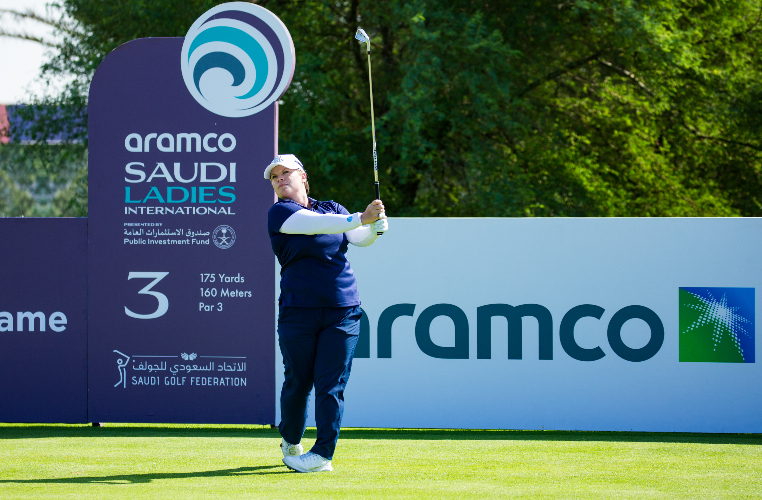 A welcome result after a season which has seen her make a lot of cuts but fail to capitalise on the final round, Hall, who has fellow LET player on the bag this week, Amy Walsh continued,
"I've made a few swing changes in lockdown and played terribly in Scotland , the worst I have played for a very long time so I re-evaluated after that and continued doing what I know, what my swing does and I managed my game. Last week I struggled with the lights and the grain but it was nice to read the putts this week and if I start them on line, they go in."
Race to Costa del Sol leader Emily Kristine Pedersen lies a shot further adrift at five-under-par alongside Finland's Ursula Wikstrom, as the Danish star posted the best round of the afternoon.
In a case of what could have been, the Dane's score was made even more impressive by the fact that she found the water not once, but twice.
"I was a little greedy on the 9th and 13th, hitting my second shot in the water but I got away with bogey. Tomorrow I might play a bit safer and play away from some of the tough pins."
Enjoying the longer course, Pedersen's career has taken a positive turn in the last few months and she has been buoyed by Hall's presence this week.
"It's super nice having Georgia here, we played loads of amateur stuff and played on tour together, so it is good to catch up with her despite our career's being in different places at the moment."
Follow all the action on @LETGolf on Instagram and Twitter and Ladies European Tour on Facebook – #RaiseOurGame #SaudiLadiesIntl @SaudiLadiesIntl