"I want to leave women's golf in a better place than I found it." That's the aim for English golfer Hannah Burke, who earlier this month was named as one of the 35 elite athletes on the 2021 Unlocked programme.
The initiative, which was created by The Women's Sport Trust, aims to help athletes accelerate change across the sports industry and the group will access experts from across the sport, business and media worlds. The programme is in its second year and this year's cohort sees 27 different sports represented with Burke the first golfer to be involved.
Just some of the star-studded names involved include football stars Nikita Parris and Caroline Weir, Paralympic champion wheelchair racer Hannah Cockroft MBE, DL and England netballer and Commonwealth gold medalist Kadeen Corbin. The group have come together to tackle diversity in sport head on and provide unique, diverse and powerful insight into the challenges and opportunities that exist in women's sport. And Burke is thrilled to be part of the group and looking forward to pushing herself in the programme.
She explained: "I'm really excited to be part of something that pushes me forward individually and I also get to know more people and make those connections. I've always wanted to play my part, but never really knew how to. I'm not a big vocal activist but I've always been very passionate about what we do. Being a sportswoman in a male-dominated area, I just knew I wanted to play my part. I think I'll be going in with loads of questions and just trying to feed off everyone else."
Burke spotted the application for the programme on social media in February, and after discussing it with a friend decided she would like to take part. The Baylor University graduate researched last year's cohort and filled out the application in hope. After a phone interview, Burke was chosen to be among the 35 elite athletes and now she can't wait to get stuck in.
"I can't wait for all of it! Everyone's excitement and that buzz about women's sport – the visibility of women's sport and what you can do to play your part is what the programme is about," Burke said. "I haven't been involved with anything like this before! I'm looking forward to the whole process and I have ideas, but I don't really know how to act on them. I don't want girls to have those same questions that I had, I would like to be able to answer them and for there to be a bit more clarity. I also want to understand how you keep girls interested from grassroots to when they reach higher levels and then when they want to turn professional."
Burke completed her rookie season on the Ladies European Tour in 2012 when she played 11 events and had her best finish of T11 at the Deloitte Ladies Open. The following year she posted three top-10 finishes and increased that to four in 2014 including a season-best T2 at the Hero Women's Indian Open. The English star secured her maiden victory on Tour in 2015 when she entered the winner's circle at the TIPSPORT Golf Masters in Czech Republic.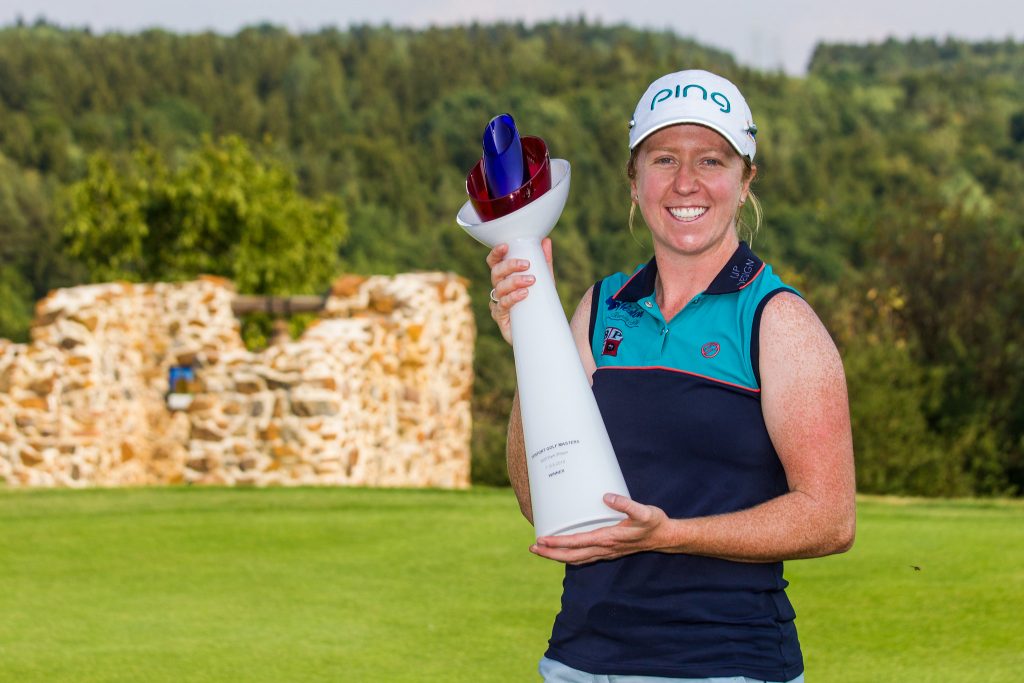 After the 2021 launch, Burke was impressed with the impact the programme had made across social media and the increase in visibility. Another aim of hers is to change the perception of golf and showcase it to the rest of the elite athletes.
Burke explained: "From the launch, the amount of feedback I have got from various people within golf about the programme has been great. Suddenly, it's sparked that interest. The more visible it is, hopefully younger girls see it at grassroots level and that momentum carries on. It is about jumping on the momentum of women's sport now because it is going in that forward direction and I didn't want to be left behind! I also want to introduce golf to other people too. One of the big things is people think it's just a privileged, white male sport – that's the stereotype. We want to change that and show anyone can play. It's accessible to everybody but we need to make that visible, so it's known. We're trying to bring women's sport together and many voices are better than one!"
The programme runs until from April until October and each elite athlete will be paired with their own 'activator'. The activators are leaders in their field who will share their connections and experience to help the sportswomen tackle the issues and areas they feel passionate about.
Burke has been thinking about how she wants to make a difference and what she intends to do through the programme. Shining a light on the pathway from grassroots to professional golf in England is one part, as well as increasing the visibility of the sport and hopefully reducing the pay gap.
"I'm going to educate myself on the various issues from all different sports to get a better understanding of women's sport as a whole and how I can use that going forward in women's golf," Burke said. "Making it more visible and making a clearer pathway from grassroots to professional golf in England – that's going to be my focus at the moment. It's improving all of those things which will hopefully get more involvement to then go on to do bigger and better things, and to make it more visible to hopefully close that pay gap. It's understanding more of what I can do to leave women's golf in a better place than how I found it and those young girls now aren't left with the questions I had. The more I can do now so the younger generation don't have those same issues."
As part of the 2021 LET season, the Scandinavian Mixed Hosted by Henrik and Annika and the ISPS Handa World Invitation Presented by Modest! Golf sees male and female players competing for the same prize funds.
Though the tournaments will be in different formats, these are two tournaments that the golfer is keeping an eye on and she hopes it will show that men and women can compete on the same stage.
About to enter her tenth year on Tour, Burke has seen the strides that have been made during her career and hopes to be able to use the momentum of women's sport to propel golf even further forward.
She added: "It has come on leaps and bounds, visibility-wise we are on TV a lot more and spoken about a lot more. I think that's a snowball effect. It's the power of media and things can be seen a lot easier; things are progressing in the right direction."