By Champika N Sayal
Secretary General, Women's Golf Association of India
The 13th edition marks a special occasion and a historic first, becoming the first ever sporting event to be "Plastic free", just ahead of Indian National policy which gets enforced on 2nd October 2019, birth anniversary of Mahatma Gandhi, Father of the Nation. The Women's Golf Association of India decided to go "Green", as a tribute to their Title Sponsor M/s Hero Motocorp Ltd's national initiative on going green.
Banning single use plastic is indeed a glorious beginning for India's younger generations to come, providing them a better environment in sync with nature.
Receding monsoons are showing strong hues of green across the Black Knight Gary Player design golf course at the renowned DLF Golf & Country Club. The course gives players the unique opportunity to play in the low Aravali hills that surround India's millenium city of Gurugram. The iconic layout with a USGA rating of 55 for the men's tees makes the Gary Player course one of the most challenging in the world.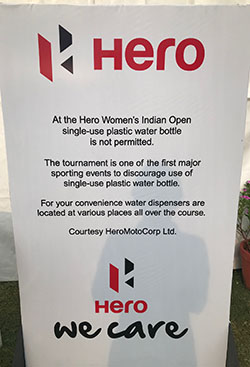 The 13th edition of the Women's Indian Open promises to be an affair to remember. Team Europe's Solheim Cup winning team captain Catriona Matthew, on her maiden visit to India, will be an inspiration to the young Indian players who form part of the field of 120 players.
The Ladies European Tour and Women's Golf Association of India's junior golf development Camp of Excellence has caught the attention of young budding players . Fifty girls from golf clubs and academies across India will be in for a treat while getting lessons from the very stars who they aspire to emulate.
India's contingent of 22 players is the highest ever for this event in the past 13 years. The three young Amateur players from India, showing great promise on the Indian national circuit, are eyeing a berth for the 2024 Paris Olympics.
The Indian quartet on the Ladies European Tour, Diksha Dagar, Tvesa Malik, Vani Kapoor and Gaurika Bishnoi, playing on their home course, are in fine form and expect to bring cheer to home fans.
Women's golf in India has surged in the past two years, with scores of young girls showcasing their talent in various junior tournaments within India and abroad.
The Women's Golf Association of India is delighted to receive unconditional support from the Ladies European Tour in helping to grow women's golf in India. Together, we look forward to making this week a truly memorable one.