Alice Hewson was on hand at the Aramco Saudi Ladies International to show and teach six children with disabilities about the game of golf.
The Englishwoman spent time on Tuesday afternoon on the driving range with children from the Disabled Children's Association King Abdullah Bin Abdulaziz Center For Disabled Children – Jeddah, who were accompanied by their mothers.
While on the range Hewson, who proudly represents EDGA (formerly the European Disabled Golf Association), was answering questions, showing the group the clubs in her bag, and hitting different golf shots.
"I was introduced to EDGA through Instagram, I ended up meeting a few friends and got involved in golf days. One of my sponsors RSM is heavily involved with EDGA and support a lot of their golf days and I'm thrilled to be a part of it and to represent them," she said.
After her demonstrations, the 2020 Investec SA Women's Open champion joined in with the fun games on offer and was shown how golf can be adapted for everyone.
"Seeing six of Saudi's golfers with disabilities today was absolutely incredible," she continued. "We had such a great time learning about the game, and it was great to see these individuals who normally have to adapt to life have golf adapt to them and welcome them to the game.
"All the new equipment opens the game up to everybody whether you're sitting down or standing up, you can have a golf club in your hand and have that satisfying feeling of getting the ball close to the hole.
"This is everything that golf is about. People ask why we play golf, and this is it. Being here and being able to experience this."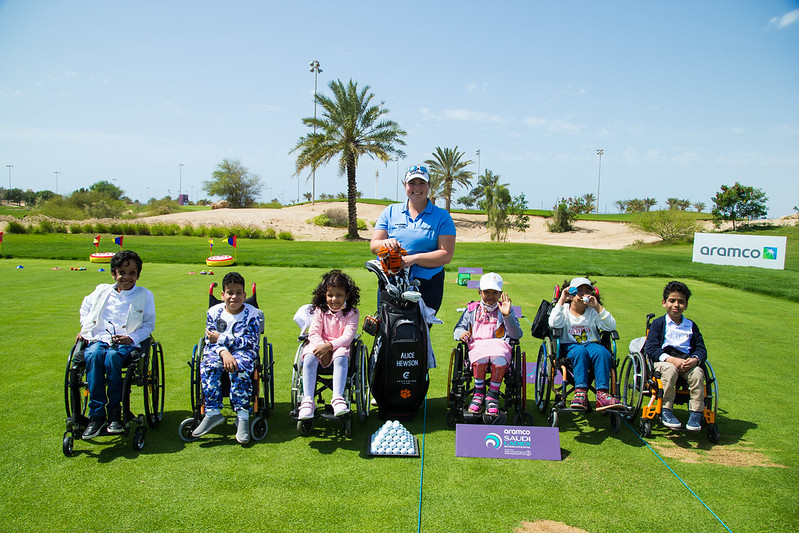 Steven Troup, Director of Education and Instruction at Golf Saudi, explained more about the initiative and how golf should be inclusive for everyone.
"In Saudi Arabia we see golf as the most inclusive sport in the world, our aim is to ensure people with a disability are able to feel welcome and participate in golf in its many forms so the powerful social, physical and mental health and wellbeing benefits that golf offers can be experienced by all," he said.
"Our recent work with EDGA helps us at Golf Saudi champion that message and allows us to create fun learning environments for people with disability in all areas of Saudi Arabia where not only golf facilities are equipped with the coaching knowledge and the means of access, but also taking golf into schools, disability associations and the general public ensuring no one is excluded.
"Alice is a passionate advocate of the benefits golf offers and her alignment with the message that we believe in where golf can be enjoyed for all is clear. To have such inspiring and friendly voices such as Alice volunteer their valuable time means so much to the children, especially their mothers that were in attendance who knew nothing about golf previously, now have an incredible hunger to participate further and a strong belief that there is a place in golf for them."