Local female sports icons speak about their journey in sports to inspire women to pick up sports and pursue their passions
Alexandra Armas, CEO of the Ladies European Tour, and Noah Alireza, CEO of Golf Saudi, also sat down to discuss the progress, ambition and challenges that lie ahead for women's golf
To celebrate the fourth edition of the Aramco Saudi Ladies International presented by Public Investment Fund (PIF), four inspirational female figures in the local sporting community, namely Abrar Bukhari, Haya Sawan, Dania Akeel and Leena Al Hakeem, came together to discuss the strides made in Saudi Arabia's sporting scene at the 'Driving Change in Women's Sport' panel.
In a strong statement of support for women's golf and a move towards more equality in the game, the Aramco Saudi Ladies International Presented by PIF announced an increase in the event's prize purse to US$5million, which matches the men's event, the PIF Saudi International Powered by SoftBank Investment Advisers, which took place two weeks ago.
The introduction of the 'Driving Change in Women's Sport' panel builds on the momentous move and offers the women's sporting community in Saudi Arabia a platform to share their journey and offer advice to women to pursue their sporting passions.
Upon recognising the gap in the market for ladies in their respective sports, Bukhari and Sawan put on their entrepreneurial hats and started training facilities catered specifically to women.
Abrar Bukhari is a 5th dan Taekwondo black belt national team athlete that captured numerous local and international medals throughout her career. Upon realising there was no proper Taekwondo facility in Riyadh, she founded Above and Beyond Saudi Martial Arts, a dedicated women and kids facility – the first of its kind in the country.
Bukhari said: "I wanted to create something that would inspire other generations, I would say. So saying that, I created Above and Beyond to actually go above and beyond one's expectations, breaking the barriers or limitations that they might face, could be from sport or in their actual personal life.
"I think other athletes and I have faced the same struggles at the beginning, especially for the pioneers of specific sports. So going through that and finding your way is a way to get it and to achieve whatever you want to achieve and succeed. We have to go beyond what we think our potential is in order for us to achieve."
Haya Sawan, a certified fitness instructor and mother of two, is the founder of Jeddah's SheFit gym, a one-stop health club for women. When Sawan started her fitness journey in 2013, it was during a time when it was a challenge to have a licensed gym for females. As someone fiercely passionate about spreading the message of fitness, she was not deterred by the obstacle at hand and started holding boot camps in the backyard of her house for prenatal and post-natal women of all ages.
Once there was an opportunity for Sawan to make a bigger impact and share the value of fitness with the wider community, she wasted no time getting SheFit up and running.
"When licensing female gyms was available, I decided I wanted to create that space for all women, all ages, all fitness levels. It's not just about the movement, but awareness, the end goal. The goal is not to just lose weight or look a certain way. It's really about that longevity of life and your lifestyle. When you take good care of yourself and become stronger, you give so much more for the people you love, for your family, your kids."
Dania Akeel is a passionate motorsports athlete who received the first Saudi female license for Motorcycle Circuit Racing. After an injury during motorcycle racing, Akeel moved into the rally racing world, where she became the first Saudi female to participate in an International Rally Competition.
On the advice she would give to ladies considering entering the motorsport scene, the 34-year-old speed merchant said: "The why you're there is extremely important and should align with a positive goal."

"I try to emphasise as much as I can that it's okay to be a beginner, be comfortable in that place, and with time and consistency, you will get to the front. It takes however long it takes.
"You have to have a good reason for being there and not just wanting to have fun with this kind of thing. And then the second thing is to go through the motions and have compassion for yourself and patience, but also have that consistency."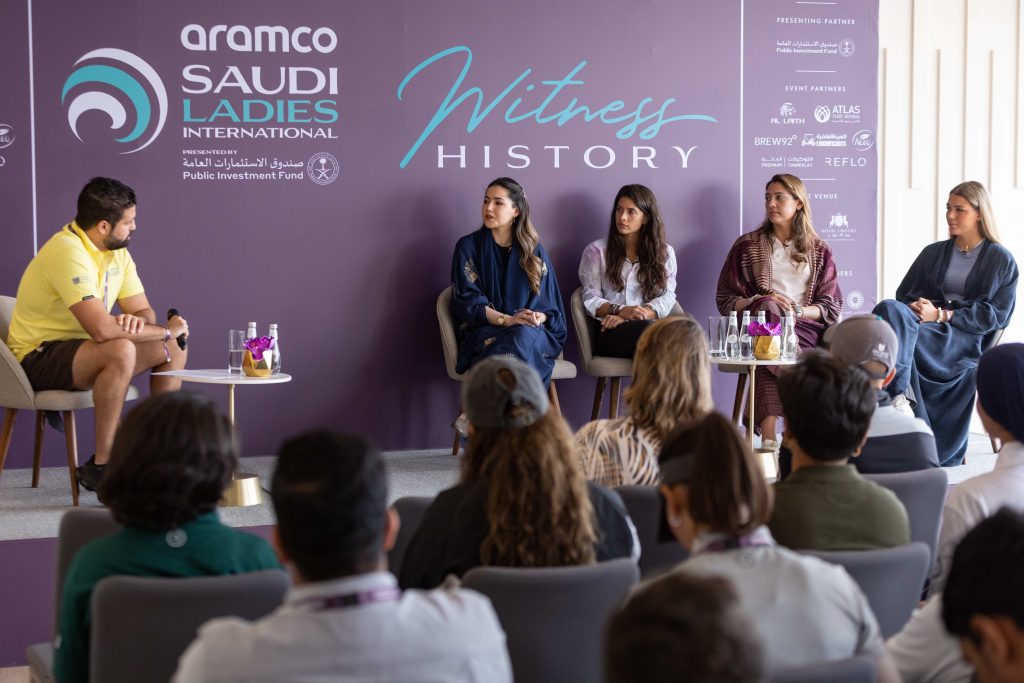 As an ambitious rising star of the Saudi Jiu-Jitsu National team, Leena Al Hakeem has already medalled at some of the most prestigious Jiu-Jitsu competitions regionally and globally, such as Jiu-Jitsu International Federation Asian Championship, Abu Dhabi World Professional Jiu-Jitsu Championship and Jiu Jitsu International Federation World Championship.
When asked what words of encouragement she would give, especially to young girls just starting in any sport, the 17-year-old said: "I would say believe in yourself because you never know where you could end up. For me, I just started randomly. I just tried out a class, and now I'm competing at the highest level with the Saudi National Team and the Federation. I'm on the Olympic committee as well. So you never know where life takes you. Believe in yourself."
In the earlier session of the panel, the CEO of the Ladies European Tour (LET), Alexandra Armas, and the CEO of Golf Saudi, Noah Alireza, sat down to discuss the progress, ambition and challenges ahead for women's golf.
Golf Saudi has been one of the biggest supporters of the women's game globally. In addition to this week's Aramco Saudi Ladies International Presented by PIF, there are five other Golf Saudi-backed events on the LET, with the Aramco Team Series making five stops worldwide to Singapore, London, New York, Hong Kong and Riyadh in 2023, each with a prize purse of $1 million.
For Alireza, one of the biggest reasons for that support and investment in the women's game locally and internationally is the need for more role models to grow "and accelerate that cycle".
He said: "We're bringing in world champions on this platform and creating that awareness, but also role models from the Ladies First Club."
The Ladies First Club initiative by Golf Saudi provided 1,000 women in Saudi Arabia with their first golf club membership and created a pathway for women to enter the game.
Alireza added: "Within four days of launching it, we were oversubscribed by 500. In the program, it's a pathway towards free access to academies and memberships and golf courses. So we're creating that access. Today, in the Ladies First Club program, our ambassadors are our role models, and they are our microphones to the rest of Saudi women on this trajectory.
"So eventually, the idea is to one day create professionals out of these women. And if you look at the whole – and Alex and I were discussing the pyramid of golf, it starts with awareness, and from awareness to bringing people into becoming beginners, beginners into amateurs, and then amateurs into elite. Once you have the elite, what ends up happening is that you create role models who have accomplished, and we have role models today that are going to start speaking on this stage in a little bit. Once this watershed moment happens is when you start the feed the cycle again."
Reminiscing a watershed moment in Saudi Arabia's sporting history, Alireza added: "Just like we when beat Argentina in football in the World Cup, our kids have been wearing the jerseys from that day. So that pride, that moment, is what creates future champions."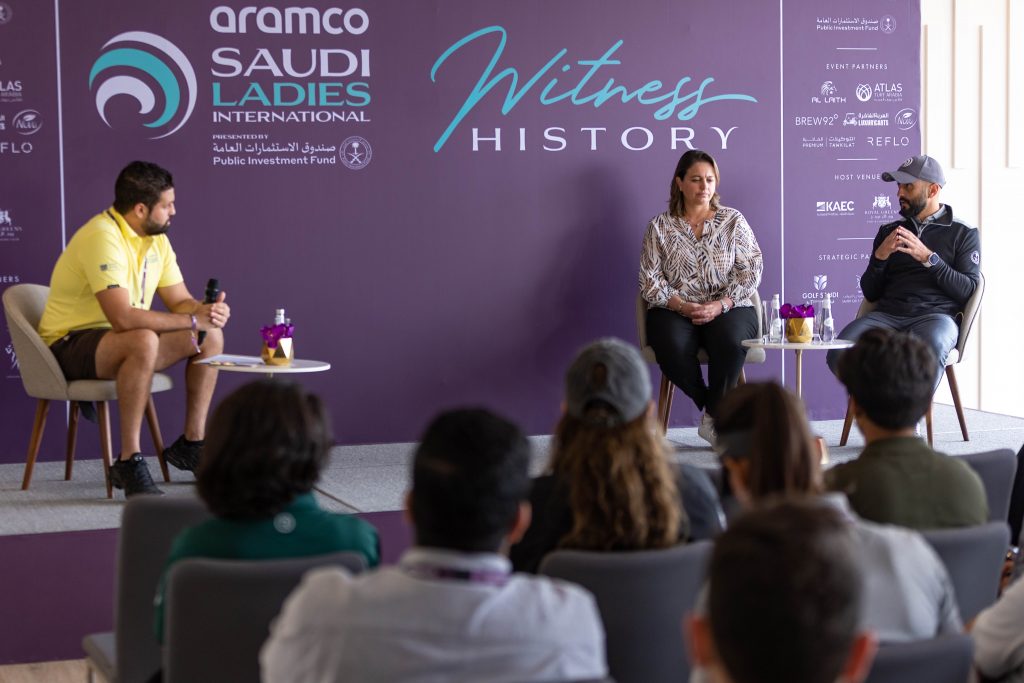 For Armas, one of her main goals and that of the LET's in the next five years is to continue "bridging that gap in prize fund parity with the men".
"It's a long way to go but to get closer to that," she said. "The bottom line is, I mean, as much as this is a sport for many people, this is a job for those players out there, so the opportunity that this generation and future generations can actually consider this as a career opportunity, I think that is hugely important.
"Maybe on a personal level, because we started this journey [with Golf Saudi] now for three years, that there was a Saudi player in the field and contending for the win at this tournament. It's the national open, and there is a lot of fire behind winning that. As you say with football, that can happen with golf or any other sport."