On International Women's Day, Catriona Matthew reflects on her time on tour and the advances she has seen in the women's game.
Matthew picked up a golf club for the first time at the age of six or seven when she was taken by her parents to the local par-3 course in North Berwick.
And although she enjoyed the sport, her passion for golf didn't spark into life until her teenage years when she began to make strides and play in the Scottish Girls, where she became champion in 1986.
About to enter her 26th season on tour Matthew, who has 11 professional wins, recognises the monumental changes that have occurred over the course of her playing career.
"I think the profile of women's golf has gone through the roof since I started playing," the 51-year-old said. "When I started out there was very little women's golf on television, you got a little bit more in the papers but there wasn't very much to look at and watch. Especially in the last 10-15 years there's been a huge push in women's sport in general which golf has benefited from. You see far more women's golf now on television, there's LET events shown live and there's just a lot more for girls to watch. I think if you can watch women's golf on television and see more about it on social media then girls are far more likely to take up the game because you have got the likes of Georgia Hall and Charley Hull to look up to and you see more of what they're doing."
Matthew's greatest achievement came in 2009 when she clinched her first major title at the Women's British Open at Royal Lytham & St Annes.
She ended the tournament on three-under-par, three shots ahead of second-placed Karrie Webb, to secure victory at her home major.
But what made the victory even sweeter was the fact, the Scottish star had returned to the winner's circle just 11 weeks after giving birth to her daughter Sophie and with her husband Graeme on the bag that week too.
Catriona explained: "Winning the British Open 11 weeks after having Sophie was one of these things at the time you didn't think too much of it but looking back you realise what a huge feat that was, to come back so quickly. It was a fairytale, I had Graeme my husband caddying. I still remember coming up the last hole after I hit my drive, we knew we had won it so we could enjoy that walk up to the 18th green. It is those memories you'll never forget!"
Returning to the tour after having a child is something the major winner has done twice, and she had role models that she was able to look up to in the form of US stars Juli Inkster and Nancy Lopez.
Although there was always a question of whether she would be able to get back to her best, Matthew believes it a personal decision that players should make but knows how important it is to see people who have had the same journey.
She added: "You looked up to Juli Inkster and Nancy Lopez who had children, came back, won events and got back to the top of the game. I think like any sportsperson or in any walk of life, if you stop to have a child it is always in the back of your mind that you do worry 'will you be able to come back?' and 'will you be as good as you were before?'. I think that's a personal decision of whether you want to come back and it's good to have these role models for the players coming up to show that it is possible, and you can have both."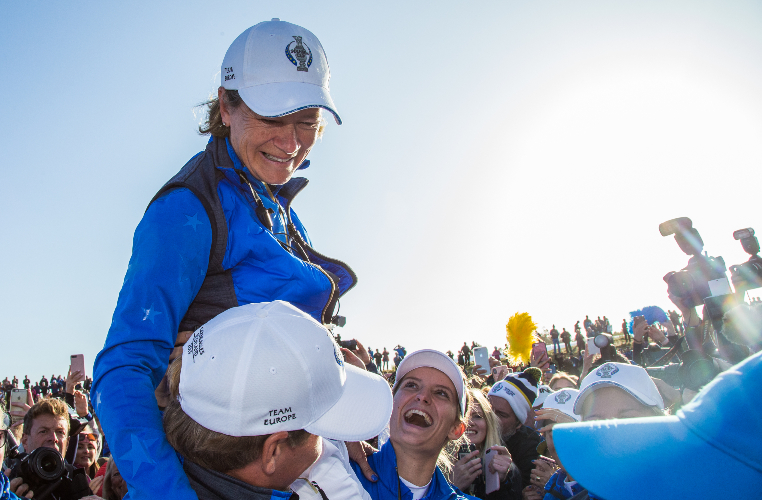 Having competed in nine Solheim Cups and been part of the winning Team Europe side three times, for the 2019 edition Matthew stepped up to the role of captain and led her team to victory at Gleneagles by 14 ½ to 13 ½ points.
The Scot will once again lead the team this year as they hope to defend the coveted trophy at Inverness Club, Toledo and the Team Europe captain believes the competition provides an opportunity to introduce new fans to the sport.
"The Solheim Cup has grown into one of the premier women's sport events in the world, watched by millions around the world," Catriona said. "It really showcases women's golf on a global stage and even non-golfers tune into an event like that. Non-golfers and non-sportspeople would tune in to watch the Olympics and I think that's the same with the Solheim Cup. They watch for the excitement and it attracts more of an audience. Any time you get more people watching, it grows the game."
As part of the 2021 LET season, the Scandinavian Mixed Hosted by Henrik and Annika and the ISPS Handa World Invitational Presented by Modest! Golf sees male and female players competing for the same prize funds.
With these new innovative formats being introduced, the European Solheim Cup captain hopes that more people will watch the game of golf.
Catriona explained: "It's great to see and especially the equal prizemoney. To have them playing with the men you'll get a bigger audience and just see how good the ladies are. It's a win-win for both tours and it's something different for the men's tour because at the end of the day people want a bit of variety in what they're watching. For the ladies it's going out to a different audience and we'll hopefully be picking up some more fans."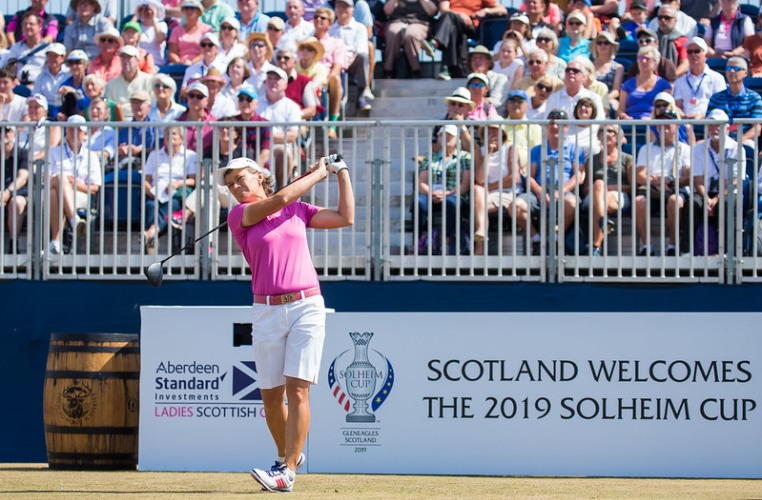 Women's sport has taken a huge leap forward over the past few years and Matthew hopes that girls will have role models to look up to in sport in a way that she didn't have.
"I've seen huge strides in the last 10-15 years and promoting women in sport is great for the young girls coming up because they then have role models, which I was unfortunate that I didn't really have when I was their age," she added. "Trying to get girls into sport is a big problem in any sport. International Women's Day helps to highlight all the fantastic women athletes there are around the world and inspire the next generation."