Czech Disabled Golf Association (CZDGA) member Jakub Kovarik had a day to remember, as he joined LET star Carmen Alonso on course yesterday in the Pro-Am at the Tipsport Czech Ladies Open at Beroun Golf Club.
As one of 16 disabled golfers in the Czech Disabled Golf National Team, Jakub was part of a four-player team with fellow national team players Pavel Bambousek and Miroslav Lidinsky, paired with the 36-year-old Spaniard as the first hosting of the Czech Ladies Open at Beroun Golf Club prepares to get underway from Friday 28 August.
A veteran of disabled golf in the Czech Republic, Jakub may have been part of the team that captured the 2019 European Team Championship but this was his first time playing in an event of this magnitude alongside a veteran of 194 LET tournaments and previous winner here at the 2018 Czech Ladies Challenge.
Speaking about the day, Jakub said, "This is the first time I have played in a Pro-Am on a professional Tour. It was an amazing experience to play with Carmen, she was friendly, and we chatted for the whole round."
CZDGA was founded in 2009 with the main goal of helping to enable as many people with disability to play golf and help them socialise as well as to raise public awareness and present golf as a sport without barriers and yesterday delivered on these goals.
Jakub continued, "Carmen gave us lots of advice, but I learnt the most on the greens. It really helped me to see how she sees it and how she works out where to putt the ball. The greens are quite undulating at Beroun Golf Club and she taught us how to judge the slopes. I will definitely take her tips back to my friends."
The Ladies European Tour is committed to supporting change and presenting golf as a sport without barriers which is underlined by the #RaiseOurGame campaign – Learn more HERE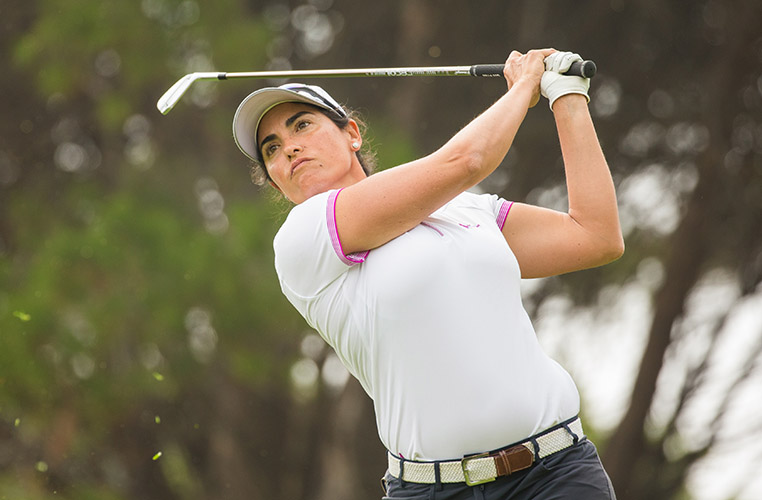 Speaking about the experience, Alonso said, "It was my first time playing with disabled golfers and it was an amazing experience. When you look to them, and see them doing their best, for me it changes your life."
"I was trying to help on the greens, it was fun to play with them and as soon as I saw they were happy on the golf course, I was happy. I cannot complain about golf anymore. Seeing them hit the ball and love the game was inspiring."
Another prominent member of the field, defending champion Carly Booth, is also a supporter of growing the game and is an EDGA ambassador, the international body that encourages people with disability to thrive through golf.
Speaking two weeks ago, Booth said, "I have a passion for helping others and I want to see people of all abilities to have the chance to achieve something for themselves. Being a golfer and knowing the sport, wanting to get more people involved in golf with EDGA is particularly fitting. I also want to help get more women and girls into the game and if I can help EDGA to do this, that's great. I'm looking forward to being part of the team."
Every year the CZDGA organises two international tournaments that are counted for World Ranking for Golfers with Disability (WR4GD) – Czech Disabled Golf Masters and Czech Disabled Open.
For more information on the organisation, visit – https://www.czdga.cz/o-czdga