Today, the first edition of the Comunidad de Madrid Ladies Open was launched in the Spanish capital, with the ambition to become one of the best events on Tour.
The Comunidad de Madrid Ladies Open will be the first tournament of the Ladies European Tour season to be played on European soil after events in Africa, the Middle East, Asia and Australia, and will end nine years of absence of professional women's golf in Madrid. With Lee-Anne Pace the last player to win an event in the city as she was victorious at the Spanish Open at the Club de Campo Villa de Madrid.
The prestigious event will have a €300,000 purse, and will feature 126 players from the LET, among which there will be twenty Spaniards, and will host a range of activities around golf such as an exhibition of disabled golf, talks- clinic for women and juniors, and a training day for university students, among others.
The presentation took place at the facilities of the Jarama-RACE Golf Club, the venue that will host this event from May 5 to 8, and was attended by Marta Rivera, Counselor of Culture, Tourism and Sports of the Comunidad de Madrid; Jaime Salaverri, Vice-President of the RFEG and President of the Professional Committee; Ignacio Guerras, President of the Madrid Golf Federation; Carmelo Sanz, President of RACE; and Alicia Garrido, President of Deporte & Business.
"Madrid women's golf represents more than 30% of licenses at the national level and therefore, it is a vitally important group that grows year after year in the Madrid Federation," Ignacio Guerras said.
"We are convinced that professional golf is a guide to the new generations and our magnificent juniors, and that is why we believe that this tournament it is a unique opportunity to help golf continue to grow in our community, in addition to offering the best image of Madrid."
Carmelo Sanz highlighted: "This event will continue to write the history of a club that more than 50 years ago became one of the golf's pioneers in Madrid and in Spain."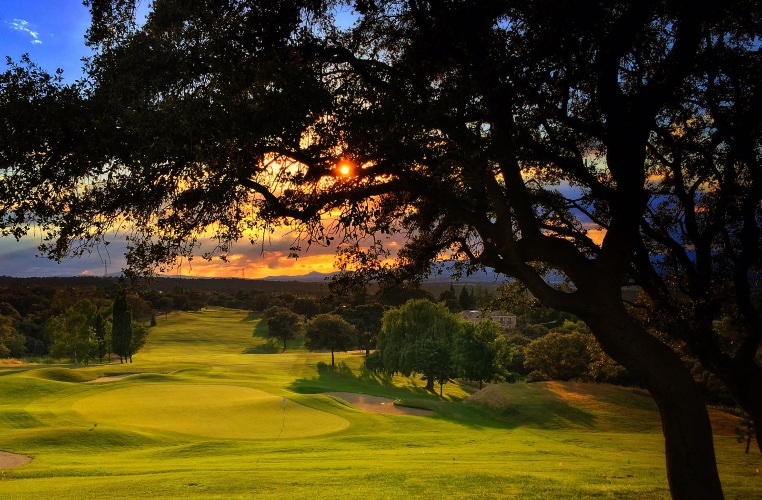 "RACE is proud to host an international event of this magnitude, with the particularity that it will be the first time that this field organizes an international women's event.
"I am convinced that our golf course, designed by Javier Arana and eminently technical, will be a real challenge for the best European players. Our maintenance team has been working on it for almost two months", he finished.
Alicia Garrido continued thanking all the parties involved, "especially the Community of Madrid for supporting women's golf.
"This is the first edition of a tournament that comes with the intention of perpetuating itself over time. Madrid deserves to have a top level women's golf tournament and we will work so that this event will grow in the future until it becomes one of the benchmarks of the LET", she added.
Jaime Salaverri stated that "holding this tournament is great news for Madrid golf in particular and Spanish golf as a whole, especially because is a great opportunity to see the best European players in action, including at least twelve Spanish, and value women's sport".
"With this event there are four women's professional golf tournaments in Spain and they are integrated into the new extended calendar of some 30 events of the Ladies European Tour. I encourage everyone to come because the show is guaranteed."
Marta Rivera closed the event pointing out that Madrid "has a enormous potential for growth as a tourist destination where you can enjoy golf, a sport that is already the second in number of federated players in the region".
"Suport this sport is also betting on an activity that, in Madrid alone, has nearly 30,000 women's licences", continued the counselor, who concluded by recalling that "golf has become part of our usual calendar of national competitions and international".