Kanyalak Preedasuttijit is poised to defend her crown in the Ladies European Thailand Championship at the Phoenix Gold Golf and Country Club in Pattaya, Chonburi, from June 20-23.
Supported by the Sports Authority of Thailand, the National Sports Development Fund, Phoenix Gold Golf and Country Club, Wangson Image Company Limited, Siam Commercial Bank, P. Overseas Steel, Port Authority of Thailand and Singha Corporation, the Ladies European Thailand Championship, which offers total prize money of 300,000 euros (approximately Bt11 million), is co-sanctioned by Ladies European Tour (LET) and Thai Ladies Professional Golf Association (Thai LPGA).
A total of 126 players, including the top 70 from the LET, the top 40 from the Thai LPGA and 16 sponsor invites, will compete in a 72-hole stroke play format in which the top 60 players will advance to the weekend rounds.
Chonburi-based Kanyalak, who has switched to compete more on the LET after winning the 2018 Ladies European Thailand Championship, says: "I'm so glad to be back at the Phoenix Gold Golf and Country Club where I made some great memories last year. I'm feeling a bit under pressure as I have to defend my title for the first time, but I keep telling myself to focus more on what I have to do so that I don't have to worry about the title defence too much."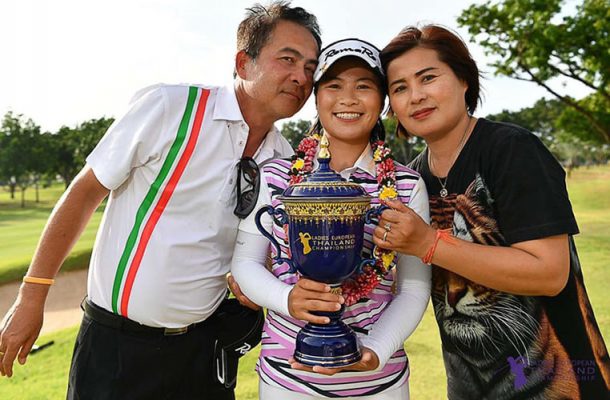 The Ladies European Thailand Championship is one of Thailand's leading women's golf tournaments and will celebrate its third anniversary. Over the past two editions, Thai players including the 2017 victor Atthaya Thitikul, who won aged 14, have reigned supreme.
"The tournament serves as an arena for Thai players to pit their skills against leading golfers on the Ladies European Tour. It will prove a valuable experience for local golfers as it was to me 12 months ago," the defending champion, Kanyalak, added.
Apart from the Rolex Women's World Golf Ranking points, the Ladies European Thailand Championship winner will receive an LET winner's exemption which entitles them to berths into the AIG Women's British Open and the Evian Championship.
"It's a great experience for me to be the only Thai playing regularly on the LET. I've learnt a lot of new things and techniques I didn't know before. I hope a lot of fans will come to support us in the Ladies European Thailand Championship and I keep my fingers crossed that a Thai will win the title once more," said the 21-year-old Kanyalak.
Local viewers can follow the live coverage of the Ladies European Thailand Championship on TrueSport HD3 on June 22 and 23 between 1pm – 4pm. Tickets, Bt100 per day per person, are available at the public entrance to the course. Those under 18 and over 60 are exempt for entry fees.
For more details, please visit the tournament Facebook page.