Swedish rookie shoots eight-under par to make history in Spain
Leads by three shots with the tournament reduced to 54 holes
Sweden's Sara Kjellker leads by three at the La Sella Open after firing a magnificent course record 64 (-8) during a suspended ridden first round in Spain.
The rookie got off to a flying start in Dénia opening with two birdies and an eagle in her first four holes before play was suspended on Thursday evening.
With the tournament reduced to 54-holes to accommodate the weather delays and help with player well-being, Kjellker returned to the course on Friday where she made a steady start signing for par on her next three holes.
Chasing Christine Wolf's initial target of 67 (-5), Kjellker soon lit things up again birdying the 8th, 9th, and 11th before a wonderful up-and-down from the sand on the 12th helped her make another to move to eight-under par.
After a dropped shot on the 14th briefly halted her momentum, Kjellker then produced one of the shots of the day as she dialled it in to gimme range on the par-3 17th to move back to the number.
Closing with a par on her final hole, the Swede breaks the course record at La Sella Golf Resort & Spa and records her best ever career round.
"It felt pretty easy over the last couple of days," Kjellker said, who has just one top-10 finish to her name this season. "I have my dad on the bag and I struggled last week, so it felt comfortable having him around.
"My long game from tee to green was very solid, and I feel like this course suits that, because then you can give yourself a lot of opportunities. I had a lot of birdie chances and I took advantage of them."
Having gone bogey free yesterday to take an early lead, Austria's Wolf sits in solo second on five-under par.
"I'm really happy with how [my round] went," she said. "Bogey free is always nice. I think I only missed two greens which always helps. Holed some long putts, missed some short ones, but overall I'm really happy."
Six players sit in a tie for third on four-under par, with Denmark's Smilla Tarning Soenderby, Italy's Clara Manzalini, Thailand's Trichat Cheenglab, Germany's Alexandra Forsterling, and Sweden's Anna Nordqvist joining Spain's Nuria Itturioz after the three-time LET winner reached the number yesterday.
Back in Europe ahead of a busy summer of golf, Nordqvist – a two-time winner at La Sella Golf Resort & Spa – said: "I played here back in 2010 and 2011 for the European Nations Cup with Sophie Gustafson and we won both, so really good memories.
"It was quite windy out there today and there was a little more wind than I expected. It was hard to get close to some pins. I thought it was playing harder than in the practice rounds. But overall I'm happy."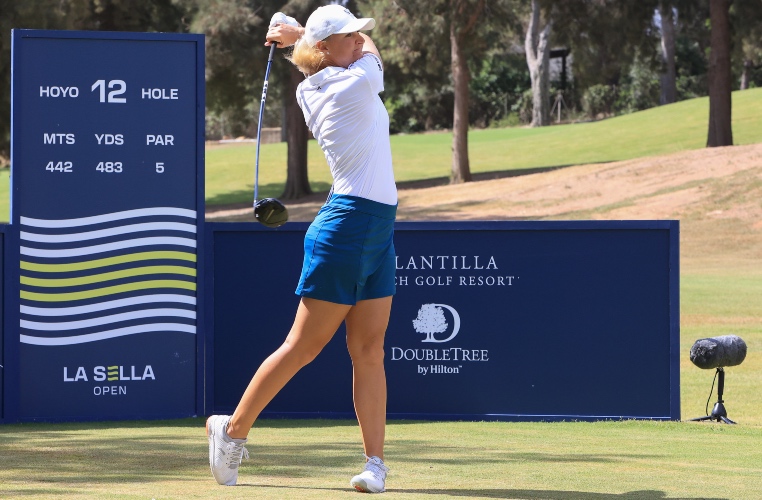 Closing with an eagle on the par-5 9th, Soenderby said: "It was a really really nice round. It was a round I have been craving for quite a while, to be honest. I was able to let loose of everything and play with this really high level of acceptance, letting go of all the swing thoughts.
"I had 205 yards [into my last hole] straight into the wind, so I hit my 3-wood. It starting stalling a bit but then it carried five metres short and rolled up to about five feet. So that was nice."
Ten players round off the top 10 on three-under par, including home favourites Carmen Alonso, Maria Hernandez, and 17-year-old Andrea Revuelta.
Round two of the La Sella Open gets underway on Saturday at 7:45am local time. The third and final round will take place on Sunday following the cut of the top 60 players and ties.
Follow all the action on @LETGolf on Instagram and Twitter and Ladies European Tour on Facebook and YouTube – #RaiseOurGame #LaSellaOpen.