Swedish rookie leads by two after two rounds at the La Sella Open
France's Anne-Charlotte Mora soars up the leaderboard firing a course record 63 (-9)
Sweden's Sara Kjellker will take a two shot lead into the final round of the La Sella Open after carding a 70 (-2) on day three to move to 10-under par for the tournament.
After firing a sensational course record 64 (-8) in round one, the rookie continued where she left off on Saturday birdying the tight 12th and 13th holes after starting on the 10th.
A string of pars including a wonderful save on the 18th was followed by a birdie on the par-3 4th, with Kjellker's only dropped shot of the day coming on the par-4 7th when she unable to get up and down.
"I received a lot of attention yesterday which of course I was happy about, because it was a really nice round," Kjellker said. "I was happy with today's round as well, it was pretty solid and my putter was good which helped me out in a lot of situations.
"I think the speed was a little trickier because of the grain but my eyes have been pretty good the last two days. Hopefully they can help me tomorrow as well. 18 was a massive par save. That put me back into the momentum and kept me going."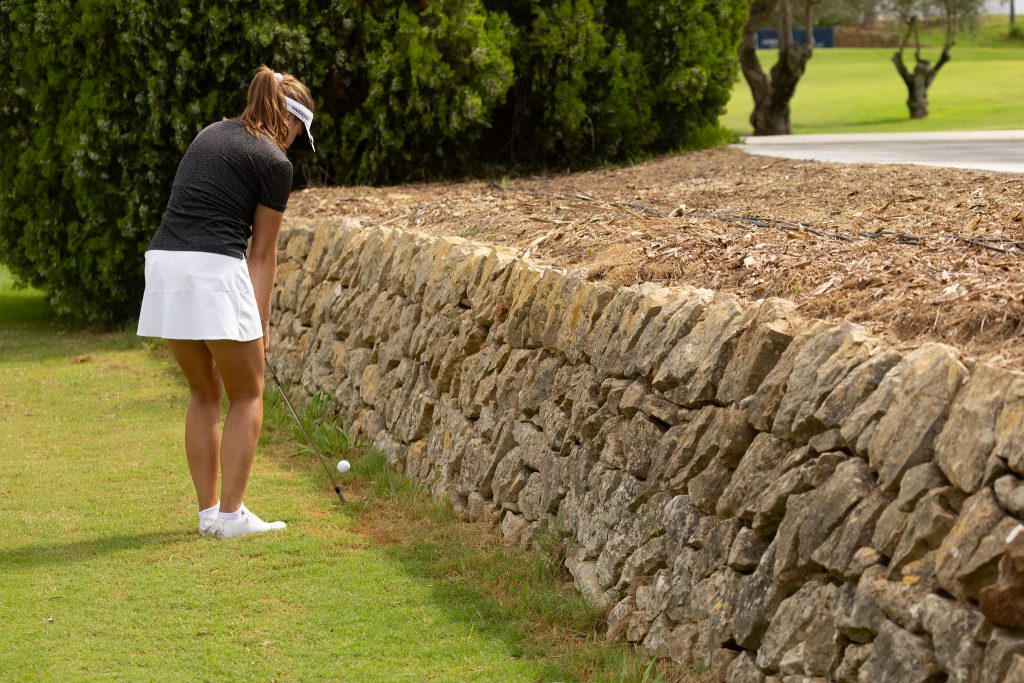 A rookie on Tour, Kjellker's best finish this season came in the opening week when she placed T7 at the Magical Kenya Ladies Open.
Two ahead of Thailand's Trichat Cheenglab heading into Sunday, a victory this week would see the Swede take home €150,000, earn Category 3 status (current season winners), and qualify for next month's AIG Women's Open.
"I talked to Linn [Grant] after her win on the LPGA," Kjellker said, who won three European Team Championships alongside Grant and Maja Stark as an amateur. "It definitely inspired me this week. It's been rough the last couple of weeks so it's nice to get the confidence back.
"I'm just going to go out tomorrow and put down a really good score that I'm happy with and see where it will take me. I'm happy to be in this position and I'm going to enjoy it. This is what I practice for and where I want to be, so I'm proud of myself for being here."
Hot on her heels is the before-mentioned Cheenglab, who overcame an unexpected obstacle on the 13th to eventually fire a second consecutive round of 68 (-4).
"Today I broke the toilet window and had to climb out because I got stuck in there," the rookie explained. "I was worried because my [playing partners] were waiting for me on the fairway, so I used my elbow and I kicked it out. So yeah, the window is broke now, sorry to the golf course!"
Cheenglab would make two bogeys following the incident before firing up the putter to card five birdies in her final 10 holes and move to eight-under par.
"I'm very happy with my game at the moment," she said. "I had many chances to make birdie but the grain is very tough for everyone to read. I just tried to believe what I saw in the lines, not overthink too much and trust myself."
Germany's Laura Fuenfstueck, Czechia's Kristyna Napoleaova, and France's Anne-Charlotte Mora sit one shot back in T3 – the latter beating Kjellker's course record from Friday after firing a magnificent 63 (-9).
"I just let myself go without too many restrictions," the one-time LET winner said. "I think that's why it worked. It's probably the best round I've ever had which is nice. I've never played that low. It was perfect.
"It would be nice to win again. Hopefully tomorrow I can play just as well. Before this my best round was seven-under. But I wasn't thinking too much about it!"
Matching her best ever round on the LET with 66 (-6), Fuenfstueck said: "I'm super happy. It was my first bogey-free round in a while as well. I've got good memories in Spain [after finishing fourth at the 2019 Estralla Damm Ladies Open] and I'm just buzzing to be here.
"I thought there would be more low scores this afternoon. I'm just excited. I'll keep the same game plan, try to put myself in position and see where that takes me."
While Napoleaova powered through sickness and finished with a birdie on the par-5 9th to post a 68 (-4) in Spain.
"I was just happy I didn't pass out," the Amundi German Masters champion explained. "I felt so much under the weather about 25 minutes before my round. I thought I was going to withdraw, so I'm super happy that I managed 18 holes.
"My UC (ulcerative colitis) just came back, so I'm not running high on liquids at the moment and because it's so hot I'm just drying out. Honestly, whatever my caddie told me to do I did. I didn't put too much pressure on anything and we were just counting down the holes. The putting was good and I made a huge one on the last."
Three players sit in a tie for sixth on six-under par, with Germany's Olivia Cowan firing a 67 (-5) to join Spain's Nuria Iturrioz and Switzerland's Vanessa Knecht on the number.
Her compatriot Germany's Leonie Harm and Switzerland's Tiffany Arafi then round off the top-10 in T9 on five-under par – the latter closing with an eagle on her final hole.
After two days of action, and with the La Sella Open reduced to a 54 hole tournament to accommodate Thursday's storm delays and player wellbeing, 71 players made the cut which finished on two-over par.
The third and final round of the La Sella Open gets underway at 8:45am local time on Sunday. Follow all the action on @LETGolf on Instagram and Twitter and Ladies European Tour on Facebook and YouTube – #RaiseOurGame #LaSellaOpen.