It's been 16 months since Lydia Ko stormed to a dominant five-shot victory at the 2021 Aramco Saudi Ladies International.
During that time the New Zealander has won three titles on the LPGA Tour, ascended to world number one in the Rolex Women's World Golf Rankings for the first time in five years, and tied the knot off the course to leave her primed to achieve even more success in 2023.
Now returning to Royal Greens Golf & Country Club after missing the Aramco Saudi Ladies International in 2022, Ko is full of excitement as she looks to regain her title on a historic week for women's golf and the Ladies European Tour (LET).
"I'm excited to get my 2023 started and be back here where I had a lot of great memories," she said. "I think the level of field and the players are even better this time around than in 2021, so I think it's going to be another great week here.
"These last couple days here the weather has been really beautiful, and it's actually been pretty breezy. I think in ways it's going to play a little tougher, but I'm excited.
"This is probably one of the biggest accolade events in Saudi Arabia, so hopefully all of us that came over can put on a good show for the people and inspire more juniors to pick up the game and dream of maybe playing this event in their future."
The world number one headlines a star-studded field at this year's Aramco Saudi Ladies International presented by Public Investment Fund – a tournament that has undergone a five-fold increase from US$1m to US$5m in 2023 to match the purse offered in the men's PIF Saudi International.
"It's obviously very exciting news that the women get treated the same as the men," Ko explained. "I know this is a great step forward, not only just here but in the women's game in general.
"That's what I think we're all shooting for, for that gap to be a little bit less even in some of our other events and some of our Major championships and everything. They kind of keep growing in that sense.
"It's very exciting, and I think we're very grateful that a lot of partners understand and support and believe in the women's game, and the level of talent that these female golfers have. It's a great momentum that we're on, and hopefully, the gap just keeps getting smaller and smaller."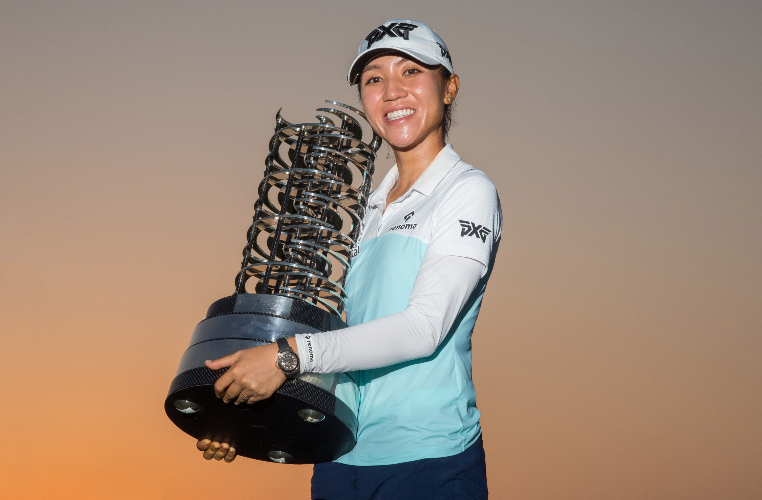 Ko arrives in Saudi Arabia having ended 2022 in formidable fashion. The 25-year-old clinched the CME Group Tour Championship in November to climb to the top spot in the world and earn herself the Vare Trophy and LPGA's Rolex Player of the Year award.
But despite this success, Ko continues to remain grounded as she attempts to reclaim her Aramco Saudi Ladies International off Georgia Hall this week.
"I'm trying to not really think of it," Ko said, who equalled the course record of 265 (-23) to win in 2021. "I'm out there hitting balls and I don't feel like the world no. one. Obviously, I had a great season last year, and it really couldn't have been any more than I could have ever asked for.
"Unfortunately I wasn't here last year, but I think with so many of the top names and so many great female golfers coming out, I think this is a great step forward from where it was at the start. Hopefully, a lot of the junior golfers will be able to come out this week and watch us, and dream that in maybe five, ten years' time they too can be out here playing at this golf course at this event.
"I think that's what we're all here for. Yes, we're trying to compete against the world's best, but we're trying to grow the game wherever we go, and it's really cool to be a part of that."
The Aramco Saudi Ladies International will be Ko's first event of 2023. Having ended last year on such a high, the New Zealander then took some away from the game after marrying partner Chung Jun in her homeland.
Although that didn't mean golf was completely off the cards…
"In the off-season before I started doing like proper practice for the 2023 season was probably the longest time I was away," Ko revealed. "I did play some golf on my honeymoon and play some golf here and there, but it wasn't fully practicing.
"It's nice when you take some time away. When you come back you're more excited, more eager to work on things. But at the same time you realise you lose some of the feel really quickly as well.
"For me, it was great that I got to play some golf on my honeymoon, and the transition to come back to when I was practicing made it a little bit easier, whereas if I hadn't played for like two months, I think it would have been a much longer time for me to get used to like my own routine and get all my feels.
"And I made a hole-in-one on my honeymoon. Extra bonus!"
Follow all the action on @LETGolf on Instagram and Twitter and Ladies European Tour on Facebook and YouTube – #RaiseOurGame #AramcoSaudiLadiesIntl.