Just under 70 girls from ten different counties took part in a special golf development event at the Buckinghamshire Golf Club on the practice day for the US Women's Open Qualifier. The event was organised by the Ladies European Tour (LET) with help from the Golf Foundation and England Golf to support the national Girls Golf Rocks initiative, which aims to encourage more girls to take up the sport. It was also supported by The R&A and the British Golf Industry Association's Grow Golf Fund.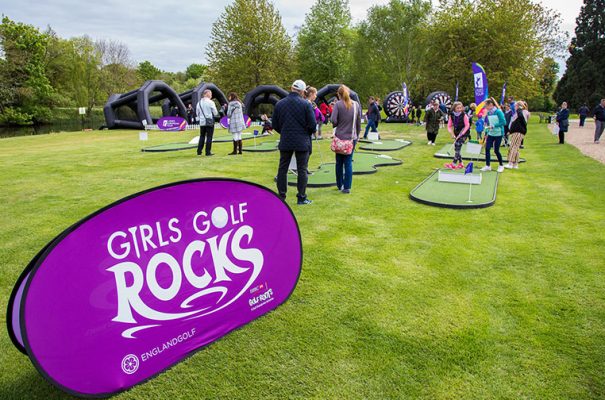 The majority of the girls, aged between 9 and 15 years, had travelled from not just the counties close to the Buckinghamshire (Bedfordshire, Berkshire, Buckinghamshire, Oxfordshire and Surrey), but also from counties much further away including Derbyshire, Lincolnshire, Northamptonshire, Gloucestershire and Worcestershire.
During the three-hour event, which one parent described as 'fabulous, jam-packed and well structured', the girls were split into three groups and they rotated around three main areas. The programme included a presentation about the LET during which Eva-Lotta Stromlid from the LET's Development Department spoke about the organisation's values, transitioning from amateur to Pro and gave advice about how to prepare for a long and enjoyable future in the sport, be that as an amateur or professional.
A golf zone included a chipping challenge with two giant inflatable dartboards, a mini-putting course, some PGA teaching bays staffed by an all-female team of PGA Pros and some short game challenges organised by the Colour Path Golf team. In addition, the Solheim Cup trophy was on display and a local artist from the Creation Station was helping the girls to design messages for the Solheim Cup team that will be competing against the USA in September at Gleneagles.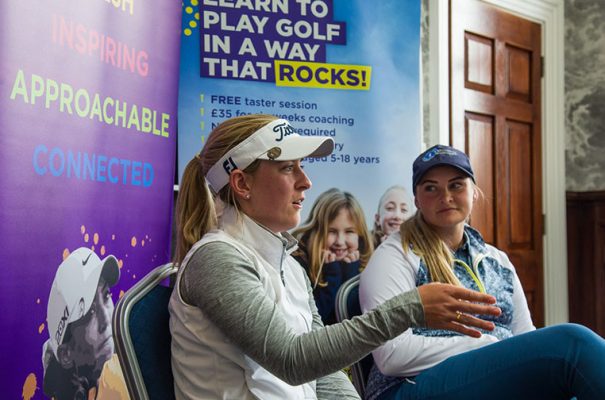 The girls also had the opportunity to speak directly to some of the players and ask them questions about their development in the sport and their lifestyles as professional golfers. Six LET players took part in the Q&A sessions: Annabel Dimmock, Gabriella Cowley, Felicity Johnson, Hannah Burke, Lauren Taylor and Charlotte Thompson.
Certain elements of the event were supervised by a group of young Girls Golf Rocks Ambassadors. These are girls who have volunteered to help with the coaching programmes at their own golf clubs and this particular group was recruited following some training run by the Golf Foundation earlier in the year. After a pre-event briefing, the Ambassadors did a wonderful job making sure the activities in the golf zone ran smoothly.
Speaking after the event, the LET's Development Director, Mike Round commented: "We wanted to do something to support the Girls Golf Rocks programme and this seemed to be a great opportunity. It was great to see so many girls and their families at the event and we hope it inspired the girls to go back to their clubs and continue their development in the sport."