There are three LET players in this week's field of competitors for the Comunidad de Madrid Ladies Open who will benefit from local knowledge.
Carmen Alonso and the Sanz Barrio sisters, Marta and Patricia, will be playing at their home club, Jarama-RACE (Real Automóvil Club de España) Golf Club, where they have all been members for more than 20 years.
Marta lives eight minutes from the club, while her sister, "Paty", lives in the centre of Madrid and their father Carmelo Sanz is the President of RACE.
Marta, 29, who has been a member of the club since the age of seven, said: "Growing up, I played on every team in every age category for the club, in Madrid and around Spain. This place is in my heart. It's my golf home. I can't believe we are having an LET tournament here. It's amazing what they have done with the maintenance of the club and the banners. I love it. There are a lot of emotions and I have extra motivation to play well here. Together with my sister, (who is two years older), we have dreamt of this forever, since we were kids. It would mean everything to play well here and I cannot even imagine how it would feel to win."
All three players will be looking for a very special first win on the LET this week.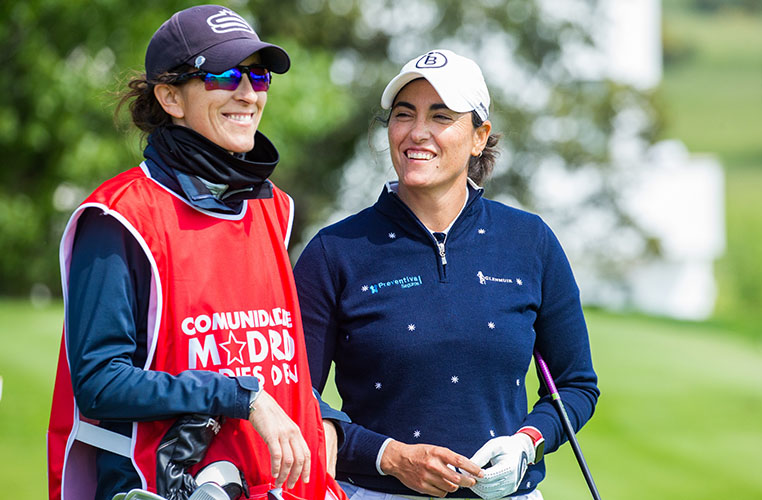 Carmen, who recently tied for third in the Australian Women's Classic at Bonville, is now in her 18th year on the LET.
The 37-year-old said: "It's so special to play a professional LET tournament here. I came here when I was 13 years old, so more than 20 years ago, because my coach was working here. To be here with all the public and playing the course in this magnificent condition, is very special. They closed the course for one week before to work on it for us.
"The last couple of years, I have played well, but sometimes struggled with the putter. The scores in Australia were really good and we shot under par every day, so my confidence is up. It's a little bit more difficult to play at home, but I'm confident in my game. I really like to play in front of a crowd, so that will give me a boost. I think I have a good chance, so fingers crossed."
In a show of her absolute commitment and dedication to playing well, she said she will only watch the first half of the Champions League semi-final featuring her home team Real Madrid against Manchester City, kicking off at 9pm tonight.
"I'm not going to go, because tomorrow we play so early. I will watch the first half and then wake up tomorrow morning to see the result. I hope we win 2-0," she said.
The Comunidad de Madrid Ladies Open tees off at 8.30am on Thursday. Alonso tees off at 8.41am from the 10th tee, with Marta and Patricia Sanz Barrio starting at 9.41am and 9.48am from the 10th and first tee respectively in a two-tee start.