Lucie Malchirand jumped to the top of the PING Junior Solheim Cup Rankings with victory at the French Lady Junior International U21 Championship on home soil on Monday at Golf de Saint-Cloud.
Malchirand had the lowest score over the opening two rounds to earn the top seed heading into the knockout stages, then saw off Dane Oliva Gronborg and Italians Benedetta Moresco and Anna Zanusso to reach the semi-finals.
There, she beat her fellow Frenchwoman Candice Mahe at the 19th hole, then triumphed 2&1 in the final against Pauline Roussin-Bouchard, also from France.
Malchirand now has a lead of more than 50 points over second-placed Pia Babnik, and Mickael Maheo, head coach of the French Girls' Golf Team and vice-captain for the 2019 PJSC, said: "Lucie is an amazing player. She is talented, competitive and mature for only 16 years old.
"She hits the ball very well and has improved her putting and wedge play a lot during the last few months. She managed to stay patient during the 36-hole final, well helped by her friend and teammate Adela Cernousek."
Babnik moved up to second in the rankings after winning the Helen Holm Scottish Women's Open Championship, another counting event for the PJSC taking place last week, by seven shots.
The Slovenian had impressive rounds of 66-69-66 at Royal Troon to finish way ahead of the field, which also included Scotland's PJSC hope Hannah Darling, who took a share of tenth place after rounds of 70-71-74.
Darling is now tenth in the PJSC qualifying rankings, and will be hoping to jump into the top six places which earn an automatic spot on Mickey Walker's European team for the contest at Gleneagles on 10th and 11th September 2019. A further six players are given wild cards.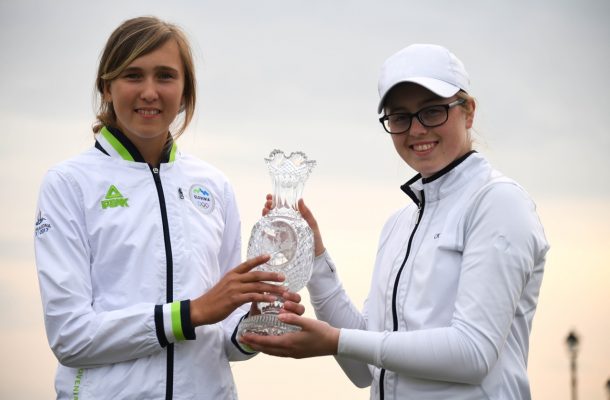 Pia Babnik and Hannah Darling with the PING Junior Solheim Cup trophy at the Helen Holm Scottish Women's Open Championship
Qualifying consists of ten events, and the next, the fifth one, is the Allianz German Girls' Open at GC St. Leon-Rot from 30th May to 1st June.
For more information about the Solheim Cup and the PING Junior Solheim Cup, www.solheimcup2019.com
European PING Junior Solheim Cup Ranking
| | | | |
| --- | --- | --- | --- |
| Po. | Name | Country | Total |
| 1 | Lucie Malchirand | France | 161.67 |
| 2 | Pia Babnik | Slovenia | 110.00 |
| 3 | Kerttu Hiltunen | Finland | 95.00 |
| 4 | Caterina Don | Italy | 93.67 |
| 5 | Elena Moosman | Switzerland | 51.67 |
| 6 | Alessia Nobilio | Italy | 51.43 |
| 7 | Rebecca Becht | Belgium | 40.00 |
| 8 | Amalie Leth-Nissen | Denmark | 38.43 |
| 9 | Paula Kirner | Germany | 38.10 |
| 10 | Hannah Darling | Scotland | 36.67 |
| 11 | Benedetta Moresco | Italy | 36.43 |
| 12 | Adela Cernousek | France | 31.67 |
| 13 | Alizée Vidal | France | 25.00 |
| 14 | Lilas Pintheir | France | 23.43 |
| T15 | Carolina Melgrati | Italy | 21.67 |
| T15 | Lily May Humphreys | England | 21.67 |
| T17 | Virginia Bossi | Italy | 20.00 |
| T17 | Nataliya Guseva | Russia | 20.00 |
| T17 | Ellie Gower | England | 20.00 |
| T20 | Sophie Witt | Germany | 17.00 |
| T20 | Patricia Garre Munoz | Spain | 17.00 |
| T22 | Ana Amalia Pina Ortega | Spain | 15.00 |
| T22 | Jessica Baker | England | 15.00 |
| 24 | Carlota Palacios Peral | Spain | 13.57 |
| T25 | Emilie Alba Paltrinieri | Italy | 11.31 |
| T25 | Marina Escobar Domingo | Spain | 11.31 |
| T27 | Natalia Aseguinolaza Martin | Spain | 10.00 |
| T27 | Viktoria Hund | Germany | 10.00 |
| T27 | Megan Ashley | Scotland | 10.00 |
| T27 | Carys Worby | Wales | 10.00 |
| T27 | Patience Rhodes | England | 10.00 |
| T32 | Anne Normann | Denmark | 9.17 |
| T32 | Ester Fägersten | Sweden | 9.17 |
| 34 | Carla Tejedo | Spain | 8.81 |
| 35 | Lois Lau | France | 8.57 |
| T36 | Alice Thomas | Wales | 7.50 |
| T36 | Louisa Carlbom | Sweden | 7.50 |
| T38 | Euphemie Rhodes | England | 5.00 |
| T38 | Maria Vittoria Corbi | Italy | 5.00 |
| T38 | Isabella Holpfer | Austria | 5.00 |
| T38 | Mathilde Delavallade | France | 5.00 |
| T38 | Thalia Kirby | England | 5.00 |
| T38 | Cameron Neilson | Scotland | 5.00 |
| T38 | Evanna Hynd | Scotland | 5.00 |
| T38 | Harriet Barker | Scotland | 5.00 |
| T38 | Chiara Noja | Germany | 5.00 |
| T38 | Eilidh Henderson | Scotland | 5.00 |
| T38 | Ada Huhtala | Finland | 5.00 |
| T38 | Julie Kerrigan | England | 5.00 |
| T38 | Lily Huerlimann | Switzerland | 5.00 |
| T51 | Lauren Holmey | Netherlands | 4.17 |
| T51 | Charlotte Heath | England | 4.17 |
| T53 | Ainhoa Gurrutxaga Gutierrez | Spain | 2.14 |
| T53 | Marta Lopez Echevarria | Spain | 2.14 |