Home-favourite Kim Metraux raced to an early first-round clubhouse lead this morning at the 2020 VP Bank Swiss Ladies Open at Golfpark Holzhäusern with a magnificent opening round of 66 (-6) to set the early pace.
Setting the lowest score of her LET career to date, the 25-year-old is used to competing against her sister but in this instance she finds herself as many as three shots clear at the top of the international leaderboard with just over half of the field completing their rounds.
Playing in front of crowds for the first time since lockdown restrictions were lifted, Kim showed no nerves, starting steadily with seven pars before making birdies at the par three 8th hole and the par five 10th.
A trio of gains from the 13th took her to five-under-par before a 10ft putt on the 17th took her to six.
The birdies are important but sometimes it is the pars that matter most.
Missing her first green in regulation at the last hole, Kim showed a deft touch, chipping to 4ft and calmly holing in the middle of the cup for a bogey-free round of 66.
Metraux said, "My long game was really solid all round, the putts were not dropping on the front nine but I got it going on the back. There was not much stress in the round today.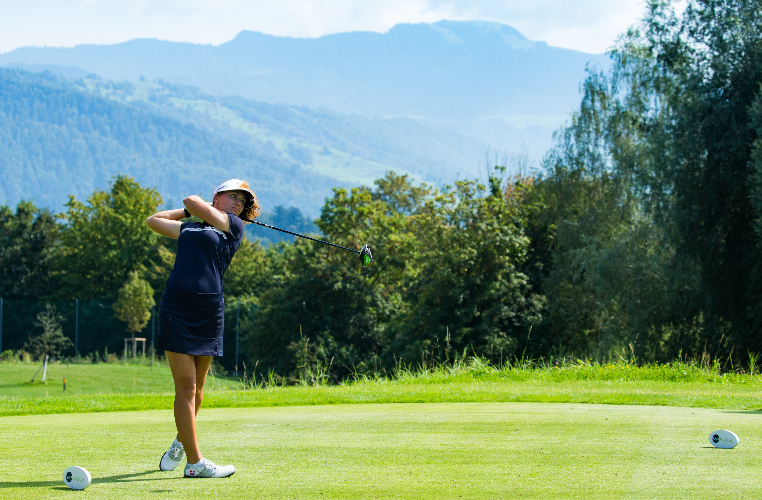 As one of ten Swiss players in the 126-player field, Metraux perhaps had more of a crowd than others and explained, "It was nice to see some familiar faces clapping and cheering me on. I saw my Mum out there and a few guys from Swiss Golf which was nice so tomorrow I will just try and keep some confidence in my long game, roll some putts and try not to worry about what is coming next."
Welshwoman Becky Morgan lies in second at three-under-par after a crafty round of 69 (-3). The one-time LET winner is known for being deadly accurate and on a tight strategic course like Golfpark Holzhäusern, she lived up to the pre-tournament expectation with a near flawless display.
Her only blemish amongst five birdies was a double-bogey on the 14th hole, which had been giving Morgan grief all week.
"14 was giving me a bit of trouble in practice and I tried a different strategy today and that clearly didn't work so I am going to go back to hitting driver and getting it down there. There's trouble left and right, it doesn't really suit my eye, so I think it is better to be aggressive and hit driver."