Swiss sisters and LET rookie's Kim and Morgane Metraux might be the best of friends off the course but the pair are set to go head-to-head tomorrow as the 2020 VP Bank Swiss Ladies Open gets underway at the picturesque Golfpark Holzhäusern from 7.45am.
Taking up the game together at 12 and 10 years old respectively, the pair are now 25 and 23 years old and have had quite the journey leading them to this moment, with the chance to pitch themselves against some of the world's best in their home open on the Ladies European Tour, one they could not miss.
Speaking about the 54-hole shootout, Kim, who is the older sibling and enters the week off the back of a T11 finish at the Tipsort Czech Ladies Open said, "I'm proud to have the chance to play an LET event on home soil and the idea of having friends and family to watch is amazing. There is definitely extra motivation from having people around me and I'm going to try my best to continue my form from the Czech Republic."
Morgane might be the younger of the Metraux sisters by two years but that does not mean she is any less confident or competitive on the course.
"I am always competitive against my sister but in a healthy way, we always try and beat each other and have little contests during practice which has made us better players".
"It is great to be playing closer to home and have family here with us this week, it's nice being back at a course which is nearer to what I grew up on and it's massive to have a tournament back here,"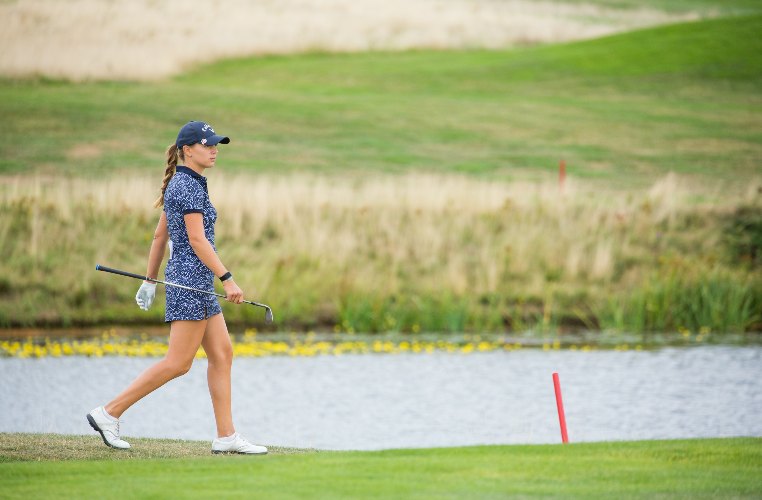 Opting to wait for Morgane before going to College in 2014, the duo both attended Florida State and graduated in 2018 after successful stints which saw both collect silverware as well as a silver medal at the 2016 World Amateur Team Championships representing Switzerland – the best-ever finish in Swiss National Team history.
Turning professional on return, they were inseparable throughout, rooming, practicing and travelling together and they now find themselves on Tour together.
Kim added, "We always evolved together from the start, playing a similar level all the way. I used to not be competitive but now I love having matches against Morgane and we have a lot of fun."
Playing left-handed as opposed to Morgane, who is right handed, Kim commented on the layout this week, "The course suits my game because I draw it off the tee and a lot of holes go left to right so hopefully it won't be an issue for me. I have only played here once but the greens are rolling well and it should be an interesting week."
As two of ten Swiss hopefuls in the 126-player-field the pair start their tournament tomorrow at 9.10am and 9.30am while Race to Costa Del Sol leader Emily Kristine Pedersen lines up at 12.45pm.
With family bragging rights on the table, there's more than the €30,000 first place check at stake.
Follow all the action on @LETGolf on Instagram and Twitter and Ladies European Tour on Facebook – #RaiseOurGame #SwissLadiesOpen.
Watch LIVE on television from Thurs 10th – Sat 12th September at the following times: Thu/Fri 1200 – 1600 GMT, Sat 1100 – 1500 GMT.