Anne-Charlotte Mora set a new course record with a sensational nine-under-par 63 in the second round of La Sella Open, played in hot and humid conditions at La Sella Golf & Spa Resort on Saturday.
With an eagle, nine birdies and two bogeys, the 26-year-old from Nantes, France, lowered by one stroke the course-record 64 set by the leader, Sara Kjellker of Sweden, in the first round.
Mora, the 2022 Åland 100 Ladies Open by Ålandsbanken champion, came out of the blocks with five birdies on the front nine, at the second, third, eighth and ninth holes to make the turn in 31.
She chipped in for eagle on the 12th, before dropping a shot on the tight, tree-lined 13th hole. She birdied the par-3 14th from close range and then made her second bogey of the day on the 15th, before finishing with three birdies in a row to return in 32.
With a 36-hole total of seven-under-par, she now sits just three shots behind the leader, Kjellker, heading into the final round of the €1 million tournament, which offers the highest ever prize money at a women's golf event in Spain.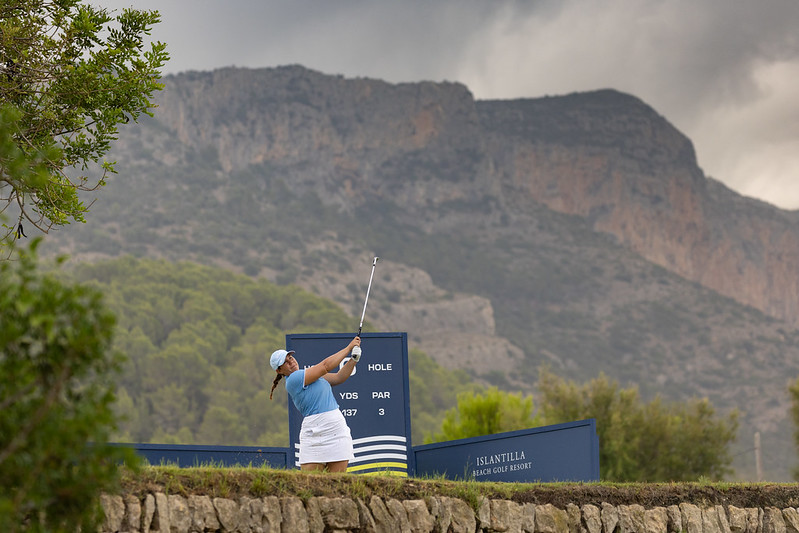 "It was just a very good day. I'm very happy," said the fourth year LET player. "I just hit the shots exactly where I wanted them to go, which is always very nice.
"I just let myself go without too many restrictions, so I think that's why it worked. It's probably the best round I've ever had, which is nice. I've never played that low. It was perfect. It would be nice to win again. Hopefully tomorrow I can play just as well. Before this, my best round was seven-under, but I wasn't thinking too much about it."
Mora is ranked 36th on the Race to Costa del Sol after 13 tournaments played this season. Her best result so far in 2023 has been a tie for third in the Ladies Open by Pickala in Finland, three weeks ago, where she put up a spirited fight when defending her title.She also tied for 10th at the Jabra Ladies Open, played on home soil in France, in May.
Follow all the action from the La Sella Open on @LETGolf on Instagram and Twitter and Ladies European Tour on Facebook and YouTube – #RaiseOurGame #LaSellaOpen.