Linda Wessberg reflects on golf in Sweden, men vs. women, and the challenges of being a parent chasing a dream on Tour.
I didn't like golf as a kid. I was more interested in horse riding. I used to play on the weekends and during the summer in Sweden, my parents introduced me to the game when I was six or seven, but it wasn't until I was 15 that I realised I was ok at golf. I met my coach Per Ola Dahlman and we worked together for 23 years, so he was instrumental in pushing me to realise I could become a good player.
I've got a new coach now but back then when I started working with P.O. my mind switched and I became more competitive, I had a dream of playing professional golf. I feel like I can say now that I've been fortunate enough to do that, but it wasn't until I moved to the US for college and lived that life for a few years that I started to realise this could actually happen. That was 18 years ago.
I don't go horse riding so much now, but I love going out for two-hour long rides in the forest when I have the time. It's the perfect way to relax away from golf.
I've always been a big fan of Fred Couples, but I never had a golfer I looked up to growing up. He seemed so relaxed, the opposite to me in a way, so I admired that for sure. I have to say that I have been incredibly lucky to play a bit with Annika in the US and at the Solheim Cup. She was dominating when I came out, so she's been more of an inspiration to me.
I had seven missed calls. We were flying back from Wales that Sunday evening and when I arrived at Gothenburg I thought it might be good news but you are never sure when it comes to a Captains Pick. I'd a great year with some top tens in the US and finished seventh in the British Open, so I called back Helen Alfredsson and she was like "are you ready?!". I can still hear her voice now. I had so many family and friends come to watch in Sweden, and I can't compare it to anything else, it was special to play the Solheim Cup on home soil.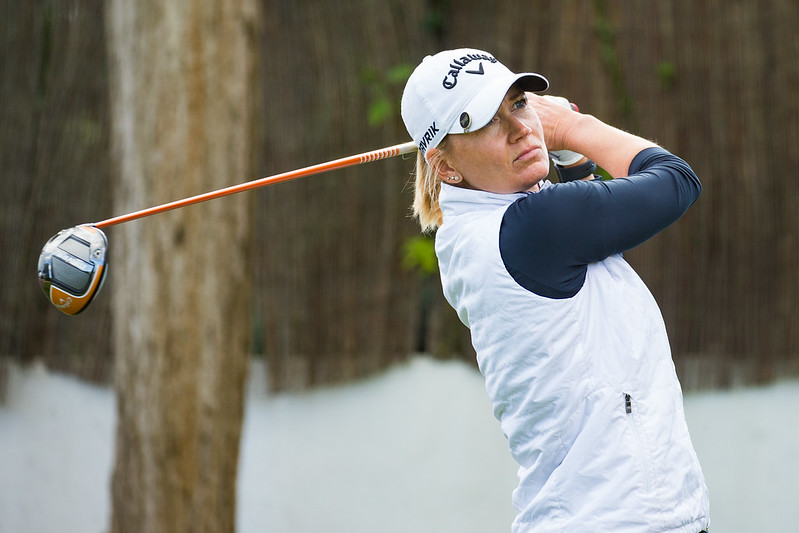 My perspective has changed since becoming a mother. It is tough. My daughter Sigrid is great and a very happy, fun kid, but it still needs to be done, and I've always been quite a big practiser and put a lot of hours in, so now I can't practice as much as I would like.
I can leave her at day-care at eight and pick her up at four, and those are the hours that I have to practice, workout, and do all of my bookings for tournaments and flights – because I do all of that myself. Sometimes I have to leave practice not happy with what I've done or where my game is, and that for me has been the hardest part – not being able to hit 20 or 30 more balls. It's taken me a few years to accept that. I played really well the first year after I had her, but then it felt like every time I left home she was sick, which made it so tough to go away.
I have great support from my husband Peter, he is amazing with Sigrid when I am away, plus we also have my parents and my in-laws – as being away and not being able to help is always hard for me. When the guys have children that is tough too, but I think being a Mum is different – it shouldn't be, but it is.
When I won the 2018 European Championships she was watching on TV and I think at that time she realised more what I'm doing, but she still doesn't really get it. It's tough for someone who doesn't have kids to know what it's like – when I'm leaving at the airport and she asks me if I'm coming home tonight that's hard. But also, it's my life too – and golf is what I want to do so I need to get that balance right.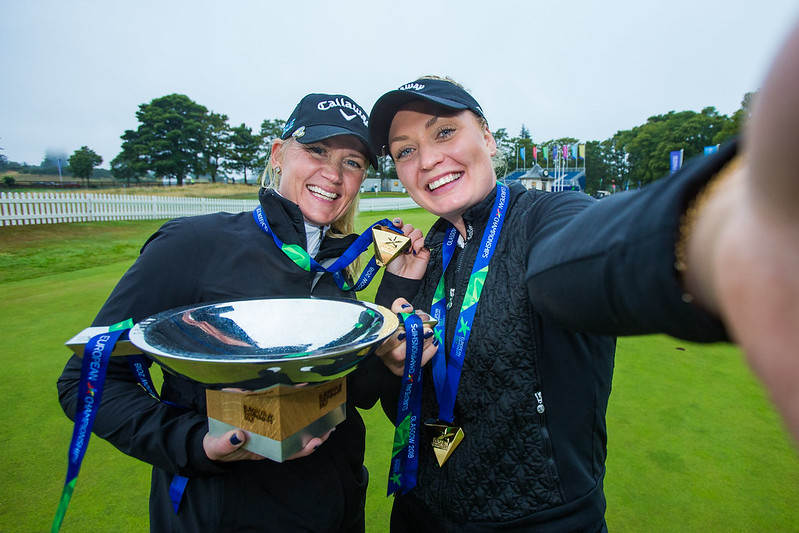 After becoming a Mum, I think I look at my career differently. For me 2007 was my best year both on the LPGA and the LET. I won in 2006, so to back that up in 2007 was great as I think it is tougher to win for the second time than the first for some reason. On the flipside, I came off that really good year in 2007 and in 2008 I was struggling with a shoulder injury. Looking back at it I shouldn't have kept on playing. I think that brought me down quite a bit – it was tricky playing injured but when you're coming from a good year you just want to keep on going. It's really easy to have your confidence knocked, but hard to build it back up again. In 2009 I won again but that was also a difficult year until that win. Although it's been a struggle at times, I've always kept my card, but I feel like I can do better and have more potential, which keeps me going.
Henrik and Annika are great ambassadors for Sweden. Annika has given back a lot for the junior game here, and I think it's important for her that these events help grow the game. And Henrik has his own junior events going on. I think they both want to give back for everything they've been given over the years. I would love to be able to give back like they have done.
I still think we have a bit to go in terms of making Swedish society more equal, but we are one of the countries leading in this equality area in my opinion. Men and women are looked at in the same way – so I think it is great that Sweden is hosting this event, and it's the right time to have it. If we had a female winner this week, I think it would have a huge impact on our game.
But it also depends on the situation – if the girls are dominating this week then something isn't right – and the same goes for the other way round. I think the people that do the course setup have a huge job but they're aware of it and I've been giving my feedback on all of that side. We want to compete with the men – we're ready! It's time for something good and fun to happen, as Covid has been challenging for everyone. If I won this week it would rank as my biggest achievement, especially with the mix of players. I'm going to do everything I can to win.