With almost 30 nations represented in the field at the Jabra Ladies Open and with the International Golf Federation based in Lausanne, the Evian Resort was the ideal location to host a Tokyo 2020 Olympic Games seminar for the LET players, caddies and coaches. Anthony Scanlon, Executive Director for the IGF made the short trip across Lake Geneva to provide an update on the plans for Tokyo where the golf will be played on the East Course at the impressive Kasumigaseki Country Club.
During his presentation, Anthony covered a variety of issues relevant to those aspiring to become an Olympian next year. He outlined the tournament format and qualification system before going on to talk about the arrangements for the athlete accommodation, transport system, accreditation and medical services. He also highlighted some specific International Olympic Committee rules relating to anti-doping and the use of trade marks before and during the event. Anthony concluded by emphasising how golf's involvement in the Olympic Games is helping to promote the development of the sport, particularly among women and girls.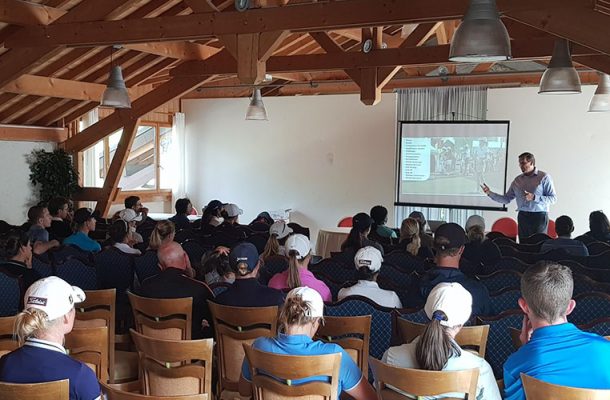 After the seminar, the LET's Development Director, Mike Round, said: "Many of the players competing at the Jabra Ladies Open have a realistic chance of playing in Tokyo, so we wanted to make sure they have all the information they need to be able to make their own plans for the next 12 months." He added: "There can't be many people who know about golf in the Olympics better than Anthony, so we are grateful to him for giving up some of his time to provide our players with such comprehensive information."
The 2016 Olympic Games in Rio was a great success for the LET with half of the field being made up of LET members. The LET is currently well-represented on the Tokyo 2020 Olympic Golf Rankings list, which can be found on the IGF's website.