Spanish professional golfers Nuria Iturrioz and Luna Sobrón played a match against disability golfers
Race to Costa del Sol Leader Maja Stark held a clinic for local juniors
Amateurs Cayetana Fernández, Paula Martín and Rocío Tejedo spoke in their first press conference
Madrid Spain – May 3, 2022: The Comunidad de Madrid Ladies Open is raising our game by contributing to society at several different levels in the Spanish capital.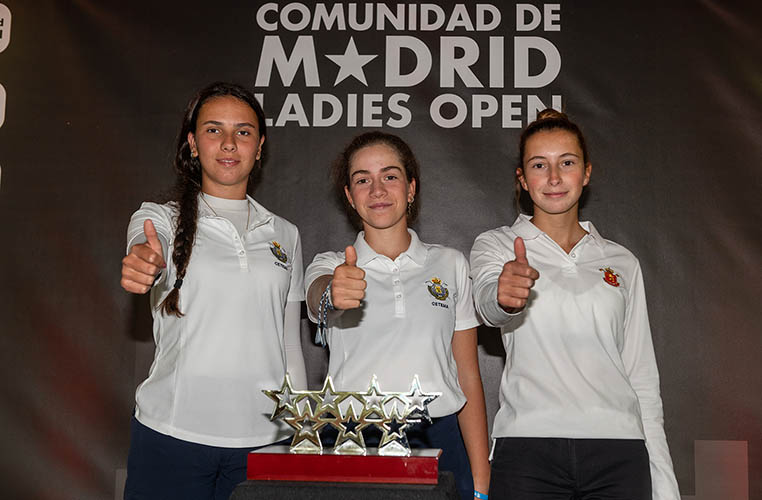 At Jarama-RACE Golf Club on Tuesday, junior amateur players Cayetana Fernández, Paula Martín and Rocío Tejedo, together with Eva-Lotta Strömlid, director of the PING Junior Solheim Cup, gave their first press conference ahead of their appearance in the tournament, starting on Thursday.
The three junior golfers agreed that their presence in the Comunidad de Madrid Ladies Open is a "dream come true," and that it is "a unique opportunity to enjoy and learn from the professionals," said Cayetana Fernández.
"Being in this tournament is a prize, the important thing is to keep playing the same game and enjoy the experience," said Paula Martín, while Rocío Tejedo added that "playing under pressure makes you learn".
A very special exhibition match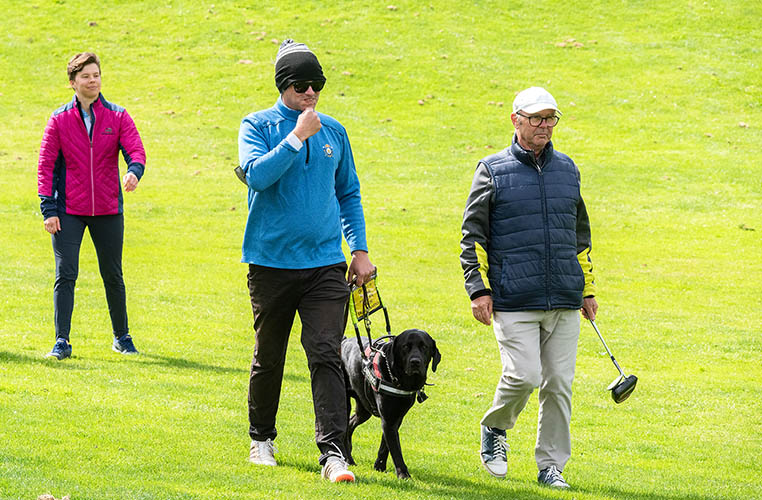 This was followed by an interesting exhibition match that pitted professionals Nuria Iturrioz and Luna Sobrón against a group of disabled golfers, including Eduardo Vegas, bronze medalist at the 2019 Abu Dhabi Special Olympics World Games in Abu Dhabi, as well as Alberto Nuñez, who uses a prosthesis and blind golfer Marc Ollé. The LET players gained further insight into the challenges faced by Vegas, Nuñez and Ollé and their incredible skill level.
"It has been an incredible experience, without a doubt, and the most complicated thing was playing blindfolded to learn more and level the playing field", declared Iturrioz, while Sobrón said "we have enormous respect for our competitors today because they play the same golf as we do, despite additional challenges".
The match aroused the curiosity of many people on the par 3 course of the Jarama-RACE Golf Club, and among them, oblivious to everything that was happening and delighted with the attention and caresses given to him, was Marc´s guide dog, "Bern".
Advice from Maja Stark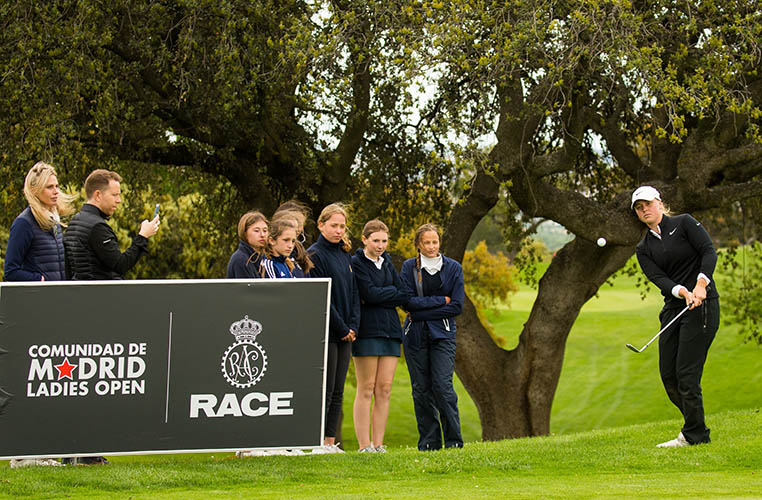 The day was completed with a clinic given by Maja Stark to the rising Spanish juniors Cayetana Fernández, Paula Martín and Rocío Tejedo and other members of the RACE amateur team.
In this master class, the Swedish player and current number one on the Race to Costa del Sol, began by giving some interesting tips: firstly, to concentrate on the golf course and above all, to withstand the pressure, which was followed by an exhibition of short game skills with different shots that surprised both the juniors and the audience present.