After an entertaining week in England the Ladies European Tour (LET) headed to sunny Spain for the inaugural La Sella Open at La Sella Golf Resort & Spa.
Boasting a €1,000,000 purse – the highest ever for a women's event in Spain – the sixteenth event of the LET season proved to be a memorable one for plenty of rookies as home favourite Nuria Iturrioz claimed a dramatic playoff win.
With the tournament reduced to 54 holes following a series of storm delays on Thursday, Sweden's Sara Kjellker made a flying start as she broke the course record to open with a 64 (-8) and lead by three shots after round one.
Thailand's Trichat Cheenglab, Germany's Alexandra Forsterling, and Italy's Clara Manzalini sat four shots back in T3.
On to the weekend, and Kjellker continued her momentum as she carded a solid round of 70 (-2) to give herself a two-shot lead heading into the final round.
"I talked to Linn [Grant] after her win on the LPGA," the Swede said, who won three European Team Championships alongside Grant and Maja Stark as an amateur. "It definitely inspired me this week. It's been rough the last couple of weeks so it's nice to get the confidence back."
Despite encountering an unexpected obstacle on the 13th hole, Cheenglab went low again to match her Friday score and move into solo second.
Elsewhere, the Swiss duo of Vanessa Knecht and Tiffany Arafi both fired rounds of 69 (-3) in Dénia to move to six and five-under par respectively.
Knecht said: "I've been working hard and doing the things that I need to do to keep the momentum going. It's hard week in week out to keep performing the same way. That's definitely new lesson. But I feel like if I continue this and finish well I'll be really happy."
After two rounds of action, the cut stood at two-over par with 15 first year graduates making it through to Sunday. Joining Kjellker, Cheenglab, Knecht, Arafi, Forsterling and Manzalini were Momoka Kobori, Amy Taylor, April Angurasaranee, Renate Grimstad, Patricia Isabel Schmidt, Emma Spitz, Nastasia Nadaud, Louise Duncan, and Kirsten Rudgeley.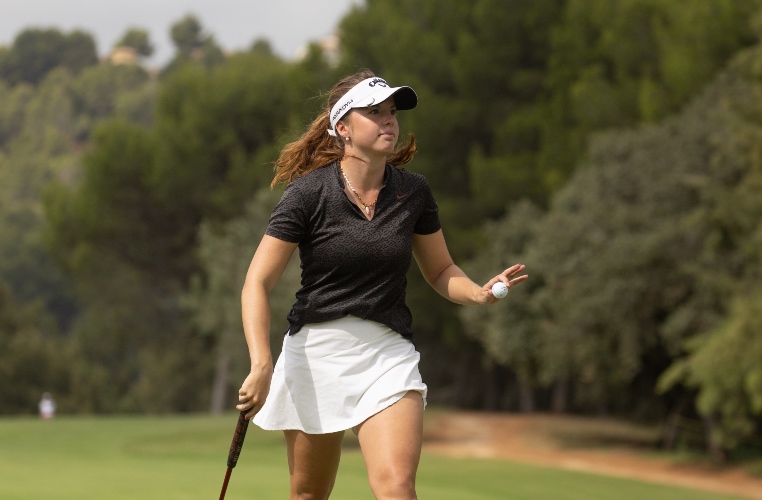 On an entertaining final day, Kjellker was unable to match her fabulous form on the back nine as four bogeys saw her finish T9 on six-under par.
Two better than her and finishing as rookies of the week were Cheenglab and Forsterling – the later posting a 67 (-5) which included two eagles on the front nine.
With a fifth place finish, Cheenglab extends her tally at the top of the Rookie of the Year standings to 759.97 points.
Thanks to her best result of the season, Forsterling moves into fourth on 380.32 points and qualifies for next month's FREED GROUP Women's Scottish Open.
"Today was not my day," Cheenglab said. "I have a lot of work to do for the AIG Women's Open, that's what I have learned in this tournament.
"I knew that the last group would be tough for everyone with a lot of pressure, but I tried to focus on my game. I had an unplayable [on the 3rd hole] which was very close to the tree and not a lucky one. On the last hole I hit a shot out of bounds, so I didn't have a chance to make birdie but I'm happy with the result!"
Sandwiched in-between the strong performers at La Sella are respective compatriots Schmidt and Angurasaranee.
Italy's Alessandra Fanali then rounds off the top-5 on 373.88 points despite missing the cut in Spain.
Next up on the LET is the first European Major of the season at the Amundi Evian Championship. Follow all the action on @LETGolf on Instagram and Twitter and Ladies European Tour on Facebook and YouTube – #RaiseOurGame.