The second staging of Women and Girls' Golf Week again proved a social media success across Great Britain and Ireland, as well as raising engagement and participation at club level.
The recent awareness week, timed to coincide with the AIG Women's British Open at Woburn, generated over 12 million Twitter impressions through its #WhyIGolf hashtag to surpass the 2018 campaign.
Women and Girls' Golf Week was again delivered by England Golf, Scottish Golf, Wales Golf and The Irish Ladies Golf Union, designed to unite the industry and promote and grow women and girls' golf. The R&A, the European Tour, the Ladies European Tour, The Professional Golfers' Association and the Golf Foundation were also among the bodies supporting the activity.
The campaign told stories of women and girls involved in different areas of the sport, celebrating their successes and challenging perceptions. Online content featured a theme for each day, including careers, volunteers, health, participation and performance.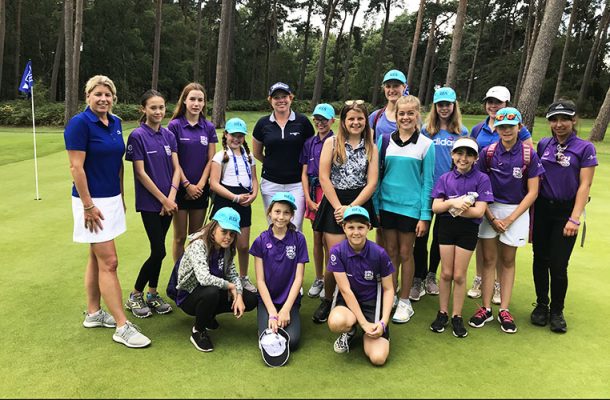 Over 800 people contributed and were involved from across Great Britain and Ireland, as well as further afield, including Australia, Canada, the USA and throughout Europe, most notably Germany and the Netherlands. Campaign video content generated over 274,000 views, while the most popular day for engagement was that dedicated to health and wellbeing.
The campaign was highlighted on Sky Sports during the AIG Women's British Open, while other notable supporters included broadcasters Sarah Stirk and Naga Munchetty, and leading Tour professionals such as Georgia Hall, Catriona Matthew and Lexi Thompson.
On site at the AIG Women's British Open, the Ladies European Tour provided behind-the-scenes guided tours to groups of girls from local clubs and counties throughout the week to highlight the wide range of career opportunities that exist in the sport at the professional level. During the tours, they were given special access to the clubhouse, players' lounge, media centre and practice ground. Many of the girls were linked to the Girls Golf Rocks programme as Club Ambassadors and their visit to Woburn was a way of thanking them for their efforts to encourage younger girls into the sport.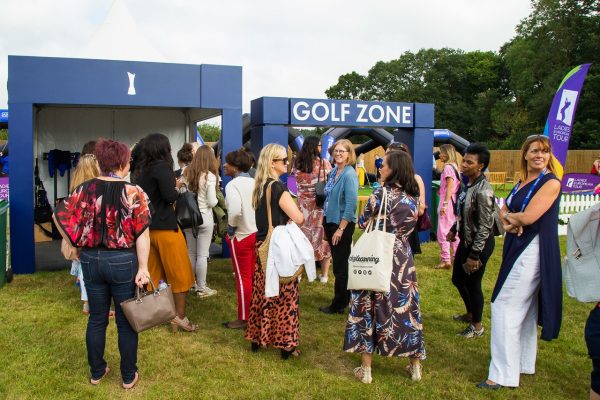 In the Golf Zone in the tented village, an all-female team of PGA Pros gave free 15-minute lessons and spectators could also have a go at a range of putting, chipping and hitting activities supervised by a team of volunteers. Down at the practice ground, LET members Katja Pogacar from Slovenia and England's Felicity Johnson took part in special clinics that were both informative and inspirational and ex-LET player Sam Head added extra value to the guided tours and clinics. The Golf Zone also hosted a group of around 40 delegates from the REACH Women's Leadership Summit and approximately 20 women who had been introduced to golf through the PGA's #WeLoveGolf initiative.
Mike Round, the LET's Development Director who oversaw the Golf Zone during the week commented: "During the week at Woburn, we saw many females of all ages and abilities taking part in the fun. It was a wonderful celebration of women's and girls' golf."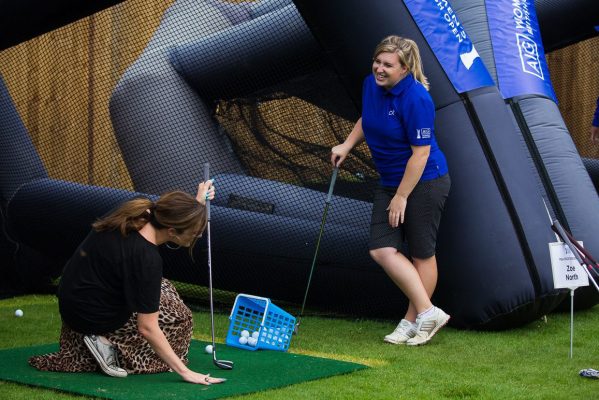 Nick Pink, chief executive at England Golf, said: "From an England perspective, we saw a rise in the number of clubs engaged in the week – both from a supporting standpoint and those who ran specific women and girls' activity during the week."
Clubs across the home nations were heavily involved, promoting participation activities they are running for women and girls.
At Exeter Golf and Country Club in the south-west, a series of #WhyIGolf social media video clips raised engagement, while a dedicated #WhyIGolf event was led by the club's up-and-coming junior girl members. Placing an emphasis on fun in a non-competitive and relaxed format, it saw 26% of participants take out an academy membership.
Darren Everett, director of golf at Exeter who oversees a 160-strong female membership, said: "The young girls were brilliant and act almost like ambassadors for us. We have a slightly ageing membership so for the girls to help encourage more women to enjoy golf here – perhaps to meet new friends or achieve a release from work – is great. We work hard at promoting female and family golf and our #WhyIGolf event was another example."
Meantime, at Ingestre Park Golf Club in Stafford, 36 girls have been involved in the club's Girls Golf Rocks programme over the last two years and they recently held a fun-filled girls camp together with Whittington Heath Golf Club. Women and Girls' Golf Week helped the club to place renewed focus on their activity, achieving strong early interest for their forthcoming We Love Golf taster sessions for women and girls in conjunction with The PGA.
Ben Smith, assistant professional at Ingestre Park, said: "We have been pushing women and girls' golf strongly and Women and Girls' Golf Week sat nicely for us to promote what we have coming up."
Dullatur Golf Club in Scotland celebrated the week with a popular 'Putting and Prosecco' night for women, while Borders club Peebles – whose junior membership boasts a third of girls – maintained their ClubGolf coaching activity for girls with a fun session in the dedicated #WhyIGolf week.
The R&A's Women in Golf Charter was launched last year with the aim of inspiring an industry-wide commitment to a more inclusive culture, enabling women and girls to flourish and reach their potential at all levels of the sport.
This year's Women and Girls' Golf Week also built on the first ever Golf and Health Week held in April, which again saw various golfing bodies working collaboratively to highlight the sport's health benefits and reach an audience of over 20 million on social media.
Women and Girls' Golf Week also drew attention to the 2019 Solheim Cup, the match between the top women professionals of Europe and the USA, which takes place at Gleneagles next week.