Magdalena Simmermacher leads the way after day one of the Investec South African Women's Open, as the Argentinian fired in an opening round of 68 (-4) to hold a one-shot overnight lead.
The 26-year-old finished the day with aplomb at Steenberg Golf Club, as she picked up shots on four of her last five holes to transform her round into a field-leading effort.
Josefine Nyqvist and Alice Hewson find themselves a shot behind on -3 heading into Thursday's action, with the morning groups having the better of the conditions in Cape Town, with the rain starting to fall around midday.
Simmermacher certainly made the most of the calmer weather at the start of the day to put herself at the top of the leaderboard, as she seized on a number of birdie chances coming home.
"I'm really happy with today's round, I gave myself a lot of opportunities on the back nine – which was my front nine – but I only managed to make one birdie," the 2020 Olympian said.
"On the front nine I left myself chances close to the pin, and that's why I ended up making four birdies on the last five holes.
"I played better when the wind got stronger, I'm not sure of the reason – maybe because you only have to hit a certain shot, so you just focus on that."
"Yesterday we played the pro-am with tough conditions so that was good preparation, and last week I struggled on the greens, but I was still playing good, so today I managed the pace better."
Having given herself some time away during the off-season as she returned to South America, Simmermacher has wasted no time in getting back to her best in 2022, and will be hoping for another season competing at the top of the Race to Costa del Sol rankings.
And she did her hopes the world of good on Wednesday with a flurry of birdies late on, having been level par after 13 holes.
Having started on the back nine, she birdied her first and bogeyed her 11th holes, before reading the greens to perfection to roll in putts on five, six, eight and nine to finish her round in red-hot form.
The sixth hole was the pick of the bunch for the Argentinian, as her six-iron approach finished millimetres from the pin for an easy birdie, and Simmermacher was delighted with her performance with putter in hand.
"I like fast greens when the ball released better and I don't have to hit it too hard, so I like them better," she said.
"I'm still trying to get used to playing and competing again, but I'm really happy to be back and I'm looking forward to it." 
Nyqvist sits just behind Simmermacher having dropped just a single shot in the day, with that being on the first, before rattling in four birdies in the next 17 holes to pull herself up the leaderboard.
The Swede, who split her time between the Ladies European Tour and the LET Access Series in 2021, was in inspired form in the morning's play, as she picked up four shots between the third and the eighth holes, proving that her hard work over the off-season looks to have reaped their rewards.
"Today was a really nice day," Nyqvist began. "I've been struggling a bit in the last two previous tournaments but I've been working at it and trusting what I do, and I guess today it paid off, so I'm very happy.
"I've been working on keeping my mindset clear and trusting what I'm doing, because I've been working a lot on my technique over the winter, so I'm just trying to stay positive and live in the present.
"The first nine wasn't too bad because I teed off early today, so I got lucky there, then the back nine it picked up and it was hard out there, so you just have to stay focused on every single shot.
"I just tried to hit the centre of the green and play some par golf, I left some birdies out there but I'm excited to go out there and get them tomorrow."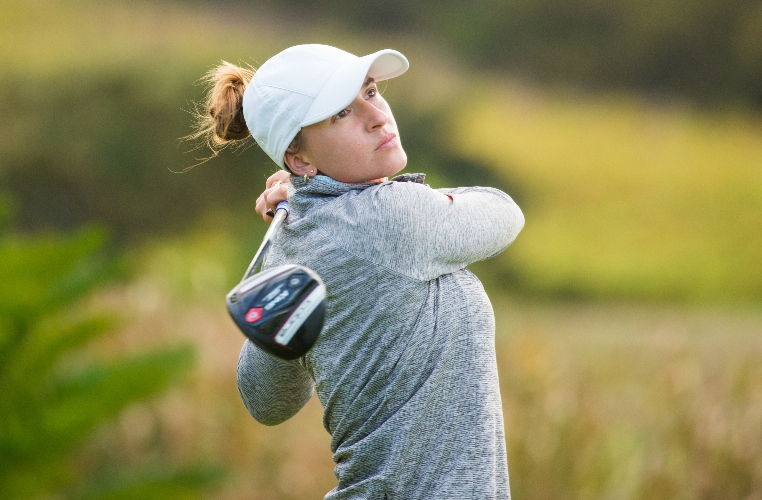 Nyqvist has Hewson for company on -3, with the 2020 Investec South African Women's Champion rediscovering her form in Cape Town to put herself in a promising position after the first 18 holes.
Her day got off to a brilliant start with an eagle on the par-five 12th, before a run of bogey-birdie-bogey in her next three holes, as she went out in 34 (-2).
Birdies on her 15th and 17th holes looked to have put her in a share of the lead overnight, only for a dropped shot on the last seeing her sit one behind Simmermacher after the first day.
"I'm very happy with how I pleased this morning, it was really windy out there, but I managed to control my ball height well so I'm happy," the Englishwoman said.
"It was important to hit fairways and greens just to give yourself a few chances out there, and I made the most of some of the chances I gave myself, so hopefully more of the same tomorrow.
"I've got some incredible memories here, I got my first win here on my first LET start in 2020 – I've finally been able to come back so I'm just enjoying every minute of it."
Elsewhere, Johanna Gustavsson, Elia Folch, Anne-Charlotte Mora and Carmen Alonso are locked on -2 after opening rounds of 70, while a further seven players find themselves on 71 (-1) after a tricky opening day in Cape Town.
Virginia Elena Carta, Emma Grechi and Marianne Skarpnord all managed to get themselves into the red numbers on Wednesday, as well as hometown hero Lee Anne Pace and Frenchwoman Lucie Malchirand.
Former Solheim Cup star Becky Brewerton was also one shot to the good at the end of play, as well as England's Felicity Johnson.
Follow all the action on @LETGolf on Instagram and Twitter and Ladies European Tour on Facebook and YouTube – #RaiseOurGame #InvestecSAWomensOpen.