From the U.S. Virgin Islands to the Ladies European Tour (LET). Last December Alexandra Swayne attended LET Q-School at La Manga in Spain as an amateur to try and secure playing rights for the 2022 season.
After finishing the Final Qualifier in a tie for 32nd place and earning Category 15 status, Swayne made the leap to turn professional and join the Tour.
The former Clemson University student recorded a top-10 finish in just her third event on the LET with T7 at the Joburg Ladies Open.
With such a good result to start, as well as two further top-20 and four top-30 finishes in her first season, Swayne has been able to improve her ranking throughout the year, but one major adjustment has been adapting to the changeable weather conditions in Europe.
"I have found it fantastic in my rookie year," said Swayne, who was speaking at the KPMG Women's Irish Open.
"The girls are so nice, the LET staff are great and the rules officials know what they're talking about. There's a real professional feel. I have made some great friends and travel buddies and been to some pretty cool places."
"Ireland has been beautiful, if a little cold. I was not prepared for the off and on cold weather in Europe at all! Other than that, I have been having a great time and I'm looking forward to next year and securing my card and going from there."
Swayne currently sits 69th in the 2022 Race to Costa del Sol and has just come off the back of her lowest round on the LET with a 65 (-7) on the first day at Dromoland Castle.
Once players turn professional, learning how to be a professional athlete is one of the most important things and the 22-year-old has been taking everything on board this season.
She continued: "The biggest thing I have learnt from my rookie year in general has been how to be a professional athlete. Learning how to go low, learning how to make up for different situations, learning how to travel and get from event to event, learning how to eat properly and be healthy.
"Just being a professional athlete and learning what you need to do to be able to make a living and go home and pay for the bills. It's been a huge jump from amateur golf to college golf to professional golf and I'm still learning."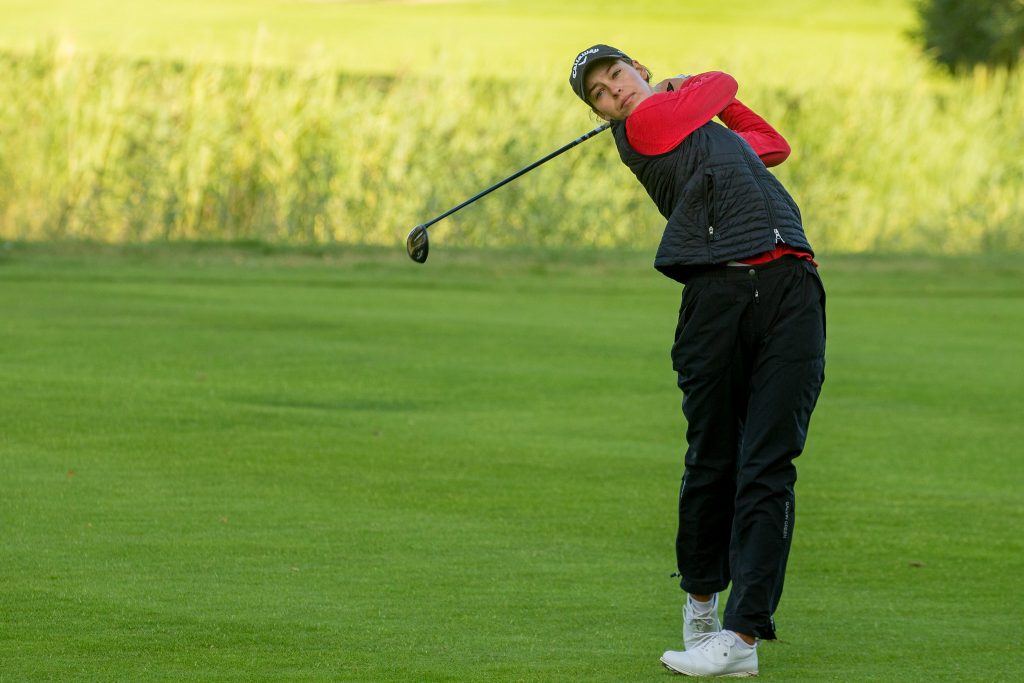 When she gets a chance to head back home to the U.S. Virgin Islands, the pro has a different set up to practise to what you would usually expect.
Mahogany Run Golf Course was where Swayne grew up playing but the effects of Hurricane Irma in 2017 closed the course and since then she has had a different routine.
"My parents love the Island and they travelled there when they were older, so I grew up on the Island," she explained. "There was a junior programme at the golf course, and I would take the ferry over and one of the head golf professionals would pick me up and take me to the golf course. I was part of the junior programme.
"Unfortunately, we don't have a golf course because a hurricane took it out. It's been hurricane season recently and we've been going through them. I can see the course from my house but it's overgrown and it's sad to see, but hopefully one day we'll bring the golf course back.
"The nearest golf course is in Puerto Rico, which is about 15 minutes away by plane, but unfortunately that's a little expensive nowadays. So, I hit on a field by the airport, but we tend to get hay fever every time we go out there. We make the most out of it and you learn to cope with what you've got.
"I'm very happy to be from the U.S. Virgin Islands, they have been so supportive and it's a beautiful place if you ever get a chance come on down."