Team Captain Catriona Matthew (left) joins sportscotland's Head of Performance Nutrition Irene Riach (right) and Gleneagles Executive Chef Simon Attridge.
Europe's Solheim Cup team have been given plenty of food for thought ahead of facing USA in September thanks to sportscotland and Gleneagles.
A Scot will lead the European side as Catriona Matthew and the best female golfers from the continent get set to take on their American counterparts at Gleneagles from September 13-15.
Team Europe will be looking to reclaim the trophy following an American win at Des Moines Golf and Country Club in Iowa in 2017.
The Europeans are leaving no stone unturned in their quest for glory on home soil, sportscotland head of performance nutrition Irene Riach has been providing nutritional advice to prospective players as preparations for the event ramp up. This will continue when final selections are made, and the 12-strong team is decided on 12 August.
This is the first time nutritional support and advice has been available for the team as a whole. With the format throwing up a demanding schedule, very different to normal tour events, the correct nutritional planning during preparation and in competition will be crucial to give the team the optimal chance of performing at their best.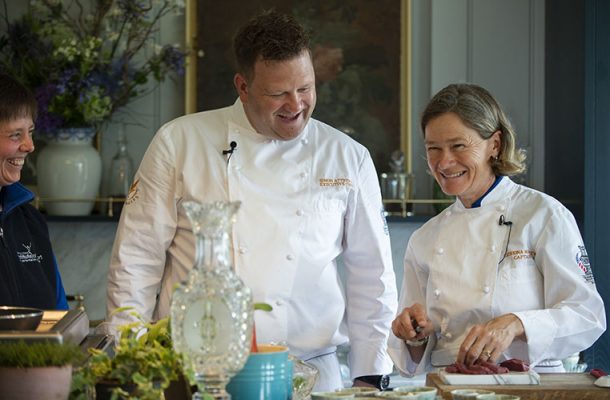 The captain swapped her clubs for kitchen knives on Thursday, July 11 when she helped Gleneagles Executive Chef, Simon Attridge, create some of the dishes which will be incorporated in her team's menu plan for the week of competition.
Irene was on hand to offer the former Open champion some insight into the benefits her team would be getting by taking this structed approach to their diet.
Catriona Matthew said: "I am grateful to sportscotland and Irene in particular for providing nutritional advice to Team Europe. The Solheim Cup is an intense week, where many of the players will be playing two rounds of golf in one day and so having the correct fuel for optimal performance is extremely important. It has also been a pleasure to work with Simon at Gleneagles to ensure that we are able to benefit from quality local ingredients which we will incorporate into our diet."
Players in contention for a place on Team Europe were asked to complete a survey to capture specific dietary requirements to ensure that every detail could be factored into the planning for the event.
sportscotland head of performance nutrition, Irene Riach, explained why these preparations are so important: "The demands of the Solheim Cup are very different with the players expected to deliver over several days of competition. Managing sleep patterns, fuel, hydration and recovery will all have a critical part to play in ensuring that the players can perform consistently throughout the competition.
"We are absolutely delighted to have this opportunity to work with Simon and to add value to the European Cup's preparations by sharing our innovation and expertise in performance sport."
Scotland is renowned for its fresh produce and Irene and chef, Simon, are keen to ensure that the team will benefit from quality ingredients sourced from Scotland's larder.
Simon Attridge, Gleneagles' Executive Chef, said: "It's a pleasure to work closely with Irene and Catriona to plan a delicious menu based on the fresh, seasonal ingredients available on our doorstep and the science of performance nutrition.
"Designing and delivering menus for any high-profile event at Gleneagles is always a privilege, but catering for some of the world's best golfers – to ensure they play to their full potential during one of the biggest events in sport – is a tremendous honour for me and the whole kitchen team."