Team Strom have a two-shot lead at Aramco Team Series – New York
Sophia Popov fires seven-under-par 65 to top the individual leaderboard
Team Strom sit at the top of the leaderboard and have a two-shot lead at the end of the first day of the Aramco Team Series – New York.
The quartet of Linnea Strom, Jenny Haglund, Lucie Malchirand and Cho Minn Thant produced a bogey-free day as a team, making the turn in -8 and finishing at 18-under-par thanks to a birdie-net-eagle from amateur Thant on the 18th.
At the last Aramco Team Series in Sotogrande, Strom and Haglund were part of Team Strom where they finished second after losing in a playoff to Team Buhai.
But the Swedish duo believe with Ladies Italian Open winner Malchirand on board, they are able to carry the momentum they gained in Spain through to Glen Oaks Club.
"Being in a team with Jenny again and getting to know Lucie is lots of fun. For us, we had that momentum with us from Spain and hopefully we can bring Lucie and she really had that going today. I really enjoy playing in a team and I think we're very lucky to be able to do that and we're enjoying it," said Strom, who turned 25 today.
"We didn't have to count one bogey today which I think is very important in this format. At the first hole where we started with two birdies, it was great just getting a good start and having good momentum going."
In the individual competition, Sophia Popov got off to a blistering start and fired a bogey-free round of 65 (-7) to set the pace and hold a three-shot lead.
But that wasn't the only competition where the 2020 AIG Women's Open champion is contending as her team sit in second place on 16-under-par.
And the 29-year-old believes the innovative format this week has helped her mentally as she is able to focus on the team event.
"It has honestly been really good for me this week to focus on something different. I love team events, the Solheim Cup was huge for me, I had so much fun, and this is very much like it," said the Major winner.
"You're playing as a team; it doesn't matter if you make one or two bogeys if you come back and make two birdies we are doing well as a team. I'm all in as far as the team goes, individually it's great if I'm playing well that's nice but that has mentally freed me up and made me enjoy it a little bit more."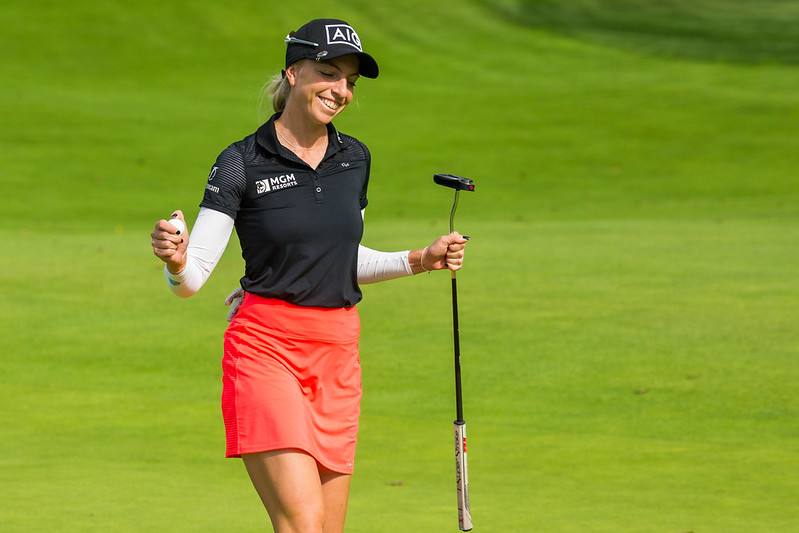 Popov is joined in her team by Argentina's Magdalena Simmermacher, who is 11th in the Race to Costa del Sol, and England's Hayley Davis – who was part of the winning Team Buhai at the Aramco Team Series – Sotogrande, plus amateur Cody Crowell.
"It was good to finish with two birdies, we struggled in the beginning but then we buckled up, started making birdies and supporting each other and making pars and birdies," explained Simmermacher.
Davis added: "It was a good day! Sophia played really well but I think as team we did good, it was a good start and I think we are ready for the next two days."
A cluster of players are tied for second in the individual competition after shooting rounds of 68 (-4) including England's Bronte Law.
The 2019 Solheim Cup winner rolled in six birdies and made two bogeys on her way to four-under-par, while her team sit in third place on 15-under.
The English star is playing alongside Scotland's Kelsey Macdonald and Wales' Amy Boulden, as well as amateur Jordan Ziegler and Law couldn't be happier with the quartet.
"We played great as a team, if one of us had a birdie on one hole then another would step up on the next and make a birdie and that's the best thing for this format. We had a great amateur and the whole team played well, we will be hoping to do more of the same tomorrow," said Law.
"For our team personally, we all grew up playing together. I picked Kelsey and then found out I had Amy on my team I was ecstatic, I don't get to play with them very often. I thoroughly enjoyed it and I'm really looking forward to the next two days."
Individually, Law sits alongside Pauline Roussin Bouchard, Anna Nordqvist, Danielle Kang, Pia Babnik and Lee-Anne Pace with five players one shot behind on three-under-par.
While in the team competition, Team J Korda and Team Pace are tied for fourth on 14-under with Team Kyriacou on 13-under and Team Skarpnord on 12-under.