Team Wikstrom and Team Garcia finish the Team competition tied on 27-under-par and will playoff tomorrow
England's Hayley Davis holds a two-shot lead in the Individual competition
Team Wikstrom and Team Garcia finished tied at the top of the leaderboard at the conclusion of the 36-hole team event at the Aramco Team Series – London.
With both teams level on 27-under-par, they will playoff for victory at the conclusion of the third round tomorrow afternoon.
It was Team Wikstrom – made up of Ursula Wikstrom, Julia Engström, Maria Hernandez and amateur Laurent Dhaeyer – who set the early pace after going out at 6.57am and they backed up yesterday's round of -13 with a round of -14 on Friday at Centurion Club.
"We had a little bit of an advantage to go early in the morning when the wind hadn't picked up that much," said captain Wikstrom.
"We played with a little wind for about four holes, but then apparently it started to pick up more and more after we finished. In that way we were lucky with the draw, we just had to wake up early in the morning but otherwise it was good."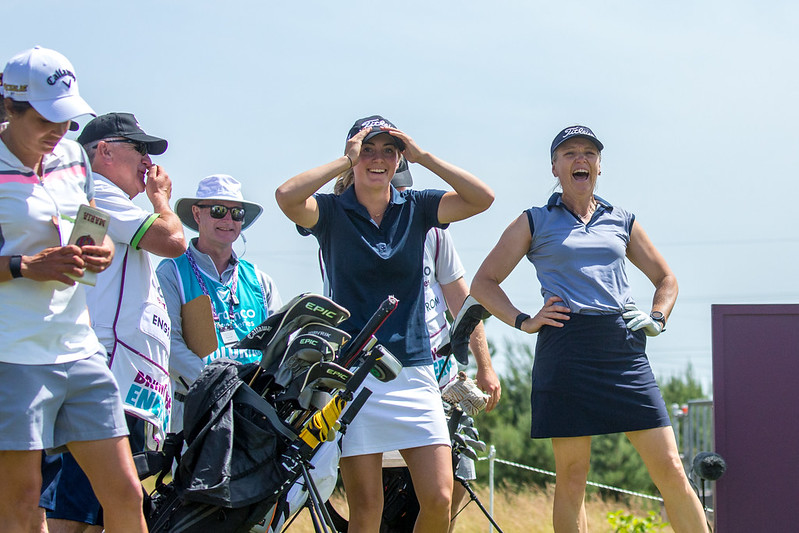 Spain's Hernandez had an excellent round individually carding a 66 (-7) and Wikstrom enjoyed watching her team-mate play so well.
"Maria was playing amazingly today and making every putt, so it makes it easy," she continued. "As a team we were pretty good at picking up each other hardly any bogeys.
"We had some team spirit and then we realised she was making everything. She started making all the putts, she had a chance and she'd put it in. It is always nice to see someone play that well.
"I definitely expected another team to beat the score. When we finished the round, I thought someone else would beat it."
While Team Garcia were one of the later tee times on the second day of the Aramco Team Series – London and they also followed their first round of -13 with a second round of -14.
The quartet of Nicole Garcia, Kelly Whaley, Madelene Stavnar and amateur Mia Baker made the turn in nine-under and a birdie from Baker on the last ensured the team finished level on 27-under.
"That wasn't the only putt that Mia saved us on, on the 16th she made a long putt from off the green to save par as a team," said Garcia.
"She had about a six-footer on the last for a playoff and she came through! I could have imagined how I would have felt in that situation.
"It was really nice. Obviously, there were some quiet spots when we were concentrating because there's still the individual, but as the round went on, we started to enjoy it a bit more and more. In the end I think it was a really nice feel in the group."
Team Hillier, with Whitney Hillier, Krista Bakker, Lisa Pettersson and amateur James Carson Heard, finished in third place on 26-under-par having produced a round of -14 on Friday.
"I have loved this week. I was very happy to get Krista as my team pick and I have got good vibes from her and she has been playing great and made a lot of birdies the last couple of days," said captain Hillier.
"And to meet Lisa as well and James our amateur – he played well too. The team played great, and we had a lot of fun more than anything. I have really enjoyed myself."
In the Individual competition, England's Hayley Davis holds a two-shot lead heading into the final round after carding a round of 68 (-5) to be nine-under-par.
After an opening 69 (-4), Davis rolled in seven birdies and two bogeys to be two shots ahead of compatriot Bronte Law.
"I'm really happy," said Davis. "I played solid out there today and made lots of birdies. I've been playing really well at the moment.
"I like the Aramco Team Series events; it brings out the best in my game and everything I've been working hard on in my game seems to be paying off."
After her round of 71 (-2) to be seven-under, Law said: "I played really well. It was easy to get frustrated. I hit a lot of good shots and the ball was running away from the hole a lot of the times – or coming up short. It was frustrating.
"When you feel like you're hitting it well, you feel like you should be capitalising on being in the middle of the fairway. But it was good – I played really solid. I'm just hoping that I can convert more of those chances tomorrow. But a two-under score today, I'm happy with that – it was not easy."
Sweden's Caroline Hedwall and England's Georgia Hall sit in a share of third place on six-under-par with Spain's Hernandez, Garcia and Dutch golfer Pasqualle Coffa one shot further back in T5.
Pia Babnik and Anne Van Dam are in a tie for eighth place, with Linn Grant and Hillier in T10 after two rounds.
Follow all the action on @LETGolf on Instagram and Twitter and Ladies European Tour on Facebook and YouTube – #RaiseOurGame #BringTheEnergy.