Korda sisters will tee it up at the LET team format at Glen Oaks Club following the Solheim Cup
Will be joined by fellow US teammates Lizette Salas and Lexi Thompson, plus AIG Women's Open champion Anna Nordqvist
Field to include five of the world's Top 20 women golfers and is third Aramco Team Series event
Three-day team & individual tournament takes place October 14-16 at Glen Oaks, Long Island
World number one and US Olympic Gold medalist Nelly Korda will play in next month's Aramco Team Series – New York, with sister Jessica and a superstar field packing no less than five of the world's Top 20 female golfers heading to Long Island for the LET's $1million US debut.
The Korda sisters – both six-time winners on the LPGA Tour – will go head-to-head in the tournament's unique team format – and concurrently in its individual scoring contest – at Glen Oaks Club, October 14-16, tickets for which are available now, free of charge.
They will be joined by US Solheim Cup stars Lizette Salas and Lexi Thompson, as well as Team Europe member and 2021 AIG Women's British Open champion Anna Nordqvist.
Nelly Korda said: "The Solheim Cup was just the perfect example of how fans and players love team golf so when I knew the Aramco Team Series was coming across it was a tournament I just didn't want to miss, so am thrilled to have it in my schedule.
"Lizette played in Sotogrande and Lexi [Thompson] played in the London event and both just told me how fun and different basically everything about it is, so I can't wait to experience that – and hopefully do well."
The 23-year-old gave nothing away as to any specific player she would be looking to choose as a teammate in the Aramco Team Series NFL-style draft system, if selected as one of the New York event's 28 team captains.
However, she did admit that she knows what she will be looking for from whatever team she ends up being part of.
"What I have heard more than anything about the Aramco Team Series is that it almost offers-up this different kind of atmosphere – a vibe where you can almost relax a bit more on the course because of the fun and camaraderie that comes with playing as part of a team," said the Major-winner.
"Knowing that, I'll be on the lookout for girls I know I'll be able to have a good time with on course and hopefully that'll be a formula that helps lead us to victory!"
The Aramco Team Series is a brand-new four-tournament concept introduced on the Ladies European Tour earlier this year.
It sees teams of four, that include three pros and one amateur, battle it out for a share of an $800,000 prize fund, with a $200,000 purse for the leading individual scores over the weekend. As a full LET event, each tournament also carries points for World Rankings and the Race to Costa del Sol – LET's season-long competition to crown Europe's leading lady golfer.
The New York event is the third leg of the four-tournament Series and heads States-side following successful events in London (UK) and in Sotogrande (Spain) – with the USA's Alison Lee securing her maiden professional victory with triumph in the latter tournament's individual format.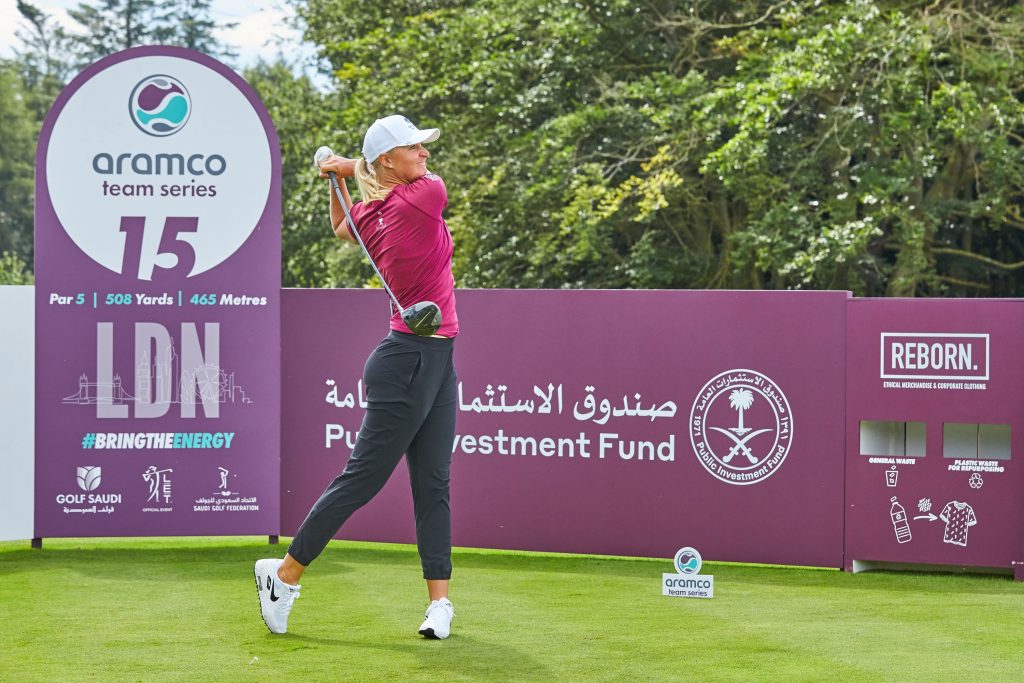 The innovative $1million Aramco-backed event has already attracted many of the world's biggest names to its opening two events, with 2021 AIG Women's Open champion Anna Nordqvist being one such player.
"It's a brilliant format," said the three-time Major-winning Swede. "So fun and so different to really anything else we play on Tour. I could see US fans falling in love with it, especially the way it gives an amateur player the opportunity to win a professional golf tournament. It sounds crazy – and in some ways, it is! – but it is already such a welcome addition to women's golf, bringing so much energy to the Tour and elevating the game we love even more. The Aramco Team Series weekends are tournaments I now really look forward to."
Majed Al Sorour, CEO Golf Saudi and the Saudi Golf Federation, said: "New York will be our strongest Aramco Team Series field to date with some outstanding players recently seen at the Solheim Cup. The calibre of the field can only help us with our ongoing goal in driving more accessibility to the sport globally, whilst improving opportunities for women's sport with a number of initiatives planned for New York. Thank you to our country's visionary leadership and Aramco for providing us with an opportunity to take this exciting and innovative new event global."
The Aramco Team Series – New York will take place at Glen Oaks Club, Long Island, from October 14-16.
Free tickets are now available for what is an historic LET event and can be secured via the Aramco Team Series website.
The tournament will adhere to COVID-19 protocols, as well as local and government guidelines. For more information on attending, visit aramcoteamseries.com or follow the event on social media @aramco_series.