CAREER CADDIE

Unfortunately, there are examples of young females who turn professional too early without having considered all of the facts and issues. This Career Caddie has been developed to help young females who are considering life as a touring professional. It aims to provide information and encourages players and parents to go through a thought process so that they are better able to make an informed decision at the right time and for the right reasons.
WHAT IS MY GOAL?
What do you enjoy? What do you want to be? Do you really want to be a touring professional or is there another aspect of golf that interests you?
Are you considering turning professional because it's what you want to do, or are you doing it because others want you to?
Do you have the determination, dedication and strength of character necessary to make it as a professional golfer? Are you prepared to work hard and do the training?
Have you considered all of the career options in golf?
HOW DO YOU TURN PROFESSIONAL?
According to the Rules of Amateur Status, a professional golfer is one who:
Plays the game as his/her profession
Works as a professional golfer
Enters a golf competition as a professional
Holds or retains membership of any Professional Golfers' Association
Holds of retains membership of a Professional Tour limited exclusively to professional golfers
There are essentially two types of golf professional:
Touring Professional
To become a Touring Professional, you must qualify to play on tour, often referred to as 'gaining a card'. With the LET, there are two ways to secure a card:
i) Playing at the Tour School.
You can compete as an amateur and then, depending on your finishing position, you can opt to take up membership of the tour. Even after playing in the Tour School, you can still opt to remain as an amateur. The point at which you give up your amateur status is when you complete and submit the membership form.
ii) Finishing in one of the top spots on the development tour (e.g. the LET Access Series)
Amateurs can play on the LET Access Series without compromising their amateur status. Even after playing a season on the LET Access Series events, you can still opt to remain as an amateur. Currently, if you finish in the top five in the Order of Merit for the LET Access Series, you will automatically qualify for a full card on the LET and the point at which you give up your amateur status is when you complete and submit the membership form to the LET.
The procedures are very similar with the LPGA. For other tours around the world please contact the headquarters of the tours and they will explain the qualifying or membership procedure.
Teaching Professional
Teaching professionals (often referred to as PGA Pros, PGA Coaches or Club Pros) achieve a formal coaching qualification through their National Professional Golfers Association. The point at which you give up your amateur status is when you formally enrol on the course. If you decide that you would like to become qualified as a teaching professional, you should contact your National PGA. Click here for a list of the PGA websites.
WHEN IS THE RIGHT TIME TO TRANSITION FROM AMATEUR TO PROFESSIONAL GOLF?
Have you considered:
Taking advice from your coach and/or performance manager?
Any upcoming amateur opportunities? Staying amateur to play in these events may be more beneficial in the long-term.
Playing on the LET Access Series for a season to see how you compare and to see what tour life is like?
How do you perform against others? Are you consistently near the top of the leaderboard at the big amateur events?
A dual career where you remain in education whilst also working on your golf? Possible options include elite academies, US university or home schooling/distance learning. (Did you know, approximately 50% of the LET players obtain degrees before joining the Tour? This means they have something to fall back on if it doesn't work out.)
Your maturity? Can you look after yourself away from home? How do you cope in pressure situations?
The amount of work and effort required to be able to sustain a career as a touring professional?
The lifestyle? Time spent at airports. Lots of time away from home. Spending time in different countries where you might not be able to speak the language.
The financial issues? (Your current situation. Potential income and cost scenarios.)
Where you will live?
Talking to those who are currently on tour to seek their advice?
Here are some of the Pros and Cons:
| | |
| --- | --- |
| Pros | Cons |
| Earning a living doing something that you loveTravelling the worldMaking friends from across the globePlaying in top level competitionsPlaying on high quality coursesEarning world ranking points (which could get you into the Olympics)Engaging with sponsors and partnersEnjoying media coverageOpportunities to give back (Supporting community projects) | Time away from family and friendsCould feel lonely or isolatedThe demands of constant travellingLiving out of a suitcaseAdministration and paperworkNo regular source of incomeFinancial pressures (not earning enough to cover costs)Uncertainty about retaining a card |
PERCEPTIONS VERSUS REALITY

Some people have a perception that professional sports people have managers, fast cars, private jets and stay in top hotels. Unfortunately, it's not like that. Here are some of the realities:
You probably have to manage your own travel arrangements (e.g. flights, visas, etc.). For each event, information is provided about the nearest airport, but you book and pay for the flights yourself.
Transfers from the airports to the official hotel and from the hotel to the golf course are normally arranged for you, but you need to make sure you're in the right place at the right time to get picked up.
You have to book you own accommodation. There is normally an official hotel where a reduced rate is offered and sometimes the LET helps to co-ordinate the booking. However, there is still paperwork you need to complete and you have to pay for the accommodation yourself.
You must manage your finances and keep on top of all your records. You are essentially self-employed, so you need to keep a track of your income and expenditure (and keep copied of your bills and receipts). You'll probably need help from an accountant.
It's really important that you manage your communications activity (e.g. social media), your profile/brand and your relationships with sponsors. The LET provides guidance and training because getting this wrong can damage your image and your career.
Sometimes there are problems and things go wrong (e.g. golf clubs go missing, passports get lost, etc.) and you need to sort them out yourself.
Those who finish at the top of the Order of Merit earn considerable sums of money. However, the reality for other players might be quite different. To guarantee a living from just being a touring professional, you have to regularly perform to a high standard.
WHAT ARE THE COSTS?
The costs for a season could include some or all of the following:
LET membership fee
Entry fees
Flights
Accommodation
Equipment (e.g. clubs, balls, shoes, gloves, clothes, waterproofs, etc.)
Caddies
Insurance
VISA
Support team (e.g. coach, physio, psychologist, nutritionist)
Gym membership
Tax
Other living costs (e.g. rent, utility bills, food, drink, car, phone, etc.)
Don't forget, you only earn prize money if you make the cut. This means you could spend quite a bit of money playing in an event, but not earn any money from that event.
HOW MUCH MIGHT YOU EARN?
Be realistic about how well you'll do against experienced Tour Professional and be realistic about what you think you will earn. Here are some figures from the 2018 Money List that might help (below).
| | |
| --- | --- |
| Position on the Money List | Winnings (approx.) |
| 1st | €512,100 |
| 20th | €52,300 |
| 50th | €25,900 |
| 100th | €10,500 |
How do you think you'd compare against the top 100 female golfers. Perhaps a season on the LET Access Series would help you to work this out.
As prize money cannot be guaranteed, players are wise to seek other sources of income. This can often be in the form of sponsorship , but some players have a second job with an employer who allows them time away from work to play in tournaments. (That's why getting an education is important!)
RETAINING A CARD
In order to retain a card for the following season, you have to either win an event (which guarantees a card for at least the following season) or finish in the top 70 in the Order of Merit. If you don't manage to retain a card, you can:
Go back to the Tour School to try to regain a card
Play a season on the LET Access Series to try to secure a card by finishing in the top five on the Order of Merit.
Playing on one of the smaller tours that exist around the world which might help to guarantee a spot at the final stage of Tour School.
Decide to try and regaining amateur status (reinstatement). Full details about this can be obtained from The R&A.
USA SCHOLARSHIP PATHWAY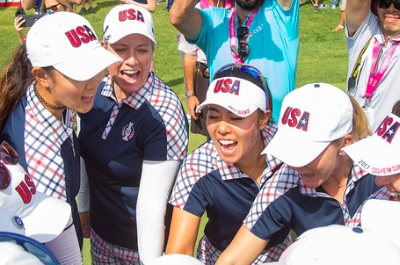 Research
Check out the NCAA website (www.ncaa.org) to identify universities/colleges that interest you.
Contact The Fulbright Commission: US Educational Advisory Service on www.fulbright.co.uk or 020 7404 6994, for expert advice on the application process.
Contact www.collegeboard.com to investigate and plan SAT exams.
Discuss with parents, friends, coaches and contacts at your national governing body. Also, speak with players who have been in the USA to find out what is it like.
Questions to ask
Accommodation – Type? Where? Cost?
Culture
Climate – Heat? Humidity? Snow?
Information about the course – Liberal Arts? Academic requirements for entry? (Players have lost scholarships because their academic grades weren't good enough.)
University location – Big city? Urban? East coast? West coast?
Type of University – Public? Private?
Facilities – On campus? Off campus?
Nearest airport
Local transport system
What level of scholarship is available to you – Full? Partial?
What does scholarship cover? Fees? Books? Accommodation? Food? Health insurance? Flights?
Is there support for International Students? Buddy system?
Relocation – is there support?
Articulation – to other universities
Are there other athletes from your country at the University?
How does the education system work? (Semesters. Freshman-sophomore-junior-senior. Etc.)
Communication
Write to or email relevant coaches at prospective universities
Build a portfolio of educational qualifications
Sit SAT – (600 – 1300) refer to www.collegeboard.com
Liaise with The Fulbright Commission – www.fulbright.co.uk – for ongoing advice
Check out www.ncaa.com for University Information
Check out University websites, which you can access from the NCAA website.
Visit
If possible, it is recommended that you visit so that you can check out:
Facilities
Accommodation
Travel – to and from the airport, around the campus, to and from local shops
Coaching style – technical coaching
Playing competition structure
Use the questions listed in the 'Questions to ask' section above.
Things to consider
You have to apply to each University individually, so be prepared to write lots of emails.
Even applying to Universities can be a costly exercise as there are often administrations fees to pay.
If you aren't able to secure a full scholarship, attending an American university can be very expensive and most of the fees for each semester need to be paid upfront.
Work out if you can afford to study in America for four years. Even if you secure a full scholarship, you'll probably have to pay for costs such as flights to and from American, travel to and from airports, etc.
In some countries, is isn't possible to get a student loan from your own country to study overseas and getting a student loan in America is unlikely unless you're a US citizen.
Going to University, playing and studying in the States – sounds very cool! However, after you travel across you will face re-adjustment to new friends, a different climate, a different culture, a different currency, a different education system, language differences and being much more independent. Although many of these things you will encounter within your own country, you have to consider the added stress of learning to live in a new culture away from your family and normal network of friends.
Useful websites for America
And finally……
You are advised to consider a range of options before jumping on a plane to the States.
CAREER OPTIONS IN GOLF
For those who do manage to make a career as a touring professional, it can be a great life. For those who don't manage it, all is not lost. There are many other careers in the sport, which can also be very enjoyable. These include:
Coaching
Club management
Greenkeeping
Golf course architecture
Tournament organisation
Event management
Golf development
Golf administration
Journalism
TV and radio broadcasting
Golf tourism
Marketing
Equipment manufacture
Retailing
There are a number of organisations in the sport that can provide information and advice about these options and there are courses and/or qualification that are worth considering.
CONCLUSION
Life as a Touring Professional isn't easy. It's hard work and it requires self-discipline, self-motivation, determination and perseverance. You need to be organised and able to cope with many different pressures.
However, if you're the type of person who's prepared to put in the effort, the rewards are worth it. You get the chance to travel to some amazing places, make life-long friendships and create unforgettable memories.
Making the decision to turn professional should not be taken lightly. The aim of this Career Caddie is not to discourage you from making that decision – it's to encourage you to consider all of the issues so that you are fully informed and are able to make the right decision at the right time for the right reasons. Whatever you decide, good luck!