Past champion Carly Booth from Scotland is playing in the Aberdeen Standard Investments Ladies Scottish Open on a sponsor invitation at The Renaissance Club this week. The last time she played on a sponsor's invite was seven years ago, in 2012, when she won the tournament at neighbouring Archerfield Links and she is looking for a repeat victory.
Booth, who first played in the event as an amateur in 2007, when she tied for 13th at The Carrick on Loch Lomond, is making her ninth appearance in the tournament having only missed the cut on one occasion, last year at Gullane.
The 27-year-old from Comrie in Perthshire is having a resurgence this season with three top 10 finishes in 12 starts, including a fourth place in the ActewAGL Canberra Classic, which was her best performance since a T4th in the 2013 Scottish Open six years ago, T5th in the Investec South African Women's Open and seventh in the Omega Dubai Moonlight Classic.
She attributes the change to working on her swing with Robert Rock, whom gave her a drill to work on when they were both together on the driving range during the Saudi International in early February.
"I was hitting a lot of golf balls trying to find my form going to Australia. He was just waiting for Thomas Bjorn, actually, to come to the range, and just sat with me and gave me some advice and gave me a drill to work on. It really just went from there."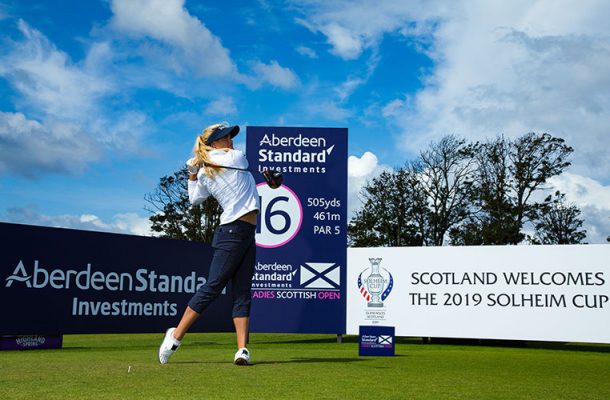 "I used the drill he gave me in Saudi for most of my season so far, which a lot of people will know, that I had this pause in my takeaway. That's the drill he gave me and I've been using it in my swing. It kind of worked. I haven't seen him too many times to be honest, but it's kind of ticking over and I still speak to him through WhatsApp or whatever if I need some advice or send him some swings.
"It's still a work-in-progress. We're still working on some swing changes, but I'm just feeling a little bit more confident and feeling more positive over the golf ball, which I think is important."
Booth still feels she has an outside chance to impress the Solheim Cup captain Catriona Matthew this week, in the final qualification event.
The Solheim Cup takes place from 11-13 September at Gleneagles, in Scotland, and eight automatic qualifiers will be confirmed after the Scottish Open finishes, with Matthew naming four wildcard picks on Monday at 14:00 BST.
"Unfortunately, I missed the cut last week, which means all the pressure is on this week to play well. I'm still hopeful, but if not, I tried my best. There's always two years' time, too. Of course, with it being at Gleneagles this year, it would have been pretty amazing to play."
Booth was a member at Gleneagles in her teens and is now an ambassador for Scottish Golf, with her objective to get more people involved and enthused about the sport and the Solheim Cup. She added: "It will be disappointing to not be involved, but at the same time, I've some involvement with the tournament. It's a special tournament. It's something I still strive to make. If it's not this year, it's in two years' time. I'll still be cheering them on and hoping Europe will take that trophy at the end of that week."
On targeting her third Ladies European Tour title, seven years after her last, at the Deutsche Bank Ladies Swiss Open, she added: "It's just nice to be home. We play once a year here in Scotland, and I have family come and watch. Obviously being my maiden victory in 2012, it's obviously going to be a special place in my heart.
"I'm going to enjoy the week no matter what to be honest. Wind and rain — you get used to travelling abroad and being in the nice, sunny weather, but sometimes it's funny when you come and you have no choice to play in this kind of weather, it kind of brings back all the memories of your childhood or your previous Scottish Opens or British Opens, some of my best golf has been played in weather like this. I can only take it as a positive."
The Aberdeen Standard Investments Ladies Scottish Open, which is co-sanctioned by the LPGA and Ladies European Tour, makes its debut at The Renaissance Club, on 'Scotland's Golf Coast', just three weeks after the men and is the last qualifying event for Team Europe ahead of final selection announcement on Monday 12th August as well being the penultimate qualifying event for Team USA.
New for 2019, the tournament will host Ladies Day on Saturday 10th August and Solheim Cup Sunday. For more details visit – www.ladiesscottishopen.com