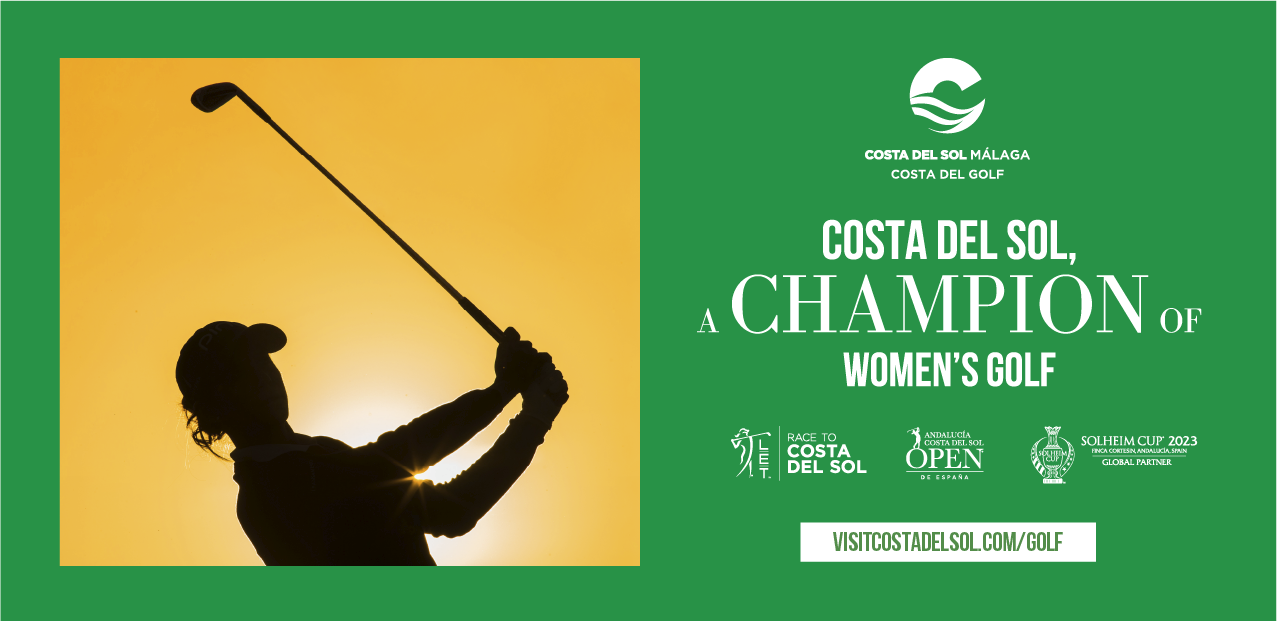 The Costa del Sol is the leading destination for golfers who seek a wide variety of quality golf courses and ideal golfing weather through 12 months of the year. With over seventy golf courses, many of which were conceived by masters of golf course design, the Costa del Sol enjoys worldwide prestige. Many top-level championships have provided unforgettable days of competition on its courses: the Ryder Cup, the World Golf Championship, the Estrella Damm Masters and the annual Andalucia Costa del Sol Open de España, amongst others.
The Costa del Sol will be host to The 2023 Solheim Cup, to be held at Finca Cortesín from 18th to 24th September, further testament to the destination's commitment to women's golf.
Golfers of all levels visit this unique destination, year after year, to enjoy the golf, and explore all that this unique destination offers. Just a few hours flying time from anywhere in Europe, with easy connections to USA and Asia, the golfer can enjoy the delights of the Costa del Golf, both on and off the golf course. Top class restaurants, a vibrant nightlife, great shopping and a wide range of hotels, apartments and villas with an astounding array of services, combine with the legendary sights of Andalusia and the equally famous warmth of its hospitality and professional expertise, ensuring that our visitors get the most out of their golfing holiday.
The Costa del Sol has been recognised as a top European Golf Destination by IAGTO (International Association of Golf Tour Operators) and is the exclusive destination in continental Europe of PGA Germany.
#CostaDelGolf #CostaDelSol #SolheimCup #SolheimCup2023 #VamosGirls
WHAT THE PARTNERSHIP MEANS:
"The partnership with LET reaffirms our leadership in the golf industry, something which Costa del Sol Tourist Board has long considered a priority, and the destination has, accordingly, invested in infrastructure, services and promotion, all aimed at guaranteeing the best experience for golfers. The close alliance with LET has led to "Race to Costa del Sol" which represents yet another incentive to continue working, alongside our valued partners and industry members, to guarantee quality golf and expertise at more than 70 golf courses, excellent air connectivity, transport services, resorts, hotels and, of course, a multitude of leisure and entertainment services offered by the destination"
– Francisco Salado, President of the Costa del Sol Tourist Board
"It is an honour for us to partner with LET in the "Race to Costa del Sol". The recognition by LET of the Costa del Sol's support and patronage of ladies' golf, is especially rewarding, given that the destination has, for many years, been considered the European golf destination of excellence for ladies who travel to play golf. There is so much for our lady golfers to enjoy, both on and off the golf course, whether they travel with a group of friends, with family, or with a partner. The Costa del Sol looks forward to welcoming visitors, from all over the world, to the golfers' paradise which is Costa del Golf"
– Margarita del Cid, CEO of the Costa del Sol Tourist Board